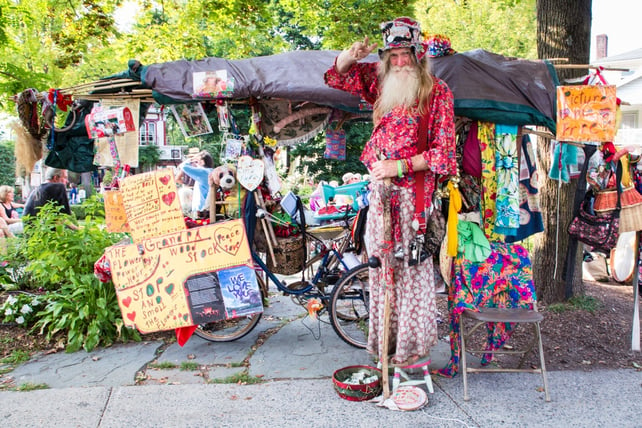 Image by littleny via Shutterstock
The wanderlust-inspiring days of summer are fast approaching, and even though the rest of your year might be occupied recording or touring, you're probably also looking for a warm-weather escape. Luckily, road trips are usually easy to convert into day trips, especially when they're located within driving distance of major cities. When your destination is music-centric, it makes all the more sense to take a little time off.
Here are five trip ideas tailor-made for musicians and creative types. If you've got a favorite destination, be sure to share it with us in the comments!
1. Woodstock, NY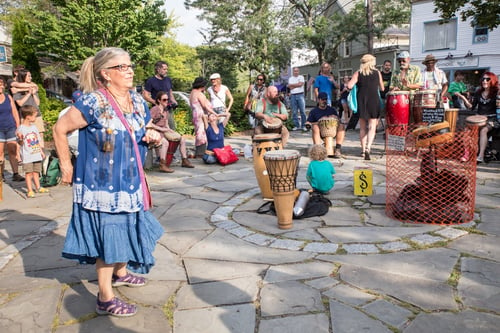 Image by littleny via Shutterstock
Not to be confused with the 1969 festival of the same name, the actual Woodstock, NY, is located about 60 miles away from that sacred site (which is now a major music venue and museum – absolutely worth a visit). A longtime home and mecca for musicians, the small town is revered as a creative haven. In the '60s, Bob Dylan often retreated to this picturesque upstate utopia nestled in the Catskill Mountains, and at nearby Big Pink, the Band laid down some of its most seminal recordings.
Besides its musical history, Woodstock's also home to one of the oldest Arts & Crafts colonies, holds a variety of festivals throughout the year, and boasts a number of guitar shops, venues, cafes, and other breeding grounds for inspiration. The hottest ticket in town is undoubtedly the Midnight Rambles at dearly departed Levon Helm's barn. Make sure to check the schedule before hitting the road if that's on your itinerary – the shows often sell out quickly.
Even if you merely spend a day or two soaking it in, try bumping into one of the city's notable musical residents around town. You never know what might spark your next big collaboration.
2. Cleveland, OH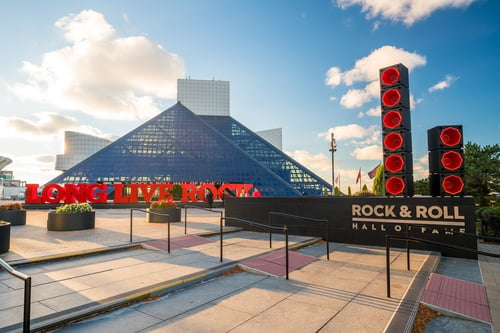 Image via Shutterstock
Okay, when you think road trip, Cleveland probably isn't the first place that comes to mind. But, ironically, it doesn't get much more rock 'n' roll than this major Ohio city on the shores of Lake Erie. It was here in the early '50s that radio DJ Alan Freed coined the phrase "rock 'n' roll" to describe new, edgier musical sounds. In 1952, Freed also organized the first rock concert at the Cleveland Arena – a show that ended in riots, naturally.
Pay a compulsory visit to the Rock and Roll Hall of Fame – the jewel of Cleveland's musical crown. Stuffed full with artifacts including clothing, handwritten lyrics, instruments, stage props, and so much more, it's easy to spend an entire day lost in its grandeur. Afterward, try to catch a show at the Agora, Beachland Ballroom, or the downtown House of Blues.
Along with its musical connections, Cleveland's diverse neighborhoods make it a great destination for foodies. Don't leave town without hitting up My Mind's Eye in Lakewood for your record-shopping fix, and, if time permits, a drive-by of the Christmas Story house is a year-round delight.
3. Joshua Tree, CA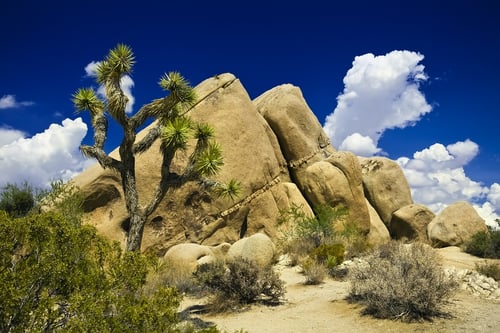 Image via Shutterstock
There's something about the Mojave Desert that's been inspiring artists and musicians for centuries. You might know the area best for Coachella, which takes place in nearby Indio, or for Palm Springs, an oasis in a hotter-than-hell region. While both of these locales are obvious candidates for a quality, quick road trip from Los Angeles, venture a little deeper into the Yucca Valley to find the desert destination of your dreams: Joshua Tree.
Named for the Seussical trees dotting its landscape, this mystical, magical, ancient paradise is located just far enough off the grid to feel like an escape. Explore downtown Joshua Tree's many little shops, and make sure you venture to nearby Pioneertown for a meal and show at Pappy & Harriet's – Robert Plant makes a point of it on the reg.
But the one must-do for musicians is visit Joshua Tree National Park. This massive protected parcel of land is, without hyperbole, life-changing. The sheer scope of its rocky terrain seems designed to make visitors feel small and insignificant, prompting much soul-searching to take place within its confines. (Whether or not your journey includes some, ahem, extracurricular substances is up to you.)
You've probably heard the stories of Gram Parsons' death and subsequent burning inside the park. While it's all but impossible to locate the exact spot of his impromptu cremation, fans of the country-rock godfather will feel Parsons' spirit wafting through the park. For an extra creepy factor, book a stay at the Joshua Tree Inn, located within a stone's throw of the park's entrance. You can even stay in the very room where Parsons overdosed.
4. Lubbock, TX
Photo by Billy Hathorn via Wikimedia Commons / CC BY-SA 3.0
There's pretty much one big reason this rather non-descript Texas town makes this list: Buddy Holly. If discovering the roots of rock in a museum doesn't interest you, head straight for the hometown of this musical legend. For some, Holly is best immortalized in death; the plane crash that killed him, the Big Bopper, and Ritchie Valens inspired Don McLean's ubiquitous (and neverending) ballad, "American Pie." For many musicians, however, Holly is where it all began.
In the past few decades, Lubbock has embraced its most famous son, establishing the Buddy Holly Center in 1999. The performance and visual arts center includes a collection of Holly's personal effects,instruments, and includes a larger-than-life statue of his signature black-frame eyewear. Sitting on the property is also the former home of Holly's drummer, Jerry Allison, where hits like "That'll Be the Day" were born and, in some cases, recorded.
There are also a range of events at the center throughout the year, and you never know who will turn up; Paul McCartney, who's long cited Buddy Holly as a major influence on the Beatles, performed there in 2014. On February 3, "the day the music died," according to McLean, you can enjoy a free trolley tour of Holly-related sites in Lubbock, including his childhood home.
Allison Johnelle Boron is a music writer and editor living in Los Angeles. Her work has appeared in publications including Goldmine magazine, Paste, xoJane, and more. She is also the founder and editor-in-chief of REBEAT magazine, a digital publication focused on mid-century music, culture, and lifestyle. Follow her on Twitter.