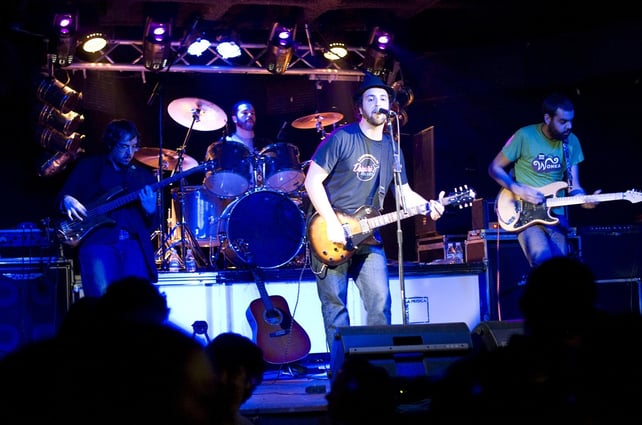 Image via Pixabay
The weeks leading up to your album release are always an exciting time, but there's also a lot of pressure to deliver a strong product and make sure it's not forgotten about a week later. One of the central components in achieving a successful album release is the album release show. Serving as a celebration of all your hard work, you want to make sure the event runs smoothly, sells out (or at least comes close), and is remembered as a fun night had by all. Here are five ways to ensure that you sell out your album release show – and have a great time in the process.
1. Don't book any other shows within the same month
If you want high attendance at your album release show, do yourself a favor and don't play any other shows within at least a month of the date. If you schedule performances in the weeks leading up to your release show, you run the risk of people attending the less significant shows and passing on the one that matters most!
[What to Do When You Keep Getting a Low Turnout at Your Shows]
Creating a big build-up requires you to capture the attention of your fans, and give them the clear message that your album release show is a special, can't-miss event. Plus, by allowing yourself the time to prepare a great set without any other performance duties to worry about, you give yourself the best chance of delivering a memorable night of music in front of a great crowd.
2. Allow at least a month for promotion
It's important to have a promo game plan ready to go and announce the date of your show at least a month in advance. A couple of tweets and a Facebook event doesn't qualify as a substantial marketing effort.
Creating posters, preview videos, and securing local press coverage are just a few things that should be included in your efforts, all of which take several weeks to gain real traction and reach all your fans. If you try to execute a "surprise" release show at the indie level, you're not going to get the desired turnout, and the last thing you want to feel after your album release is disappointment.
[The 10-Step Guide to Perfect Show Promotion]
3. Be realistic about your venue choice
In order to sell out an album release show, you need to be honest with yourself when deciding on the venue. For up-and-coming independent artists, selling out a 200+ venue is no easy task. Don't be overly ambitious book a 300-capacity venue when you know that you can realistically only draw 100 people. The room will look empty and the vibe will suffer as a result. It's much better – for you, the venue owner, and the crowd – to use a more intimate space that looks and feels packed.
4. Select the right opening acts
While it may be tempting to have your album release show strictly focused on your music, it's usually wise to have a couple opening acts on the bill. However, this does not mean simply inviting your favorite musician friends to perform because it's easy and won't require too much money. Their style of music may not match with yours, which will result in a disjointed fan experience. Select opening acts who have impressed you with their own performances, excel in a similar lane, and will do the work on their end to help bring people out.
Picking musicians based in your city is the safe move in terms of getting the attention of local fans, but you could also consider inviting an out-of-state band if they're people you want to build a relationship with. Selecting the right opening acts for your show could make or break it in terms of selling out, so be sure to put a lot of thought into who you want representing your artistry on such an important night.
5. Make the show a family affair
An album release show naturally revolves around your work as an artist. However, it's also the perfect time to pull out all the stops and invite everyone who has ever supported you in the past – not only as a musician, but as a person.
Inviting family and friends is more than appropriate for something as special as your release show. Even if they aren't a fan of your particular genre of music, people who truly care about you will come out because they respect all of the effort and courage it takes to pursue your dreams as an artist. Don't be disingenuous and invite strangers just with the motive of selling out the show, but do contact friends you haven't seen in a while and invite them to celebrate a fun evening with you.
[3 Qualities of Bands That Consistently Sell Out Shows in Their Hometowns]