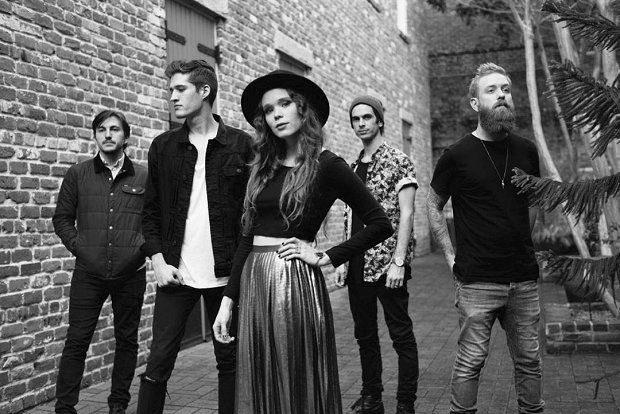 Royal Teeth. (Photo by Wyatt Troll)
We've been waiting all year, and it's finally here – SXSW Music 2016 officially kicks off tomorrow, March 15! If you've been to Austin's massive music festival and conference before, you know that with dozens of equally amazing events all happening simultaneously, the hardest part is narrowing down your schedule to the best of the best. As we put the finishing touches on our SX schedules, we wanted to share one event per day that's sure to be particularly awesome for DIY musicians to attend. So get out those calendars and start marking – and maybe we'll run into you at some of these!
Tuesday, March 15
Where and when: 6:00–9:00 p.m. at Maggie Mae's Rooftop (323 E 6th St.)
Why you can't miss it: Because is there really a better way to kick off SXSW Music Week than with a free drink in hand on the rooftop of Maggie Mae's as you watch awesome bands perform? Plus, since it's the official music opening party, you're going to have tons of networking opportunities here right off the bat. Not a bad way to start the week!
Official description: Celebrate 30 years of SXSW Music at the Official Opening Party. Complimentary drinks, food, and live performances.
Wednesday, March 16
Where and when: 5:00–6:00 p.m. in the Austin Convention Center, Artist Central in Ballroom E
Why you can't miss it: Your band website says everything about you, but unless you're a web designer, you probably don't know what you might be doing wrong. Find out how your site stacks up to the competition from these brutally honest expert panelists. (Bonus: Part 2 of this panel is happening on Saturday, March 19! Details here.)
Official description: In Part 1 of this 2-part session, it's all about live critiques of band websites! Bands submit their websites for review and each site's design, organization, and content are assessed. Reviews will be ruthless and diplomacy left aside, but everyone will learn how to improve their websites. Plus, one winner will get their website redesigned for part 2 on how to build an effective band website!
Using the site that was redesigned after Part 1, Part 2 will show musicians how to create an effective website that will keep fans engaged. The panel will discuss how a band's website should be organized, what content needs to be included, how it should be designed, and what mistakes to avoid.
Thursday, March 17
Where and when: 12:30–1:30 p.m. in the Austin Convention Center, Artist Central in Ballroom E
Why you can't miss it: Moderated by Sonicbids Managing Editor Lisa Occhino, this panel features some of our blog's top contributors – who also happen to be heavy hitters in music PR and journalism. If you're an avid Sonicbids blog reader, don't miss this opportunity to meet the folks behind it in person!
Official description: The dream scenario: you enlist a top-notch music PR firm to successfully pitch your band to all the best tastemaker blogs and magazines, catapulting you into a whole new level of musical success. The actual scenario: you're borderline broke, so you need to master the art of pitching yourself to the press. But how do you get taken seriously without professional representation? How do you build up a press list? What's the recipe for a pitch email that not only gets opened, but read and responded to? And finally, how do you determine when it's time to bring on a publicist? This all-star panel of veteran journalists and publicists will answer all of your burning questions about getting press.
Friday, March 18
Where and when: 11:00–11:40 p.m. at Esther's Follies (525 E 6th St.)
Why you can't miss it: A true inspiration for all up-and-coming DIY bands out there, longtime Sonicbids members Royal Teeth have made the most of every opportunity they've gotten, and have come an extraordinarily long way since they formed in 2010. They credit Sonicbids with helping them lay their foundation and breaking them into the festival circuit, securing bucket list performance slots at major festivals like SXSW, Bonnaroo, and Boston Calling. In 2014, they performed on American Idol and had their hit song "Wild" featured in a Samsung Galaxy commercial.
Official description: Royal Teeth makes music for adventures.
Saturday, March 19
Where and when: 11:00 a.m. – 6:00 p.m. at the Austin Convention Center, Exhibit Hall 4 (happening on other days as well)
Why you can't miss it: You made it to the weekend in one piece (hopefully), so you deserve to chill out and geek out over music gear for an hour or two today. Note: you can also check out the expo on Thursday or Friday if your Saturday is booked up – details here.
Official description: The SXSW Music Gear Expo offers a unique opportunity to connect with thousands of musicians and gear enthusiasts from all over the world.
Sunday, March 20
Where and when: 12:30–5:30 p.m. at Krieg Field (515 S Pleasant Valley Rd.)
Why you can't miss it: Most people will be packing up to leave today, but if you're still around in the afternoon, blow off some steam with fellow musicians and industry people in a fun, casual softball game. Or just stuff your face with BBQ. We won't judge you.
Official description: Join us for the 30th annual SXSW Closing BBQ & Softball Tournament! All artist wristbands, music or platinum badgeholders are welcome to sign up to play.
Hit us up @Sonicbids on Twitter if you find yourself at any of the above events this week. We love meeting awesome musicians!