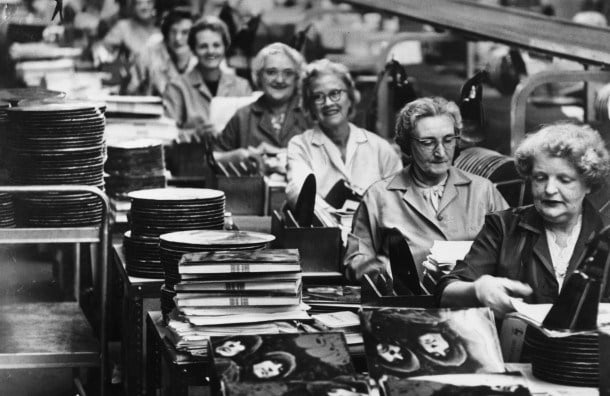 Women package the Beatles' Rubber Soul, 1965. (Image via inthegroovereview.com)
If you missed part one, click here to determine if pressing vinyl is the right choice for you and your music.
"I've never not had a turntable, and my records have never been packed away," says Record Store Day co-founder Carrie Colliton. "I really like the ritual of it, how you have to pay attention to it when you're playing a record, and you have to interact with it."
Vinyl is back in a big way – and both artists and consumers are excited for the same reasons: vinyl, despite its limitations, gives the listener so much more, reveling in each nuance, discovering new nooks and crannies in the larger-than-life sound, and decoding the masterpiece of your choice with the aid of liner notes and cover art. "The frequency range of a record closely mirrors that of what you can hear," explains Jay Millar, marketing director of Nashville's United Record Pressing. "But even in situations where I know something is sourced digital, there is a certain unexplainable sound that can only come from the needle physically interacting with the media."
There's a lot of work that goes into getting a record pressed. In part one, I touched on some things that you'd want to consider before even striking out on such an endeavor. Here's what you need to do to get things moving. A few points will be reiterated and expanded upon because, well, they're important.