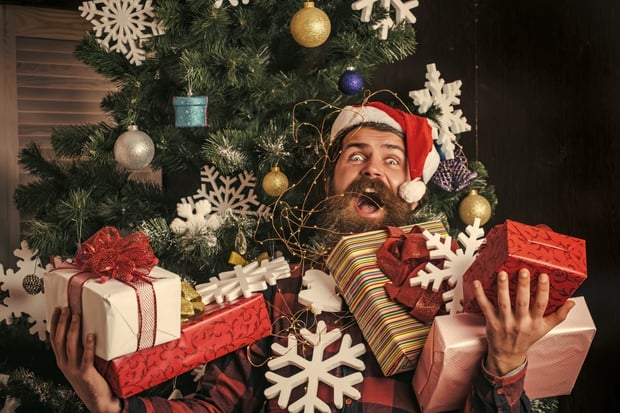 Image via Shutterstock
Your fans deserve a little something for sticking by your side and being your number-one supporters all this time, don't they? With the holidays fast approaching, it's the perfect time to show them what they mean to you through a little holiday-lined cheer and creativity.
Check out our top five ideas for wowing fans this holiday season and giving them a little something to look forward to in their digital (and physical) stockings.
1. Exclusive and/or surprise merch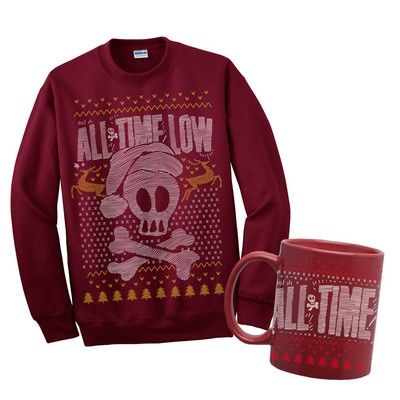 Do as All Time Low does and create fun sweater-themed items. (Image via pinterest.com.au)
We're getting into the season of being thankful as well as giving, so why not do both by surprising fans with exclusive merch when they place an order or stop by your merch table? Beyond creating any special holiday-themed items you think your fans will want to own anyway, go a step beyond and flat-out give them an item to treasure.
This doesn't have to be anything major; maybe a run of exclusive stickers or pens or pins or something highly brand specific (even better!). But when fans get their delivery or unwrap the shirt they bought and see that special unexpected gift inside, especially if it's a limited-run item, the feeling is priceless.
If you really want to make them feel special consider including a little note that says something like, "Just wanted to say thanks for supporting our dreams. Let us know how we can support yours!" It can really make someone's day, and it'll let them know that not only do you care, but you've gone out of your way to make them feel special. People don't forget those things.
2. "X Days of [Your Band]"
Wouldn't it be cool if, every day for a week or two, your fans got a special something from your band culminating in one big event like an album release, charity show, reveal of exclusive merch, a tour, or some other exciting announcement? It sure would be!
Think about what the big reveal could be; even if you don't have anything earth-shattering happening right now, you can probably still put on a show for charity or create some exclusive merch (see idea number one above). Then, work out a content plan where, every day, you deliver something new for your fans to consume, with contests and prizes thrown in, all leading to the big reveal.
If you have a mailing list, you can deliver exclusive hints/tips/entries to win prizes to subscribers (incentivizing people to sign up) and then deliver your content on social media (maybe even just utilizing one specific platform or useingdifferent ones on different days to make it a bit of a scavenger hunt) to reveal hints and offer contests for merch packs, virtual concerts, signed merch, and more. It's such a fun, consistent way to get involved with your fans and get them engaged with you.
3. Handwritten holiday cards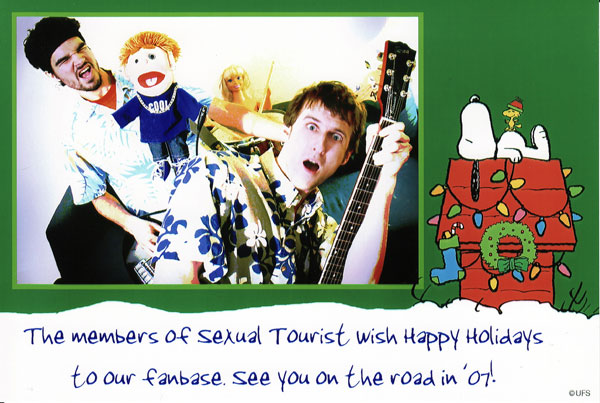 Holiday cards can definitely reflect the personality of your band! (Image via bobbysbest.com)
Speaking of little notes, writing a handwritten something (holiday card, postcard, Post-It note with merch) goes a long way. Taking the time to handwrite a thank-you note, maybe even get specific if it's a fan that you've interacted with a lot and know a bit about, is something they'll treasure forever.
While it might not be possible to write to every fan individually, you could create a limited set of your own band holiday postcards, then make a post telling fans that the first 100 people to comment/share their favorite song of yours, favorite memory, etc, will get one.
Think about how stoked you'd be to have something like that from one of your favorite bands. I know it's something I'd keep forever.
4. Free downloads
There's always the free download offer to fall back on when you want to give back but are feeling a little stuck. Offering fans a free song or EP for a limited time to show them what they mean to you is an easy way give a gift they'll love. But consider pairing it part of one of the above options to really make an impact.
5. Intimate holiday shows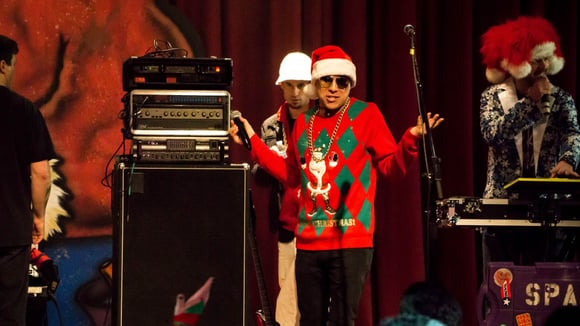 Holiday attire optional, but definitely recommended! (Image via pxhere.com)What sets this show apart from your run-of-the-mill show is the way you go all out for it. First of all, you'll want to make it relatively exclusive, and set it in a special, unique location, such as a friend's house or an art gallery, for an intimate experience.
The idea is that it's something special, personal, and ideally free or incredibly affordable ($5 or under). If you really want to do some good, have fans bring canned goods for entry, and then donate them to the local shelter.
Get ready for the upcoming holiday season with even more tips and tricks!
Angela Mastrogiacomo is the founder and CEO of Muddy Paw PR, where her artists have seen placement on Alternative Press, Noisey, Substream, and more, as well as the Director of Community and Events for Music Launch Co. She's also the owner of music blog Infectious Magazine. She loves baked goods, a good book, and hanging with her dog Sawyer.