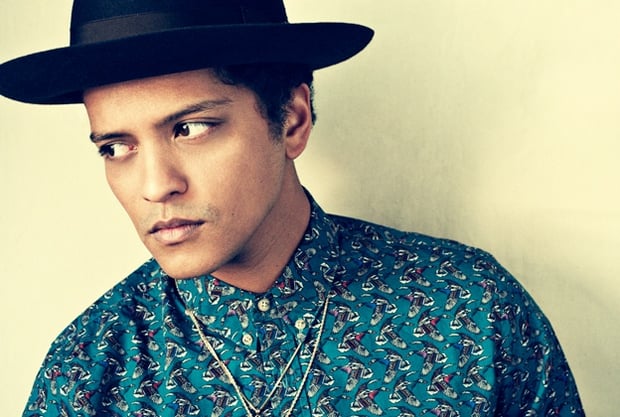 Image via rollingstone.com
So far, we've discussed a range of things we can do to make our melodies and lyrics as effective as we can. But there is a whole range of arrangement and production tricks you can do to make your songs even more fun, hooky, and immediate.
Secondary hooks
If the big epic sing-along chorus is considered the "main hook," these little tricks are called "secondary hooks." The clearest example of this is Bruno Mars' "Locked Out of Heaven."
Before the song even starts, there are three secondary hooks happening that make this song impossible to get out of your head. These hooks will be repeated throughout the song and have nothing to do with the actual lead vocal melody and lyric. They are:
Sung: "Oh yeah yeah, oh yeah yeah yeah yeah"
Sample: "Woop woop woop woop, OOOH"
Guitar rhythm
There's a good lesson to learn from this: fill in the dead space between your lead vocal with cool, catchy secondary hooks.
Another great example of a secondary hook is in Arctic Monkeys' "Do I Wanna Know."
The guitar lick is playing all through the intro and the verse. When the chorus comes in, the guitar lick is now the main chorus melody. Everyone knows it and can sing along with the singer immediately. The secondary hook becomes the main hook. You're priming your audience to know a melody before they are aware of it.
The same technique happens in Zedd's "Clarity."
The "oooooh" is mixed in softly in the background way before it becomes the main hook in the post-chorus. By the time the post-chorus happens, everyone is already shouting along.
Have you tried secondary hooks in your songs? Let us know in the comments below!
Get more tips from our Songwriting 101 series:
Benjamin Samama taught songwriting at Berklee College of Music from 2013–2015 and currently writes and produces pop music full-time in Los Angeles. His songs have been released by dozens of artists all over the world and enjoyed by millions. Click here to contact Benjamin if you'd like a one-on-one songwriting consultation with him.