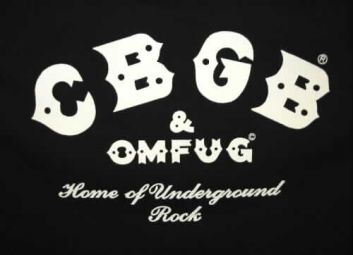 Sonicbids and CBGB Festival have teamed up in a big way, booking more than 250 bands to play the legendary club's festival over the past two years.
This year, we're taking it to another level. Sonicbids is throwing three CBGB Festival Showcases over 3 nights in New York and they're going to be nuts. Here are a preview of 11 awesome bands that you're going to want to become best friends with.
A CBGB Festival Super Pass gets you into the Sonicbids showcases and all of the other Festival showcases so you can have the musical journey of your life.
Thursday October 10 @ Arlene's Grocery
7pm - Friendly People (Boston, MA)
The past year has been a busy one for Berklee College grads Friendly People. After meeting in 2010, the band released an EP which was followed by their debut full-length album Shake in 2012 and a cross-country tour in early 2013. Though Shake is filled with intricate layers of guitar, vocals, and masterful production, you haven't truly had the Friendly experience until you've seen the band's epic live sets.
8pm- Stop Light Observations (Charleston, SC)
This six-piece alt-rock powerhouse was one of the lucky winners of this year's Road to Roo contest on Sonicbids, which landed them a slot on the Bonnaroo 2013 lineup. After witnessing their Bonnaroo set firsthand we knew that these guys had something special. Led by the songwriting of John-Keith Culbreth and the distinctive vocals of singer Will Blackburn, Stop Light Observations is a band to keep your eyes (and ears) on in 2013.
9pm- St. Lenox (New York, NY)
St. Lenox is the musical moniker of New York via Ohio transplant Andrew Choi. In a past life Choi is a graduate of Princeton with a degree in philosophy and holds a PhD in the same subject from Ohio State University, but it is music that became his true calling. With influences that range from classical to pop and electronica to jazz, the music of St. Lenox truly creates an eclectic listening experience for the audience.
10pm- Clementine & the Galaxy (New York, NY)
Our Thursday night festivities will close out with another hometown favorite in Julie Hardy and Mike MacAllister who together form Clementine & the Galaxy. Their hybrid brand of synth-rock/indie-pop has caught the ears of tastemakers like Deli Magazine, Time Out New York, AOL Spinner, and more. Their highly infectious debut single "Robot" is the perfect introduction to the duo's music and will have you singing and dancing along in no time.
Friday October 11 @ Arlene's Grocery
7pm- HeyMun (Sydney, Australia)
We couldn't be happier to have the lovely songstress known as HeyMun join us all the way from Sydney, Australia. Her delicate yet powerful style is a throwback to the singer-songwriters who took America by storm in the '60s and has also been capturing the attention of media outlets such as Triple J Radio back in her home country. Although she has yet to release a proper album, it's easy to see that big things are coming for HeyMun.
8pm- The Ballroom Thieves (Boston, MA)
This Massachusetts based trio has been gaining steam in the Boston folk-rock community over the past year which has resulted in opening slots with bands such as Little Green Cars, The Apache Relay, Houndmouth, and The Lone Bellow. Since releasing their debut EP, The Devil and the Deep in early 2012, The Ballroom Thieves have also graced the stages of festivals like Canadian Music Week and Summerfest where they were direct support for folk-rock favorites Dispatch.
9pm- The Nightmare River Band (New York, NY)
The Nightmare River Band creates their own brand of rock music that is self-described as "Alt-folk music about love, loss, pain, and drinking." Known for their high-energy live shows, this New York quintet delivers explosive anthems that will have you singing along even if you don't know the words. After listening to the title track off of their 2012 album Last Goodbye, you'll understand why they've been compared to folk-rock contemporaries such as Avett Brothers and Mumford & Sons.
10pm- Modern Rivals (New York, NY)
Ask Brooklyn natives Modern Rivals to describe their sound and what you get is "whirling keyboard lines, lush loops, and dreamy guitar tones around balladic vocals and a hard-hitting percussive backdrop." I know it's a mouthful but there's no way you can tell us you're not excited to check out their self-released EP, Sea Legs, after reading that sentence. You'll be hooked right from the beginning with the catchy chorus of "Defenestrate You" and once you get to the closer "Riku" we're sure you'll start it over from the top again. What's even better is that the band is currently work on their full-length debut which is sure to bring even more layers and layers of dreamy awesomeness.
Saturday October 12 @ The Living Room
8pm- NYC August Rock Band (New York, NY)
Tom Mooney and the NYC August Rock Band take the stage at The Living Room it will be a special performance to say the least. Having performed at the original CBGB venue throughout the 70s, Tom and his band have shared stages with iconic acts such as Blondie and Television. The band's CBGB festival performance will be a homecoming of sorts, and an experience that will take the audience back to the heyday of the legendary club that was CBGB.
9pm- Hotfox (Bloomington, IN)
Indiana natives Hotfox have been favorites of the Sonicbids crew since taking home the Jansport Battle of the Bands crown in 2012 which landed them a slot at our SXSW party alongside acts such as Rubblebucket and Aunt Martha. In their short career the garage rock group has shared stages with Dale Earnhardt Jr Jr, Grouplove, Walk the Moon, and Bear Hands to name just a few.
10pm- Quiet Company (Austin, TX)
Since forming in 2005, Austin's Quiet Company has gained quite the list of accolades in their musical career. From performances at Austin City Limits, NXNE, SXSW, and CMJ to a turn on Late Night TV, making an appearance on Last Call with Carson Daly. Citing Death Cab For Cutie, Arcade Fire, and Weezer as influences it's easy to hear that Quiet Company's pop/rock blend has the timelessness and longevity of its aforementioned inspirations.
So, we'll see you there. Oh, and if you're a band and you're thinking to yourself, 'How the hell do I get to be a part of amazing opportunities like this?', well, here ya go: