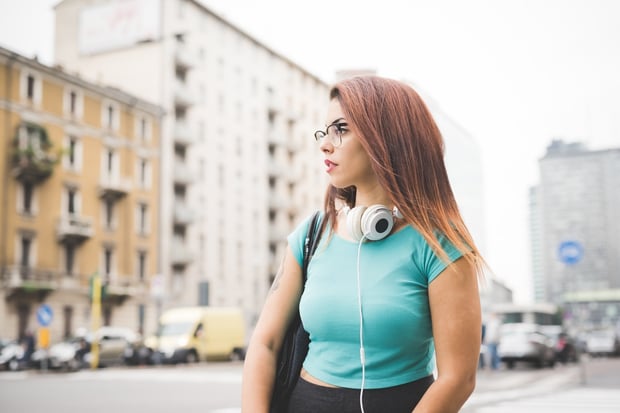 Image via Shutterstock
This article originally appeared on the DIY Musician blog.
Moving to a different town can be difficult enough, but it's even more daunting if you're a musician who wants to lay down some roots in a music scene that's totally new to you.
Since the passing of my friend (and music promotion maven) Lisa Lepine, I've been thinking back on all the great advice I heard her give over the years. Below are her tips for breaking into a new music scene.
1. Read all the free magazines in your town every week
Make a habit of picking up all the free weeklies. They're usually easy to find in grocery stores, coffee shops, vending bins on street corners, music venues, hair salons, and elsewhere.
Read the entire music section of each paper each week. What are the venues that get covered? Who are the other bands in the specific scene you'd like to be a part of? Are there names you keep seeing week after week? Make some mental notes.
2. Go to CD release parties
The album release party is probably going to be a local band's biggest event of the year, so everyone comes out – other bands, bloggers, people in the local music industry, etc. Because all those people will be gathered in one place for these events, you should go to as many album release parties as possible. Pretend you're a wedding crasher and go make some new connections.
That being said, don't show up with an agenda. Just meet some people. If the music moved you, introduce yourself to the band. Album release parties give you an opportunity to say a lot of "hellos" – not ask for a gig or review.
[How to Nail Your Networking and Have Genuine Interactions]
3. Do some field research
Now that you're out there exploring venues and bands, it's time to take some more mental notes. How do the bands perform? What's working? What isn't? Turn around and look at the audience. Who's here? Is the audience reacting positively to the music? If so, do you think they'd like your music?
Answering these questions will help you narrow down which bands you think you'd be a good match for if you shared a bill down the line. Which leads us to a bit of bonus advice…
Bonus tip: connect with bands, not bookers/talent buyers
Your inroads to a new music scene will most likely come from other artists you have an affinity for, other musicians in your genre, nice people whose music you respect and who may be willing to let you open for them. (Which is why those non-pushy introductions are so important.)
If you just start writing all the cool venues in town without a local fanbase and without any idea of who else would be on the bill, you'll probably be ignored. So go out and see some music!
Next up: 6 Tips for Musicians in New Cities
Chris Robley is an indie-pop songwriter whose music has been praised by the LA Times, NPR, the Boston Globe, and more. His poems have been published or are forthcoming in Poetry magazine, Prairie Schooner, Boulevard, and others. Robley is also the editor of CD Baby's DIY Musician Blog.