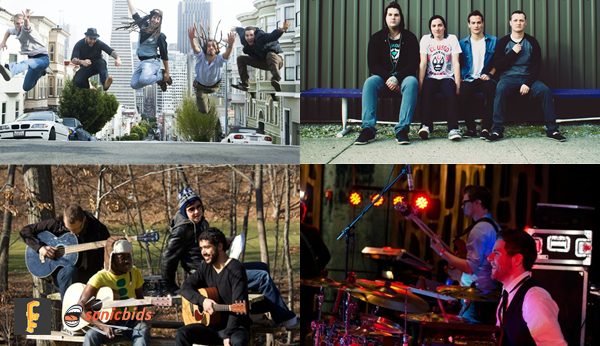 CollegeFest is the most heavily attended back-to-school festival in the country. Held in Boston since 1985, CollegeFest hosts over 15,000 students from 30+ New England area colleges. It is a 2-day celebration of college life, blending performances from nationally renowned artists with student entertainment and local artists rounding out multiple stages. For this week's shout-out we chose four Sonicbids artists selected to play CollegeFest 2013.
Like your beats funky and fresh with a healthy dose of horns? Before you answer, take a listen to Boston's own Ripe and then decide. This funk/jam collective have been bringing the boogie to Beantown since 2011 and we dare you not to dance once the first note hits your headphones. Check out the standout track "Down With the Darkside" from their 2013 EP Produce the Juice and be prepared to stop whatever you're doing and start breaking it down on the spot.
If there was a funk delivery service, Gang of Thieves would be at your door hooking you up. Emerging from Burlington, Vermont since 2009, this band is full of unstoppable funk machines bringing you some of the best drum sets, guitar riffs and lyrics you've heard in awhile. Their track Coco Mocha is my personal favorite, blending funk, reggae and spanish into one. Get funked up, crank some Gang of Thieves. You'll thank me later.
If Fred Savage made tunes this sweet I'd totally be a die hard Boy Meets World fan, it's cool though, I'm a BoyMeetsWorld fan instead. In only there very first year as a band, the Cincinnati, Ohio natives have won first place out of 35 bands at their tri-state's Battle of the Bands, played Cincinnati's Vans Warped Tour, and released their debut EP entitled, "Do What's Best For You".
It's officially fall in Boston. The leaves are turning, the lows are in the 30s and the Sox are in the World Series. But one quick way to turn up the heat and keep the summer vibe going is listening to Osekre and the Lucky Bastards. Self described as "Bob Marley meets Vampire Weekend," these guys have an undeniably, lovable sound. Everything about the music makes me happy from Osekre's wailing vocals to the punchy brass section. If you're looking to stay warm this winter, then stay tuned to Osekre and The Lucky Bastards.