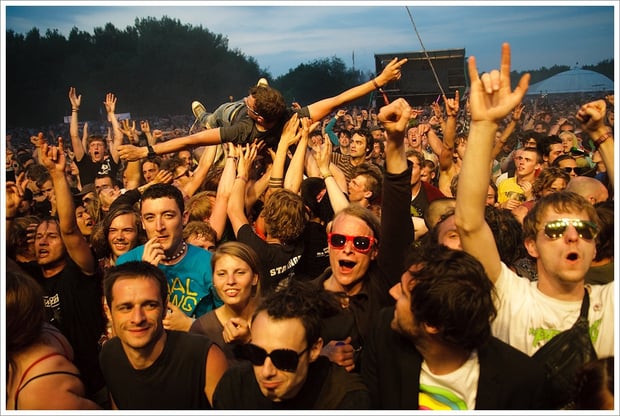 Photo by Montecruz Foto via flickr.com / CC BY-SA 2.0
From mainstream acts to the freshest of indie talent, it's the fans who facilitate the growth of the artists they support. However, marketing yourself is less clear-cut when you're not releasing new music or videos. Even though there's a natural period of downtime that every artist goes through in between releases, that doesn't mean the growth of your fanbase needs to stagnate! Try these five methods of gaining new fans when you're not putting out new music.
1. Hone and develop your brand as an artist
Personal branding can involve merchandise, photography, and other visual content beyond music videos. However, more than anything, personal branding is simply sharing your individual personality and giving insight to fans who want to know more about you as an artist and as a person. Even if you're introverted, you can still be outgoing and engage with people by focusing on what you're most passionate about – music and the distinctiveness of your own art form! While you're taking a break from releasing new music, put effort into strengthening your personal branding.
[8 Steps to Building Your Personal Music Brand]
2. Ask for feedback on social media
Try asking your social media followers which previous songs of yours they'd like to see music videos for, or what they want to see you perform at your next show. Make them feel like they're a part of your community, and show them that you don't feel like you're "above" them as a musician. You don't need 10,000 Twitter followers to put these questions into the digital universe – even if you only get feedback from four or five people, it's worth it. Give people a chance to voice their opinions, and don't be afraid to open up to fans about your creative process.
3. Connect with the youth in your local community
Want your music to make an impact? Start locally, especially with kids who aspire to have a career in music. You don't need to be nationally successful to be a role model to kids who are growing up in the same place you did. You have a wealth of musical knowledge, and you can teach them lessons and inspire them based on your personal experiences as an independent artist.
Head over to your local youth center and ask if there are any types of music programs you can take part in. If none exist, ask if you can start one! Give the local youth their best chance to turn their musical dreams into reality, whether it's through advice, equipment, or resources. You'd be making a genuine difference in their lives – plus, it doesn't hurt that you'd have a killer angle to pitch to local press.
4. Get active on music forums
So much attention is placed upon blogs these days that sometimes it's easy to forget about music forums. They're still a primary destination for fans in terms of music discovery and sharing.
Have someone on your team bring up your name in online conversations that involve your style of music. If you're a producer, there tons of forums you can share your tracks on. Do some research on music forums that best fit your artistic style, and become an active member in the community. You never know who will click on your music, enjoy it, share it, and then become a fan of your work!
5. Get creative with your promotion
It takes extra effort to get people to stop scrolling down their timelines and actually pay attention to what you post. Becoming an expert at the art of promotion will help a great deal in expanding your fanbase during a time in which you aren't releasing music.
Try Twitter polls or contests that give fans the chance to win some sort of prize to keep people engaged and draw new fans to your work. Asking your Twitter followers what their favorite anime is may not seem directly related to the strength of your fanbase, but sometimes it's the smallest things that can make the biggest difference in the long run. Don't shove your music in people's faces all the time – come up with unique ways of naturally conversing with people online, and positive results will follow.
[4 Approaches to Out-of-the-Box Marketing That Will Put Your Band Ahead of the Rest]
Eric Bernsen is a marketing/public relations professional and music journalist who specializes in the genre of hip-hop. You can find more of his work at HITPmusic.com (where he is an editor/writer) as well as HipHop-N-More.com, where he contributes album reviews. Follow Eric on Twitter @ebernsen.