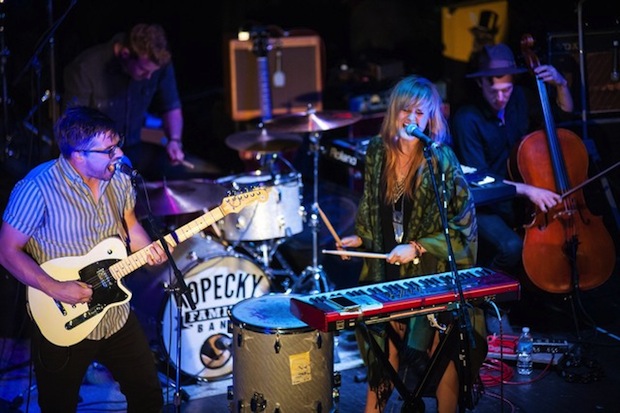 The Kopecky Family Band performing at Paper City Music Festival.

Trying to find gigs for your band? We've got lots of Sonicbids promoters who want you to perform! Check out our top opportunities this week, and then submit your EPK to anything that sounds like a good fit for you.
Hard In The Paint Artist Spotlight Feature
Hard In The Paint Music is one of Boston's go-to sites for the best indie hip-hop artists on the rise. Since the primary focus of HITP is to discover and highlight new talent across the world, they're giving Sonicbids hip-hop artists the opportunity to have a spotlight editorial piece on HITP, social media marketing support, and eligibility to have their track featured on the office HITP mixtape.
Application fee: $5
Deadline: June 9, 2014
C2SV Music Festival
C2SV Music Festival, a three-day music and technology festival in Silicon Valley, is seeking to book 10 Sonicbids bands. The festival coincides with C2SV Technology Conference, whose speakers included Steve Wozniak (co-founder of Apple) and Nolan Bushnell (founder of Atari) last year. The music and after hours programming will include happy hours, food trucks and world class music.

Application fee: $10
Deadline: June 22, 2014
CMJ Music Marathon
The world-renowned CMJ Music Marathon is New York City's largest music festival, attracting more than 120,000 music professionals, artists and music enthusiasts every fall. CMJ Music Marathon will feature 1,300+ artists performing live in over 80 of New York City's greatest music venues from October 21-25, 2014.
Application fee: $45
Deadline: June 25, 2014
Songwriters Hall of Fame Song Competition
A powerhouse partnership between Songwriters Hall of Fame and Universal Music Publishing brings us the Songwriters Hall of Fame Song Competition. A publishing contract and personal mentoring sessions from legendary songwriters could be the key to opening the door for your songwriting career!
Application fee: $35
Deadline: June 30, 2014
Paper City Music Festival
Paper City Music Festival features an eclectic blend of musical performances over three days, and takes pride in its unparalleled hospitality to artists and grassroots promotion. They're looking to book 20-30 bands with a minimum of six performance slots reserved for Sonicbids artists.
Application fee: $10
Deadline: July 18, 2014