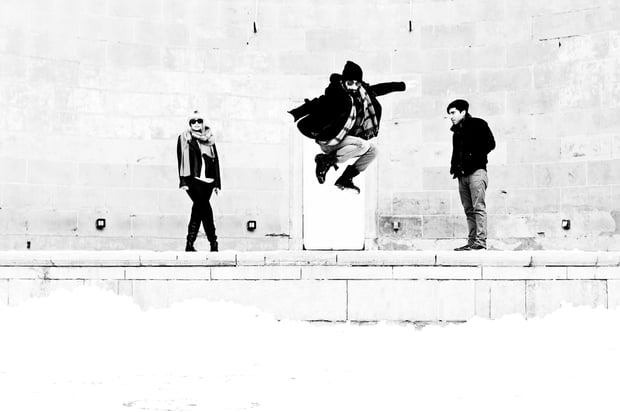 Image via Sonicbids
When alternative rock band Trapped In Static started their music career in the heart of New York City in 2011, they were just like every other fledgling band in the big city: they had a hard time trying to figure out how to get people to come out to their shows, and they made mistakes along the way. But now, after learning the ropes of the indie grind, they're selling out some of NYC's best-known venues and expanding their fanbase to other parts of the Northeast. In this interview, they talked to us about their humble beginnings, how they use social media to get strong turnouts, and what it's been like touring outside of NYC.
Tell us about the early days. What were some of your first gigs, and how did you gradually build up a following?
We started at the end of 2011, performing around NYC – Lower East Side and West Village, mostly – in bars and smaller venues like Pianos, The Bitter End, Wicked Willy's, Fontana's Bar, Kenny's Castaways, and then a few places in Brooklyn like Knitting Factory and the Trash Bar. Most of our promotion was word of mouth, and slowly we started using social media, more and more – the most powerful tool in our days.
You have since gone on to play some of NYC's most popular venues, such as Webster Hall and Bowery Electric. In such a saturated music scene, how do you stand out?
It is very important to be able to connect with your crowd, but also being real. We always have good energy on stage, and people can feel that. Stage presence doesn't mean running around the stage or wearing a crazy outfit; it's more about passion, really feeling what you're singing and playing. The music and the lyrics automatically become more meaningful, turning into stories that you can easily relate to.
You headlined your Bowery Electric show to a sold-out crowd – that's a great accomplishment! With so much to do in the city on any given night, how do you convince people to come out to your shows?
The last couple years we've been working a lot with social media, and it's getting the job done. We're [fortunate] to have a very good street team supporting us, and some very dedicated fans spreading the word. We always try to give something different – a full-band show, an unplugged show, live streaming, or even a two-piece acoustic set, performing in big venues or even smaller local ones.
When you travel to perform at festivals like Make Music Harvard Square in MA, Park Rock Festival in MD, and the Millennium Music Conference in PA, what are some of the biggest takeaways? Have you had success getting those audiences to come support you in NYC?
When we're on the road, our main goal is to build a fanbase that extends outside of NYC. We don't sell a lot of merchandise, but we have custom guitar picks (endorsed by Steve Clayton) as well as wristbands (endorsed by GetWristband), which we give away so that people will follow us on social media and be at our next local show. Thankfully, that works. We've even had the opportunity to have fans at NYC shows who were visiting from Indiana to Virginia, as well as the UK and Colombia.
Tell us about how Sonicbids has been a tool for you in securing so many of your successful gigs. What opportunities have stood out as the most memorable?
Sonicbids has been our main tool for booking shows, especially festivals. All the festivals that you mentioned earlier were booked through Sonicbids. I think our first festival was Six Flags Live & Local. We were very excited about that – music and amusement parks! Park Rock Fest and MOVE Music Festival were two of our favorites as well.
While NYC is one the world's great music cities, it's also one of the more difficult cities to survive in. What are some of the pros and cons of being an independent band living in New York?
Well, as in every business venture, you have to spend money to make money. Being an independent band means you have to do a lot of things on your own until you've actually made it and have a crew that can take over. There's promotion, management, booking, stage setup, and a lot of carrying and running around. There may be moments that you think of quitting, but you keep following the dream because at the end of the day, you do what you love. Few people get the chance to do what they love for a living – it's a blessing.
If you could go back to 2011 when Trapped In Static was just starting out, what's one piece of advice you wish you could have given yourselves?
In the beginning, we had more shows than we should have – three to four shows a month. We loved playing, but attending every show was a little difficult for our fans. One show a month should be more than enough in our hometown. We should have spent more time on the road.