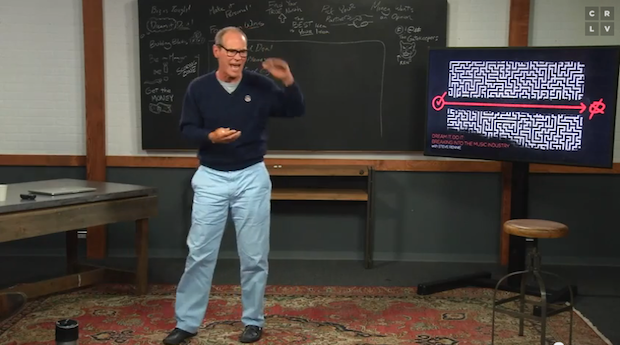 Steve Rennie giving advice in his CreativeLive course (via YouTube)
Steve Rennie, longtime manager of Incubus and a driving force behind the band's multi-platinum commercial success, offers sound advice for musicians in his new CreativeLive course entitled "Dream it, Do it: Breaking into the Music Industry."
With over 30 years of experience working in the music biz, this industry veteran has truly done it all. In addition to managing bands, Rennie has been a concert promoter, record executive, and internet entrepreneur (he's one of the founding members of ARTISTdirect). He has also been deeply involved in the intersection of music and technology since the earliest days of the internet.
We love how Rennie answers viewers' questions about what it takes to make it in the music industry in this clip:
Short on time? Skip right to the part that interests you the most:
2:44-3:29 and 4:51-5:38: What's the best way to build an audience?
3:39-4:46: Indie labels vs. major labels when it comes to radio play
6:01-8:33: As a new, grassroots artist, how do you make sure you're not being taken advantage of?
The full course is available on CreativeLive.