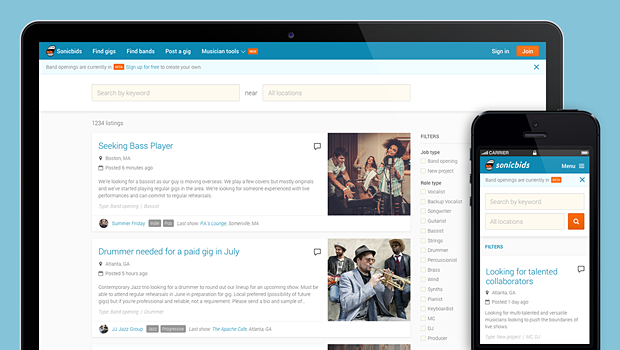 Sonicbids, the leading platform for bands to book gigs and market themselves online, is excited to announce the launch of a brand new suite of free musician tools that make it easier than ever to collaborate, join, and start projects with talented people.
Whether you're looking to start a new band or you need a replacement member in your current one, you can rely on our growing network of over 11,000 musicians to find the perfect fit. Discover talent in your area with our musician search, find band openings listed by other local musicians, or even post your own opportunity.
Think of it like a cleaner, more trustworthy version of Craigslist that's exclusive to real musicians and bands. Everyone who posts and applies to an opportunity has a Sonicbids profile attached, so that means no sketchy anonymous postings. Plus, there's no need to share your private contact information – all communication can happen right through our messaging system on the site.
Our new musician tools are currently in beta, and this is just the start. These features are totally free for now – no subscription is needed! So go ahead and poke around, and let us know what you think. Seriously – we love getting feedback from musicians like you to help us improve Sonicbids, so feel free to email us at betafeedback@sonicbids.com with your comments and suggestions!
More details on how to use each tool can be found in our support center articles. If you have any issues, you can reach out to us on chat or support@sonicbids.com.