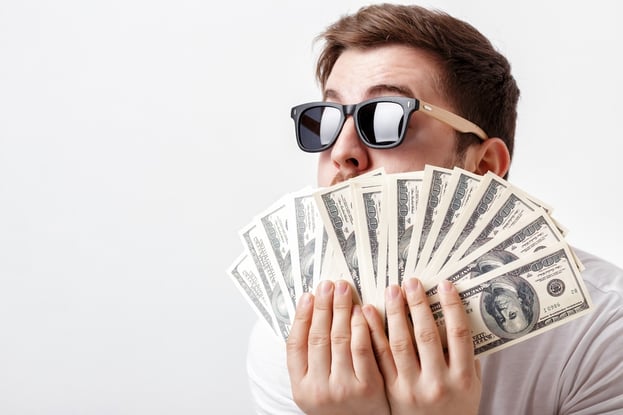 Image via Shutterstock
Some call the Law of Attraction pseudoscience, while others call it a load of crap altogether. There's something to be said, however, for the fact that wherever you place your energy, that is where you will see progress.
If you put your energy into focusing on what's wrong in a situation or how hopeless it is, you'll fail to pay attention to possible solutions that cross your path. The same logic applies to finances; if you focus on how poor you are, you'll never get far in amassing any wealth.
It can be scary to trust the money will "just come," especially when you've been used to living paycheck to paycheck, if that. But being more proactive about where your money comes from and what you can do to attract it can take fear and uncertainty out of the equation. Here are three ways to break out of that "scarcity mindset" and (hopefully!) bring more money into your life.
1. Actually believe you can make money from your music
It sounds too simple, but it's crucial for shifting your mindset. Change always begins with the decision to change. Decide you will stop believing there's not enough out there for you.
It starts with little decisions, such as monitoring what you say. For instance, start catching yourself when you say or think things like, "I'm just a poor musician" or, "I can't pay for that."
Start switching those phrases to mirror where you're headed. It matters what you say, especially to yourself. Your words reflect your beliefs, and your beliefs direct your actions. When there is something you need for your career, switch to saying, "I'll figure out a way to afford it." When you talk about your career, say with conviction, "I'm on my way to being a full-time musician."
2. Get clear on who your fans are and what they want from you
Following someone else's blueprint is not a surefire way to success. No two artists are created equally and neither are two fanbases. Knowing yours will be the most powerful tool in your arsenal for building your streams of income.
Do they want live-streaming concerts? How about personalized merchandise? What about membership to exclusive, curated content? Or maybe your fans are behind the scenes, dying to license your music for one of their projects.
The moment you stop trying to force your content on others and, instead, deliver your content to the right people, in the manner and format they prefer, is the moment you stop struggling and start creating flow in your finances.
3. Diversify your income streams
Scarcity doesn't exist when you have multiple irons in the fire. When one stream is shallow, another is there to make up the difference. Additionally, trying to force all of your efforts towards making sure one source of income blows up for you can be exhausting. Multiply the impact of your efforts by getting a few income streams going at once.
The key is to make sure the income streams all work together, as to not waste your focus and resources. Make sure you choose your streams wisely and find ways to leverage each one when growing the others.
For example, don't decide one income stream will come from live shows and touring while another will come from licensing your catalog to film and TV. Both of those streams take a lot of time and energy to build and are not exactly related. Trying to submit pitches to music supervisors or publishing houses while you're on the road isn't ideal.
Instead, maybe decide to build up your income from ticket sales to your live shows (and digital tip jars from streaming your shows) while working on increasing your merch sales and bringing on companies to endorse you via tour sponsorship.
[How to Strike a Sponsorship Deal]
If you're also going the live-performance route, it's important you register with a PRO (ASCAP, BMI, or SESAC) and report your set lists to them in order to collect on performance royalties.
Remember, you have more power than you think. You decide where you go in life and how far. Your mindset is a very powerful thing, so make sure it's not working against you. Then make sure to take purposeful action towards clear, measurable goals.
The sky is the limit, but only if you decide it is.
Suzanne Paulinski is a mindset coach and founder of The Rock/Star Advocate. She helps music industry professionals gain confidence and clarity in their goals with a healthy work/life balance. Her book,The Rock/Star Life Planner is now available on Amazon.