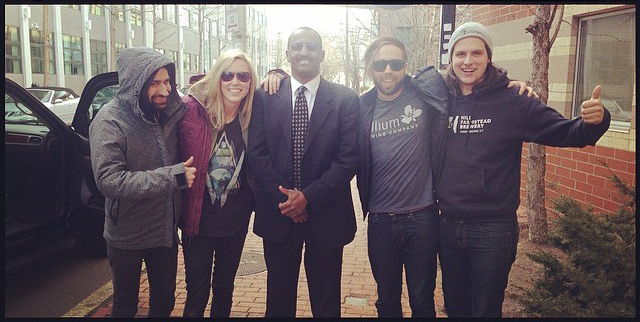 Riding in style, Boston band The Field Effect just rocked out another #UberSession. We present it to you for your listening and viewing pleasure, and tell you how to apply to be the next featured act!
These Beantown natives just got the VIP treatment playing a mini-concert in the back of an Uber SUV. For the intimate performance, The Field Effect pared down their driving rock sound to two guitars, a bass and a micro-drumset.
What is an #UberSession?
Uber Sessions are rolling music-video shoots. Sonicbids and Uber came together with two goals in mind: (1) bring more cool music to the masses and (2) help fans and bands get to shows in style.
Each month, Uber and Sonicbids select one great band to participate. An Uber SUV will roll up to pick them up. There's plenty of room for an acoustic set. They can even fit a double-bass if everyone gets cozy. Once the sweet ride arrives, the band piles in. A professional driver provides a tour of the city, while the group rocks out in the back and our friends over at Red Star Union capture it on video for everyone to enjoy.
How do I get in on that?
It's super easy to apply! Sonicbids Members can submit their EPK for the next Uber Session totally for free. There's no fee to apply for this. If you're not a member yet, sign-up and create your Electronic Press Kit so that you can apply too.
Watch The Field Effect perform:
Get your first ride for free when you use the code SonicBidsUber: