Sonicbids and Uber Boston have teamed up to support local musicians with UberSessions, a monthly contest that gives selected artists the ultimate social media marketing package – plus a live set recorded in the back an UberSUV!
Americana band Girls Guns and Glory was dubbed the January 2014 winner, and if you watch the rockin' video above, you'll immediately see why. Along with four critically acclaimed records, a slew of local accolades, and even an international award (Independent Artist of the Year at the French Country Music Awards), the band was the first act of its genre to win Act of the Year at the Boston Music Awards.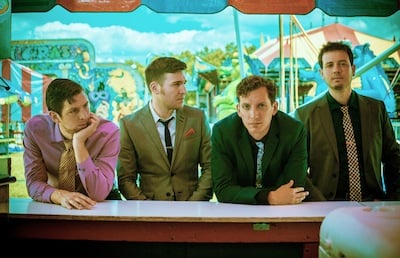 The foursome consists of Ward Hayden on vocals/guitar, Paul Dilley on bass/piano, Josh Kiggans on drums/percussion, and Chris Hersch on lead guitar/banjo. Check out our quick Q&A with GGG below to learn more about the band, find out what the UberSessions experience was like, and where they're heading next!
Congrats on being the first UberSessions winner! What was it like playing in the back of an UberSUV?
Pretty sure it was the first time any of us have ever been in an Escalade. So, that was pretty great – got to cruise around Cambridge in high style. It was certainly the first time we've ever arrived at one of our gigs in a luxury vehicle! Our van is a member of the family and a workhorse, but it certainly isn't fancy.
Tell us a little bit about the song you performed, "Built for Speed." What was the inspiration behind that?
We figured "Built For Speed" suited the situation perfectly. It's a song about cruising and grinding gears. I can't imagine a better setting for the song than inside a good-looking car that's built for performance.
For anyone who's not familiar with your music, how would you describe your sound?
Our music is a steady blend of early rock 'n' roll, rockabilly, and classic country sounds. We pull in influence from all sorts of different genres, but our sound is mainly rooted in rock and country.
You've made quite an impression on the Boston music scene over the last few years. What's been the most critical in working your way up to where you are today?
Perseverance has had a lot to do with it. The band has had its share of ups and downs. But I think continuing to weather the storms, the will to rebuild, and not giving up has led the band to where it is today. The current lineup has been solid for about three or four years, and the band has never sounded better. Finding guys who are not just willing to work hard, but also willing to roll with the punches and develop an understanding of each other as people – as well as musicians – has helped a whole lot. It's really a great bunch of guys.
What's next for Girls Guns and Glory?
Our new album Good Luck just dropped last week on Lonesome Day Records. It's on iTunes and Amazon and all that, but now it's our time to push the record. We have a really full tour schedule coming up with dates all over the East Coast, Midwest, and Southwest this winter and spring. Then we're heading to Europe in the fall. Gonna be a great year, with a lot of time spent on the road!
Click here to check out Girls Guns and Glory's upcoming tour dates, and keep up with the band on Facebook and Twitter.
Want to be the star of the February UberSessions? Apply for free by February 21st for your chance to win! And if you're not currently a Sonicbids member, no problem – all new artists who submit will receive a free 30-day trial.