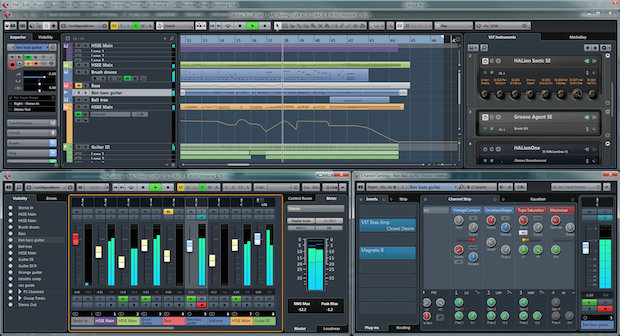 Image via alphr.com
With technology increasing at exponential rates and new recording platforms launching and upgrading all the time, it's hard to keep up and choose one digital audio workstation (DAW), especially if you're new to recording. The good news is, with so many options, there's definitely one out there that will best suit your needs. Whether you're new to the recording process or you're a pro and want to expand your toolkit and resume, here are brief overviews of the top DAWs on the market right now to guide you in the process of choosing what's best for you.
Best uses: Tracking audio, mixing, collaborating with other producers and musicians
Price: Varies depending on version and subscription plan
If you're serious about producing/engineering, you can't go wrong with Pro Tools. It helped establish a foothold in the early days of digital audio and it's still widely considered to be the industry standard. It has all the capabilities that you would need in a DAW: recording, editing, mixing, MIDI, working with video and film, etc. But the thing that makes Pro Tools hold its ground among all its competitors is that it is universal. It's the main language that producers and engineers speak in the digital audio world. Nowadays, people are working and collaborating with each other all over the world, and because Pro Tools is the industry standard, it's naturally the DAW of choice. It's also the most favored DAW for tracking and mixing, especially large complex sessions, which is what it was originally designed for. With that said, that's what Pro Tools is mostly used for. Its MIDI interface is still behind many of its competitors, and another downside is that it takes up a USB port for the dongle that acts as an authorization key.
Best uses: MIDI recording/editing, lots of variety in samples and loops, simple and intuitive workflow
Price: $199.99
Logic is perhaps one of the biggest competitors to Pro Tools, and for good reason. Its interface is sleek and arguably more intuitive to use. What makes Logic shine is its powerful MIDI recording/editing capabilities, in addition to being loaded with tons of legit samples and loops. (Fun fact: Rihanna's "Umbrella" beat is a Logic drum loop.) It performs the main tasks of a DAW well, but it lacks versatility and workflow capabilities in mixing and tracking audio. However, tasks associated with sample and MIDI-based audio like looping are very easy and intuitive, which makes Logic a fine choice for those who work with songs that are combinations of MIDI and tracked audio.
Best uses: Electronic-based music, live performances, DJing
Price: $99–$749, depending on the version
Ableton's really cool because not only is it used for producing, but it's also widely used for live performances, especially for those who DJ. It has a unique feature called "session view," which is a non-linear grid for recording and playing your music ideas in any order. This is a great feature for producers who work in genres like dance, electro house, ambient, etc., and in its history, Live has always been more of a creative/compositional tool. It's generally not viewed much as an audio/MIDI workhorse in the studio, but its ability to communicate effectively with hands-on, gear-like instruments and all types of controllers makes it a fun and interactive DAW.
Best uses: Lots of variety in its sample library, virtual instruments, effects
Price: $49 for the essentials version, $399 for the full version
Reason was originally created as a drum-sequencing program to create beats, but now, it's expanded to have all the capabilities of other DAWs and has been working to improve its workflow. One of its unique features is the "rack," which is a centralized area where you can load as many instrument and effect modules as your computer can handle in order to generate and process sound. Reason also boasts an impressive number of production tools. It has tons of loops that you can drag and drop, and it has nine virtual instruments that emulate their real-world counterparts impressively. Because it's designed to allow you to do full-on production straight out of the box, it doesn't support VST or AU plugins. Instead, it has its own line of plugins called Rack Extensions that can be purchased from Propellerhead's website.
Best uses: MIDI functions and capabilities, mixing, editing
Price: $99.99–$549.99, depending on the version
Cubase definitely ranks up there with the top DAWs of the day, and it's recently been given amazing reviews from audio tech blogs and magazines. Cubase has been around computer music for a long time and started out as a MIDI sequencer, and now, it's a full-on music production workhorse. It has a great workflow, mixer, and automation capacity. There are also several useful features such as "render in place," which lets you bounce MIDI or audio internally, that make it especially efficient. Its MIDI capabilities such as Chord Pads, which let you play or record chords with you mouse or any input device, and Chord Assistant, which shows you related chords depending on the style to help you produce, make Cubase a powerful DAW to go with. The only two main downsides are that, like Pro Tools, it requires a dongle for authorization, and it hasn't optimized its interface to support Apple's retina display, so it can look pixelated or blurry.
Ultimately, you'll have to get your hands dirty to choose a DAW that's best for you. A lot of it is up to personal preference, down to the aesthetic of the interface, and the best way to see what feels right for you is taking them for a test drive. You can easily demo any of these five DAWs, and it will be helpful to keep these key uses in mind while you're shopping around.
Next up:
Belinda Huang is a contributing writer for Sonicbids. She is a music production & engineering major at Berklee College of Music and is a staff writer for their online newspaper, The Berklee Groove.