If you've been to Earth recently, you're aware that the Fender Stratocaster is the preeminent electric guitar in popular music. Guitar demigods like Gilmour, Hendrix, and Clapton are always seen and pictured playing it. Stratocasters been made cheaply in Japan and Mexico, their iconic shape has been copied endlessly, and in the 1960s, an Asian company even made a line of Strat copies called the Bumper since they'd never heard of Leo Fender (this legend may be apocryphal, as the internet does not seem to remember it).
So with respectful bows to the primacy of the Strat, here are the other 10 most iconic plugin rock 'n' roll machines in history. We'll start with the Gibsons.
1. Gibson Flying V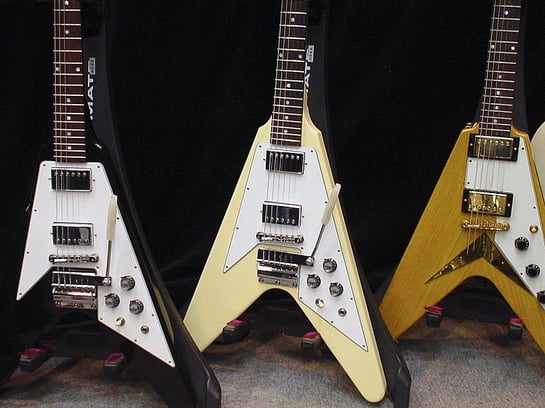 Image via Wikimedia Commons / CC BY 3.0
Released in 1957, this "futuristic" design now looks delightfully retro… but still awesome. Not even the most brutal metalhead guitar hero would look uncool shredding on one of these right now.
2. Gibson Explorer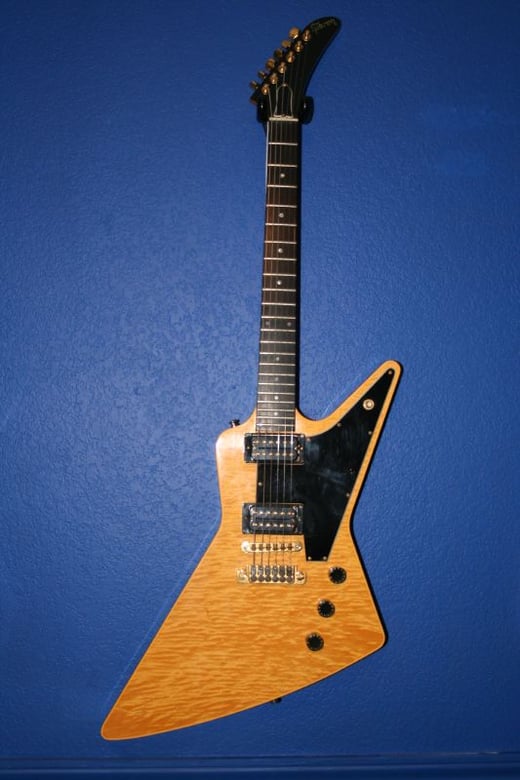 Photo by Ozone Ferd via Wikipedia Commons / CC BY 2.0
Ted McCarthy, president and chief designer at Gibson in the '50s, was having a good year. His team created the simply gorgeous Explorer and the Flying V at the same time, although the Explorer was released one year later in '58. These two beauties share dual humbucking pickups and bizarre shapes that might force you to buy a weird-shaped guitar case.
3. Gibson Les Paul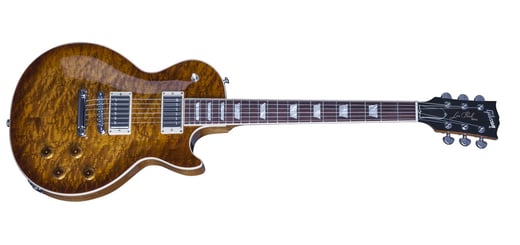 Photo by Ethan Prater via Flickr / CC BY 2.0
Powerful. Heavy. Expensive. This wonderful way to get rid of $4,000 will have you sounding like Slash in five minutes, and is probably the only guitar in the world that can go head to head with the Strat for iconic look and instantly recognizable tone.
4. Gibson SG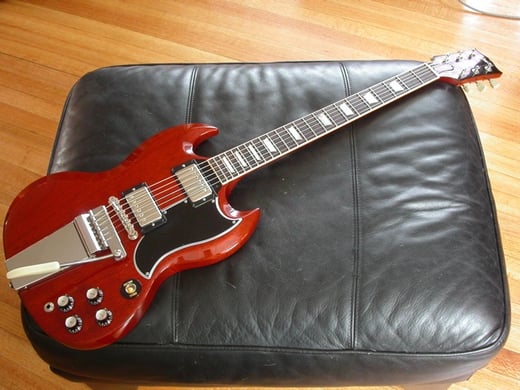 Image via Wikimedia Commons / CC BY 2.0
You might think AC/DC when you see one of these, but this ax, billed as having the "world's fastest neck," has been a favorite of players in all genres from jazz to punk to experimental. Originally a modified Les Paul, its name was changed at Paul's request because Gibson took it too far from Paul's original design without asking him.
5. Fender Telecaster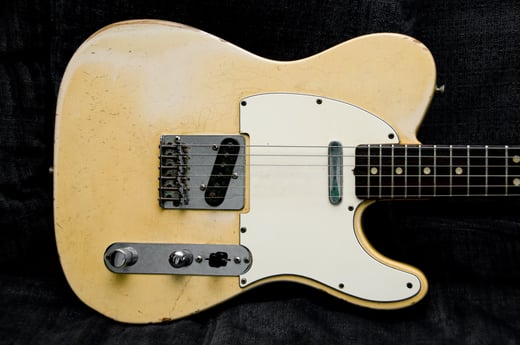 Image via Flickr / CC BY 2.0
Can you pick this guitar's sound out of a recording? While not as versatile as the Strat, players love its unique timbre and always seem to run it through a bunch of stompboxes.
6. Fender Jaguar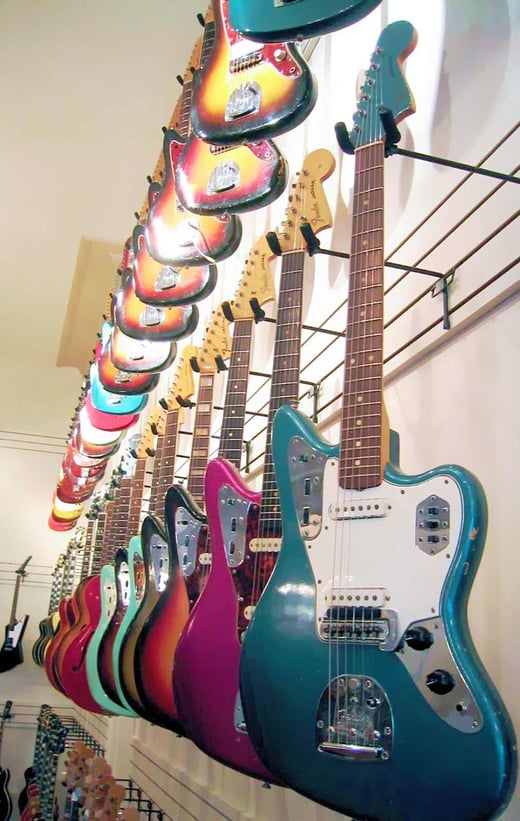 Image via Flickr / CC BY 2.0
Fender's top-of-the-line instrument in the 1960s, this guitar became a fixture of the surf-music scene and then saw a revival among punk rockers and shoegaze bands in the '80s and '90s. You've probably seen one strapped to Kurt Cobain or the members of My Bloody Valentine.
7. Silvertone 1423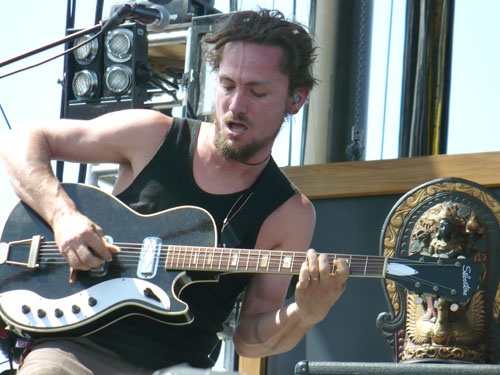 Photo by Scott Dudelson via Wikimedia Commons / CC BY-SA 3.0
Looking at this instrument instantly takes one back to the early days of rock. It's the ultimate vintage guitar. Because they were so affordable, almost everyone could have one. The Harmony company sold guitars through the Sears Roebuck catalog starting back in 1905, with the Silvertone models arriving in the 1950s. Maybe your grandparents bought one.
8. Steinberger GL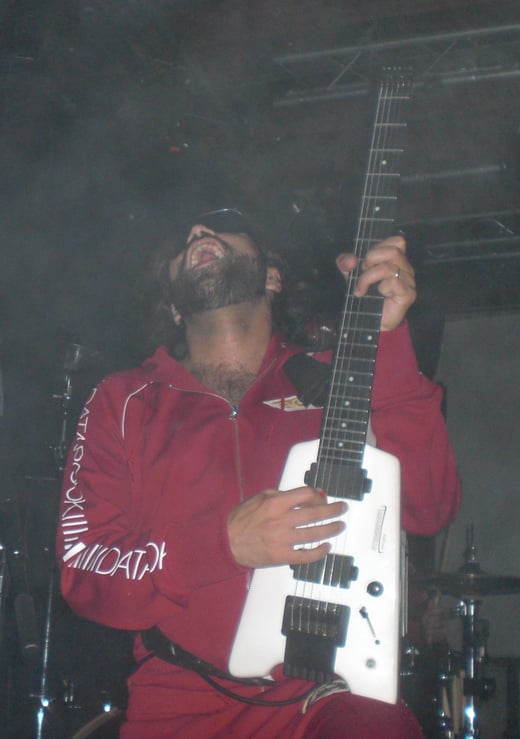 Image via Wikimedia Commons / CC BY 3.0
Strapping on this minimalist "headless" guitar seems like a hipster move, but the high-quality pickups and heavy-duty tremolo made fans of big-time players like Eddie Van Halen and David Gilmour.
9. B.C. Rich Warlock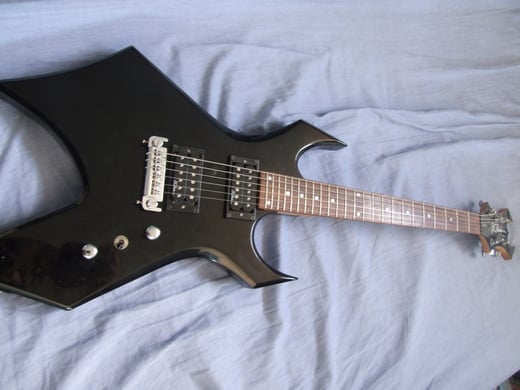 Image via Wikimedia Commons / CC BY 3.0
If your metal band features two guitarists and one of them plays that Flying V, your other guitarist plays this one. Raise your devil horns to this ultimate heavy-music staple.
10. Strandberg Boden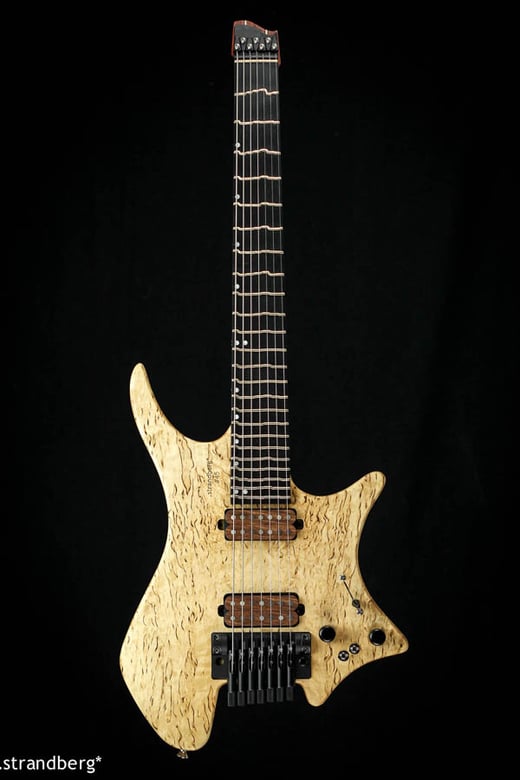 Image via strandbergguitars.com
Featuring an oddball neck designed for space-aged ergonomic performance, tuning machines at the bridge, and more than the requisite number of strings, this monster could very well be the next classic guitar.
What do you think is the most iconic guitar of all time? Comment below!
Jesse Sterling Harrison is an author, recording artist, and part-time farmer. He lives in Massachusetts with his wife, three daughters, and a herd of ducks.