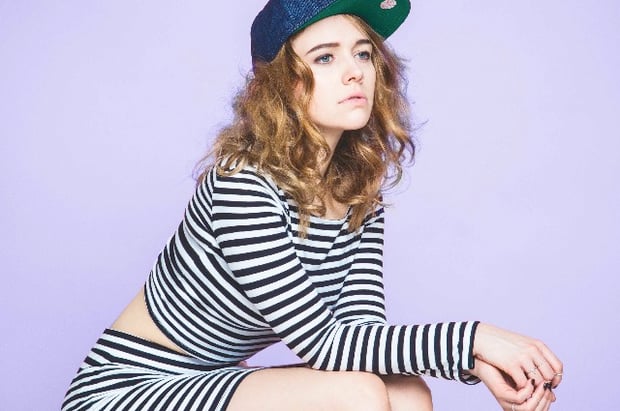 Having to change her name was just one of obstacles Fjer dealt with when she came to the US. (Image courtesy of Fjer)
Many consider America to be a land of opportunity, but for international artists, opportunity comes with some pretty big strings attached. The dream is to be able to pick a city, hop on a flight, and continue your musical career in the US. As an artist, however, moving to or touring America is a lot more complicated than that.
I caught up with nine musicians from around the world who have either toured extensively in America, or currently live in America – Fjer (Denmark), Luca Bertaglia (Italy), Joan Chew (Singapore), Stef Lang, (Canada), Sofia B (England), Rob Flynn of The Winter Passing (Ireland), and Mau Jimenez (Mexico), Yusuke Sato (Japan), and Dag Hanken (Norway) of Night Lights – to find out about some of the hurdles international artists face in the US, and how to overcome them.
From an artist's standpoint, give me one thing you wish you had known in advance before hitting the US for the first time.
Stef Lang: One thing I wish I had known in advance before hitting the US is just how important it is to be here. I'm grateful for my experiences in Canada, but music in the US is a different ballgame, and I sometimes wish I had come sooner. It takes a long time to establish connections, build relationships, and make a name for yourself, but I'm trusting in the universe's timing for me, and learning as I go.
Fjer: I think the biggest challenge is that there are so many people that are really, really good, who work their asses off to get to the place they wanna go. It's a different work ethic over here, and the competition is fierce. It's really hard to come here for the first time and think you have something rather special, and then just be another fish in the pond. At the same time, I think I fit in better, because there's a scene and an audience for everything.
Sofia B: I wish I had known how difficult it would be to get a visa after my student visa I got from Berklee College of Music in Boston [expired]. I moved to NYC after I graduated because my visa only permitted me to work in music. I secured several internships at a bunch of different companies in the music industry, but none of them were interested in hiring me full-time, especially because I was also an aspiring musician. On one hand, I learned loads about the music scene in America, and made some amazing friends, but pursuing an artist visa seemed pointless, as I wouldn't be able to make money from anything other than my music, so I couldn't even work at a restaurant legally.
Luca Bertaglia: One thing I would have liked to know in advance before moving to the United States for the first time is how the whole music scene works here, from the regular jam session, to the gigs in a club, recording sessions, tour, and everything concerning my situation as musician.
Rob Flynn of The Winter Passing: I had been to America for a summer once before, so I was a little more adjusted, maybe, to what it was going to be like. Some of us hadn't been there before, but I think we all mutually wondered if the shows and touring were going to be the same as they are in Europe. The wonder of the unknown!
As a foreign artist, what was the first major hurdle you had to overcome in the US, and how did you get over it?
Fjer: My name! No doubt. [laughs] I used to go by my own name, Maja (pronounced Mya), and people would always butcher it and have a really hard time with it. I quickly found out that I would want something that was easier to pronounce, and more international. Granted, Fjer ("feathers" in Danish) is not the easiest to say, but it's simple, still represents my Nordic roots, and makes for a great conversation. I'm glad I embraced my language and made it work.
Stef Lang: Getting the O-1 visa, which for me was a process, but once you're all clear to go and you've moved, the first major hurdle is just getting out there and getting plugged into the music scene, making relationships with people, and creating opportunities for yourself. You get over that by just doing it. I signed up for a million writing sessions, took meetings with labels and publishers, booked shows, and played open mics, but also spent time getting to know people on a personal level. You need supporters; you can't go it alone out here.
Joan Chew: The initial hurdle was, I guess, trying to know people in the scene, and to play out as much as possible in different places and situations. Not knowing anyone meant a lot of Craigslist hunting and going to shows or jam sessions, but persistence, doing a good job, and being professional with a great attitude helped.
Sofia B: My first hurdle was finding friends and places to play music at. I actually suffer from stage fright, so I was very much my own worst enemy. The best decision I ever made was going to Berklee because the friends I made there are a huge part of why I still write.
Mau Jimenez of Night Lights: I think the first major hurdle was the decision of whether or not to stay in the US and pursue Night Lights, knowing that it could potentially have an end date, with each of us having to apply for our visas eventually. I think we overcame it because of the music we make. We believe in it to the point of betting our time, our money, and our lives, to the years it will take to develop Night Lights. We have one another to remind us of that sacrifice, and to keep our heads and eyes focused on the future. To always work hard and stay humble knowing we're not really just doing this for ourselves, but our future literally depends on one another.
What has been the most unexpected obstacle you've encountered in the US that's been directly related to you not being from America, and how have you overcome it?
Yusuke Sato of Night Lights: The most unexpected hurdle I've had to face during my time here in the USA is being restrained from getting any job. We all know how difficult it is to make money nowadays, but it has been a huge obstacle for us because our OPTs (Optional Practical Training visas) only allow us to work in our field of music. Right now I play weddings, teach private lessons, and play for other artists. All of these things have been great, but aren't always steady, so sometimes I'm rolling in dough, and at times I'm rolling in the deep. [laughs]
Fjer: It's always hard to be a foreigner wanting to enter the US, period. I didn't know exactly how hard it was to even get to cross the borders. My first year over here was a lot of tourist visas, traveling back and forth, and being paranoid in the airport. I'm always looking for a better visa situation, and it takes time, money, and lawyers. The process of getting a green card... don't even get me started. One day, one day.
Luca Bertaglia: The tremendous amount of high-level musicians was really unexpected to me. How did I overcome it? I took advantage of it, and I use it as a challenge, a goal to hit, pushing my limits even more. Having a full range of knowledge can transform me in a chameleon to adapt in every kind of situation.
Rob Flynn of the Winter Passing: Touring in America is obviously much longer from a traveling point of view, but also the shows seem to run later in the night, so the whole daily process had a bigger schedule than we were used to. We overcame it by simply adapting.
Now that you have all of these experiences in your back pocket, in what ways have you better prepared yourself for such situations?
Joan Chew: The thing is to always be open to learning, and be receptive.
Mau Jimenez of Night Lights: We have all not only been working hard on our music and our craft, but we have had to expand our knowledge beyond just the music. It has been forced on us, and we urge anyone who is getting into the industry to understand and research it, and the US laws that are within it. We have all had conversations and read up on things we could do to stay active and to brace for the curbs.
Fjer: I've been in an artistic bubble this year. I've been working on my album, going to showcases, meetings, and concerts. With being here so long, and having talked to so many different artists, I'm now equipped to go into the process of getting a more permanent visa – an artist visa. Now I have all the connections, which is worth gold, because you need a ton of references, co-signs, and press. When I obtain this status, I will be able to play big shows, and hopefully, finally break through over here. That's my dream.
Stef Lang: Now that I've been through these experiences, it's made my O-1 visa renewal process much easier, because I know what to expect. I prepped all my paperwork way in advance so that it would easier, [and] I leaned on the connections that I made to help build my case. I've prepared myself to work on multiple projects at a time, in case I get several clients on top of what I'm doing as an artist. I've also chosen to be more aware of living a more balanced life, because it's easy to get burned out sometimes.
Sofia B: I've learned to take better care of myself and to stay positive. The power of positivity truly goes a long way.
Are there any struggles you think you'll always face as a foreign artist in the US, no matter what?
Sofia B: Whether I'll be able to move to the United States again after moving back to London. Collaboration is essential for personal growth, and there isn't anything more personal than getting to work with someone on their grounds.
Dag Hanken of Night Lights: The fact that we're living so far from our families and friends back home will, of course, always be a big sacrifice, and that's something I think we all miss a lot. Having lived several years overseas, though, I'm valuing the precious time I get to spend with my family more and more, and like to see the positive side of that.
Rob Flynn of The Winter Passing: You have to have a visa to tour there. I mean, let's be real here – The Winter Passing, like many other bands, are trying to get by. Your number one reason for being in a band should always be for the passion in what you're doing, [but] the financial overheads that come into factor with any band are always the hurdles in taking your music afar.
Luca Bertaglia: I think the worst hurdle I'm facing now, as a professional musician, is how hard it is, for any kind of artist, to have a working visa in the US. We have to demonstrate a lot of high-level material that identifies us as a known artist with extraordinary qualities to legitimize the government to allow a foreign person to work legally in the country.
Stef Lang: I don't think any particular hurdle will remain constant because everything ebbs and flows. There will always be hurdles in some capacity, no matter where you are, or what you're doing, [but] I think being a foreign artist is an advantage because you have something different to bring to the table, and you've been influenced by a different environment. Typically you have some sort of different flavor or style in your creative process, and that's what keeps things interesting.
While nothing can guarantee success, from what these musicians have shared, a good starting point if you're considering moving to America is to have a plan, have all your visa paperwork in order, do some research on the music scene of the city you're going to live in, and be ready to dive head first into that scene. Taking these steps will have you ahead of the game, and put you in a good position to build a career in the US.
Adam Bernard is a music industry veteran who has been working in media since 2000. If you live in the NYC area, you've probably seen him at a show. He prefers his venues intimate, his whiskey on the rocks, and his baseball played without the DH. Follow him at @adamsworldblog.