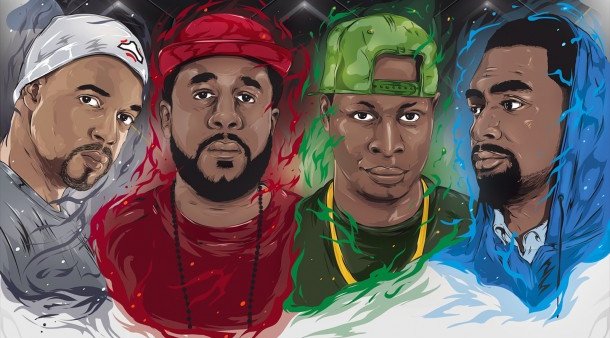 Image via shiningshadow.net
When your head nods, your feet tap, and your shoulders get loose, that's when you know you've found yourself in the realm of great production. There's something to be said for a producer who's not afraid to take a chance on never-heard-of samples and breaks, or one who creates his or her own drum patterns that sway away from trends. That's what this playlist celebrates.
Taking on North America, I've had the pleasure of listening to dozens of submissions to produce this 13-track, star-studded playlist (well, stars that you'll get to know over the course of these tracks). Each selection carries three elements: a great base, a working producer-artist relationship, and a vibe that gives you the essence of their love for the craft of production.
1. "Paper" by Da Real AG
Taking on elements of classic Southern rap, chopped and screwed cuts, and a thumping bass, this J-Wood-produced single embodies familiar elements of a regional sound without being redundant, and refreshes itself with hi-hats and guitar riffs throughout.
2. "Where the Soul At" by She Real
Producer: Joseph Laborie aka Sloppy Joe (@SloppyJoeBeats)
Produced by Sloppy Joe, this overcast instrumental delivers the perfect mix between hazy, smoke-riddled synths and an expansive beat that upholds well enough for She Real to lace the track with a hard delivery, ultimately complementing both artist and producer perfectly.
3. "Pass It Off" by Shining Shadow
Producer: Duplicuts
In-house group producer Duplicuts slices, cuts, and recreates this dominant instrumental using samples (all cleared!), live instrumentation, and hard bass that upholds gritty raps and the hard-street essence of the boom bap era. Duplicuts also creates a space for a call-and-response between group members without being overbearing, and still gives space for all elements to cohesively breathe.
4. "Scars" by Teri "Lyric" Green
Producer: Teri "Lyric" Green (@terilyricgreen)
As a self-produced track, Teri "Lyric" Green takes a raw and emotional approach to this beat, crafting it faultlessly to reflect her own deliveries and lyricism. The menacing undertones of the instrumental are muted by an uptempo melody and soft chorus.
5. "Vibe With You" by Ronnie Lott
Producer: Willie B of TDE (@ichibandon)
Giving an old-school '70s feel of late nights and romance, TDE in-house producer Willie B channels the 'fro era and flips it into the sounds of '80s pop, creating a laid-back instrumental you can just vibe out to – or as Ronnie Lott did, robustly rap over.
6. "Tall Up" by Scatta RPee
The self-proclaimed boom bap single receives more-than-hard deliveries from Scatta RPee, but also soulful jazz productions courtesy of Divine Drummah. Combining '70s samples and jazz, Divine Drummah comes close somewhere between the heart of a 9th Wonder instrumental, but still carving out his own lane with a modern arrangement that ends with an a cappella.
7. "Shawty Go" by Young Snag
Producer: DJ X.O. (@DJXO514)
Out of Montreal, where clubs are one of the biggest parts of nightlife and the legal age of drinking is 18, DJ X.O. makes a strip-club-themed instrumental that Young Snag simply progresses into a pole anthem. The trippy, hi-hat-laced track is also accompanied by the smooth bassline that would ultimately allow for… well, one proper lap dance.
8. "God Vibes" by G. Dot & Born
Producer: Ben Hedibi
Starting with raw keys, Ben Hedibi slowly builds this instrumental with bass but continues to hold its power through simplicity. The jazzy, up-tempo melody glides over the class bomp-bap bass with ease, offering a veteran essence for a 2015 song.
9. "Closest 1's" by Rochelle "Hot 16"
Producer: Jesse Black (@jesseblack)
Not your average trap song, Atlanta's Jesse Black adds an industrial element to this drum-heavy instrumental that creates an unusual partnership to the typical trap sounds – in fact, it gives off a feeling of soul, while maintaining ATL's regional grittiness.
10. "All Night" by The Night Hawks
In-house producer Charles Herron dives back into the disco era to create a two-step instrumental suitable anywhere from a backyard BBQ to a smooth ride down the block, reaching back around to unite the softer tones of hip-hop production and the art of sampling with the deep vocal tones of the Night Hawks.
11. "I Got Options" by H.I.M.E.S.
Producer: H.I.M.E.S. (@GetAtHimes)
Mixing big bass and trap-heavy industrialism, this H.I.M.E.S. self-produced single can cause a concussion. It's clean and simple, but ultimately creates a space for an incredible amount of head-nodding and mean mugging.
12. "Something" by Decora Poet
Producer: Angelo Quagila and Decora Poet
With no samples used, Decora Poet and Angelo Quagila co-produced this beat with nothing but live instrumentation – that in itself is a rare art these days. The big-band sound creates a unique sound that's driven entirely by a collection of horns and a simple but all-encompassing drumline.
13. "Fund$" by Descendent
Producer: Agent Midi (@AgentMidi)
Labeled completely as an up-tempo track, despite its content referring to negative account balances, Agent Midi took it upon himself to forgo any sampling and play all the instruments in the song himself – the bass, piano, and guitar were crafted by the dynamic beatsmith in a way that elevates in a very special way. Not for nothing, this song is certified "summertime fine," but has a timeless instrumental that'll transcend any trend.
Erin Lowers is a Canadian hip-hop head and music professional. She is most known for her work as an ambassador for the A3C Hip Hop Festival in Atlanta, a collaborator on the Manifesto Festival in Toronto, and a contributor to boi-1da.net.