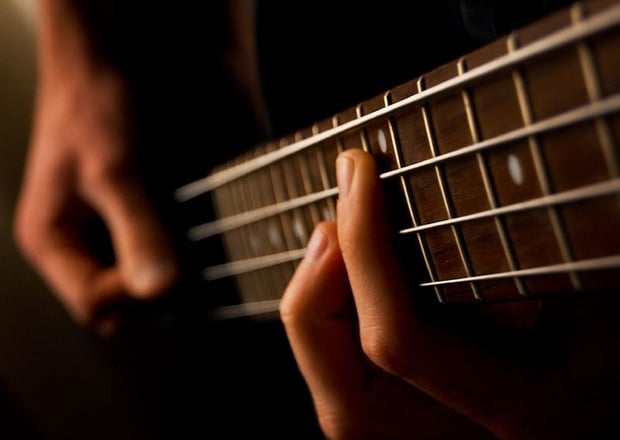 Photo by Feliciano Guimareas via Wikimedia Commons
So you think you're a master of the bass? Or maybe you've just picked it up and don't know where to start. A great way to approach your studies on the bass is through a mix of basic theory and a knowledge of songs that you want to eventually emulate. This is where you start to build a repertoire. Here's a list of songs, some easier and some more difficult, that each offer valuable lessons to be learned from the genre they represent.
1. Rock/pop: The Killers, "Jenny Was a Friend of Mine"
The Killers broke out with their debut dance/rock album, Hot Fuss, in the mid 2000s. "Jenny Was a Friend of Mine" features a groove with lots of space that cuts through the washy guitars and sticks in your head.
2. Psych rock/pop: Tame Impala, "Apocalypse Dreams"
Tame Impala creates mellow psychedelic rock with a vintage sound. This bassline is simple where it needs to be and features some beautifully melodic passages. Appropriately, the song is recorded on a classic viola bass.
3. Punk/pop: Green Day, "Longview"
Bay Area legends turned pop stars, Green Day struck a chord with young punks with their 1994 album, Dookie. The song "Longview" features one of the most famous basslines ever written, played on Mike Dirnt's iconic, bright-sounding bass.
4. Classic rock: Led Zeppelin, "The Lemon Song"
It's difficult to pick one Zeppelin song as the best to learn on bass, but nothing quite compares to John Paul Jones' grooves on "The Lemon Song." This bassline captures the bluesy sound that was characteristic of Zeppelin and so many other hard-rock bands of the '70s.
5. Classic metal: Iron Maiden, "Phantom of the Opera"
Steve Harris is widely considered the best bass player in metal for good reason. His basslines with Iron Maiden are incredibly technical, and nowhere is this more present than on "Phantom of the Opera."
6. Prog rock: The Mars Volta, "Agadez"
The Mars Volta is known for being one of the most progressive and wildly innovative bands of all time. Their boundless energy is held in place by the rock-steady basslines of Juan Alderete. His catchy and winding bass melodies transition perfectly into the pounding eighth notes heard later in the song.
7. Modern metal: Lamb of God, "Redneck"
Modern metal is an enormous genre which contains a multitude of other niche genres. We could be here all day, but the fact stands that nothing could be more fitting as a bassline for modern metal then the technical and aggressive bassline displayed in Lamb of God's "Redneck."
8. Post punk: Interpol, "Obstacle 1"
A niche genre of modern rock music, post punk is thought to have been born from Joy Division and their debut LP, Unknown Pleasures. Post punk features prominent and highly creative basslines such as the one heard on Interpol's "Obstacle 1."
9. Electronic/dance: Daft Punk, "Around the World"
At its core, electronic music is all about the low end. Daft Punk, one of the most popular electronic acts ever, makes their hit songs using simple, tight, and effective basslines, qualities that are desirable in a bass parts across many genres.
10. Disco: Dynasty, "I've Just Begun to Love You"
Disco served as the predominant dance music in a time before electronic music, and its basslines are a direct reflection of this. Dynasty bassist Lyon Sylvers III was a master of tight and funky basslines that fit the song and made people get up and move.
11. Funk: Funkadelic, "Hit It and Quit It"
While funk music and disco share an infatuation with groove, there's no mistaking the more subdued nature of true funk music. Funkadelic might as well have written the book on groove.
12. Motown: Marvin Gaye and Tammi Terrell, "Aint Nothin' Like the Real Thing"
Where funk was raunchy and wild, Motown was smooth and romantic. Motown basslines reflect this warm, harmonious feeling. Learn this bass part by James Jamerson to get a taste of real Motown.
13. Neo-soul: Hiatus Kaiyote, "Molasses"
Today, neo-soul features some of the most innovative and challenging instrumental work in modern music. Australian natives Hiatus Kaiyote have risen to popularity in the world of neo-soul with lively and soulful songs like "Molasses."
14. Jazz: John Coltrane (ft. Paul Chambers on bass), "Giant Steps"
The final frontier: jazz. Perhaps the most daunting and grandiose jazz tune ever written, John Coltrane's "Giant Steps" pushed the genre to its limit at the time. This song's rapid chord changes make it an incredible workout for any jazz bassist. Check out Paul Chambers' work playing bass on the original recording with John Coltrane... and start practicing!
Max Monahan is a bassist and a writer living in Los Angeles. He spends his time working for an audio licensing website and shredding sweet bass riffs.