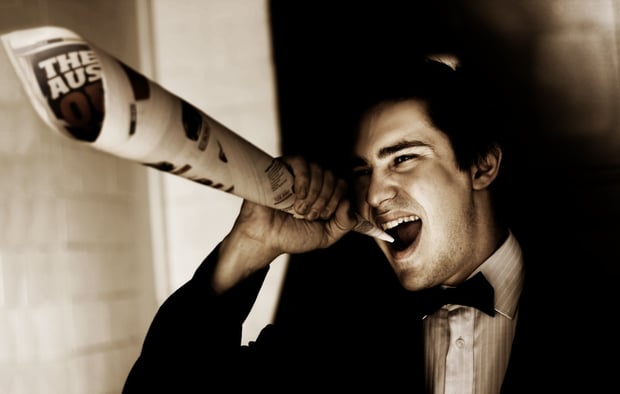 Image via Shutterstock
Press releases can be difficult to get right, as it seems like everyone wants something different from the next person. Some people will say that what they'd received is annoyingly lengthy, while others complain there isn't enough information available. I have been both of those people, and I've heard these complaints from other writers as well. So, what are you to do if you're writing these materials on your own (or even if you have someone doing it for you)?
Here's one suggestion: whatever press release you're sending out – be it for a single, an album, a tour, whatever it is – make sure you have two versions of it: one long, and one short.
So, what should each version actually look like?
The short press release
This should realistically only be a few sentences, and it should get the main one or two points across. Don't worry about inserting every bit of information in here, and certainly don't include anything like quotes, because that'll just muck it all up. This part goes at the top of the email, right after some sort of greeting. You want to be friendly, but also get down to business.
The idea is to make these few sentences interesting enough that whoever you've sent it to wants to hear more. Ideally, that "more" is right below the first paragraph, separated in a way that makes it clear what's the introduction and what's the longer, meatier release. You can attach it or provide a link to a blog post, but those aren't always as effective (in my opinion).
Numbers and bold names are always good here, by the way, as they catch the eye, and writers are often intrigued and want to hear what else is going on.
Here is an example for the beginning of an email I got about the band Hillsong United:
I wanted to reach out about the upcoming documentary HILLSONG: LET HOPE RISE, which tells the story of the chart-topping band Hillsong United.

The band are a worldwide sensation, selling the same number of records as Miley Cyrus (16 million) and their single 'Oceans' topped Billboard's Christian music charts for 59 non-consecutive weeks, where it's remained in the top five for a year and a half. Their music is sung by over 50 million people on any given Sunday.

The documentary, in theaters September 9th, is directed by Michael John Warren whose other films have documented artists including DRAKE, NICKI MINAJ and JAY-Z.

Would you be interested in speaking to the band or covering their story?

More info below; let me know your thoughts.
The long press release
This is where you can add more about what makes you and your music really special. It shouldn't be difficult to pick out one or two juicy bits for the shorter version, but here there should be many more, and you can embellish. Use quotes, stories, provide a track listing, tour dates, everything! It's great when you put things all in one place in an organized manner, and when the writer can access anything they may need.
Take what you wrote in the shorter version and expand it all, though don't make it ridiculously long. I'd say a page is good, but when you go past two, you've gone too far – nobody is going to read that much.
Here is the rest of the email concerning Hillsong United's new project:
SYNOPSIS | "Hillsong – Let Hope Rise" chronicles the spectacular and unlikely rise to prominence of the Australia-based Christian band, Hillsong UNITED. The music of Hillsong is so popular it is estimated that on any given Sunday, more than 50 million churchgoers around the world are singing their songs.

More Information on HILLSONG UNITED

Hillsong music has sold more than 16 million albums. That compares to such acts as Lady Antebellum (13 million), Mumford & Sons (10 million), and Beyonce (16 million).

"Oceans (Where Feet May Fail)" has sold more than 1.4 million copies. It was in the Top 5, for more than 111 weeks.

Their songs are so popular is it estimated that on any given Sunday, more than 50 million churchgoers around the world are singing one of Hillsong's worship songs.

Hillsong UNITED won the award for top Christian artist for 2 consecutive years at the Billboard Music Awards for 2015 & 2016.

Hillsong UNITED's single "Oceans (Where Feet May Fail)" topped Billboard's Christian music charts for 45 straight weeks, with an astounding total of 59 non-consecutive weeks at No.1.

The group's 2013 album "Zion" debuted at No. 1 on iTunes' overall album chart and cracked the Billboard Top 5 in the U.S.

Their songs have been translated into 80 languages.

Hillsong Church spans 16 global locations (including London, Paris, Stockholm, Cape Town, Buenos Aires and Moscow) with more than 100,000 weekly attendees.

All of Hillsong UNITED's 11-member band are volunteers or employees of the church. They have rock-star fame, but live simple lives. "They are the most famous band, that you've never heard of." - Jadwin Gillies (band member)

Hillsong UNITED's latest album 'Empires' boasts tracks that are no shorter than 4 mins, some songs extending into 8mins, most notably "Oceans."

The church's annual conferences, featuring music from the band, have sold out such auditoriums as Radio City Music Hall, the Hollywood Bowl, Red Rocks Amphitheater and the O2 Arena.

"Hillsong: LET HOPE RISE" is directed by Michael John Warren, who is not religious himself, but took interest in the band and wanted to tell their story. Warren's best known for his directorial debut, "Jay-Z: Fade to Black", and stylized documentaries like, "Nicki Minaj: My Time Now"
I would say that this rule applies to your bio as well. Having a biography is sort of like a press release, except that it's not about a specific album or a song – it's about you. It's great to have a three- to four-sentence bio ready to go, and another version that's up to a page long.
You never know what people will want, so have it ready! I've been asked for both in my time, and it's nice to know they're available at a moment's notice.
Next up: Dear Bands, Here's How to Write a Damn Press Release
Hugh McIntyre is a freelance pop music journalist in NYC by way of Boston. He has written for Billboard, The Hollywood Reporter, and MTV, as well as various magazines and blogs around the world. He is also the founder and editor-in-chief of the blog Pop! Bang! Boom! which is dedicated to the genre of pop in all of its glory.