Many people struggle with where to start when looking at the wide world of keyboard MIDI controllers to use with their DAW. Below are three of my top choices for anyone looking for a starting place. Obviously, no one choice fits all, and there are a number of factors to consider, like:
Do you see yourself using this controller alongside other controllers?
Is bundled software of interest to you?
What type of keybed feels best to you?
To try and compare apples to apples, we're going to look only at 61-key models, as I feel this is a "sweet spot" among controllers for playability, while keeping things within a footprint that will work even in a bedroom studio.
1. Akai Professional MPK261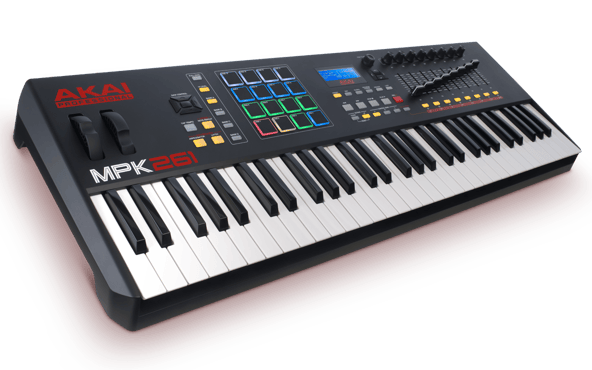 Image via akaipro.com
Street price: $500
No stranger to the studio world, Akai's offering into the market is certainly one to take a look at. This versatile controller gives you a robust selection of pads, encoders, switches, and faders to control almost any parameter of any instrument or plugin right from the controller itself. Programmable transport controls allow you to keep your hand off the mouse and on the controller so you can keep yourself from breaking your creative flow. The semi-weighted keybed also features aftertouch to allow you to get expressive with your performances, and its bus-powered USB connection makes getting up and running a snap.
While offering a simple sampling of bundled software, it shouldn't be a reason to discount this controller. Anyone familiar with Akai will be happy to see that a number of the familiar MPC features (note repeat, swing, 16-level pad setup, etc.) have not been neglected here. The flexibility, breadth of controls, and build quality available to you here are enough to make this a great choice to build your studio around.
2. Arturia KeyLab 61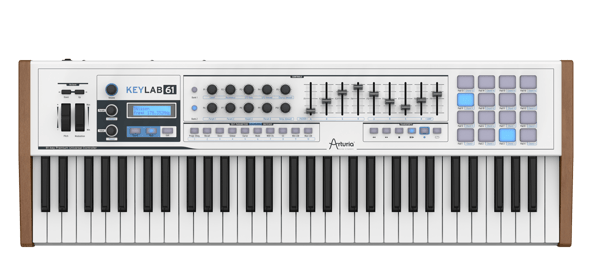 Image via arturia.com
Street price: $400
Many people, especially those looking to bring analog familiarity to the digital world, are no stranger to Arturia. It should be no surprise that its core series of keyboard controller offerings are not going to disappoint. Like the MPK261, there are a number of tactile controls at your fingertips with nine faders, and 13 encoders ready to take the control of your DAW session, all which have been pre-mapped to control the 5,000 sounds available to you from the Arturia software collection included.
While the 16 pads included offer some nice flexibility for those looking to take their performance in that direction, if your production style centers around heavy pad use, I may suggest that you look elsewhere. The semi-weighted after-touch keybed should satisfy most synth heads with quick and responsive lines, but may leave those desiring a piano-like feel looking for more. Otherwise, if you're looking for a library of sounds to start and a great seamlessly integrated controller to match, I would look no further.
3. Native Instruments Komplete Kontrol S61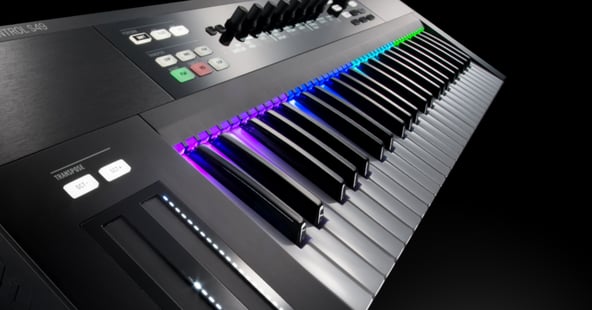 Image via native-instruments.com
Street price: $700
While the price may be a deterrent to some, to others it may be the thought of, "What business does Native Instruments have building keyboards?" But for anyone who's used the Maschine, they know that NI is not messing around with their hardware, and they bring the same dedication they put into their software to the table.
If you're a Native Instruments user, stop your search here, as there's almost no substitute for quality and integration. The integration between your favorite NI instruments is so tight, you'll wonder how you lived with anything else before. While the light guide may seem like a gimmick at first, its ability to immerse the keyboard even further into the software is quickly something you will learn to appreciate. The lack of pads and the external editor for mapping encoder layouts may leave you feeling like you paid too much if you're an active user of other software, and the touchpad-style modulation and pitchbend do take a little getting used to.
This keyboard is built like a tank, and the Fatar keybed feels fantastic under your fingers. The included Komplete Select bundle should be enough to show you what this keyboard can do and get you off and running in the NI world. It can't be stressed enough: if you're a NI user and you haven't checked out the Komplete Kontrol series, you owe it to yourself to do so!
Aaron Staniulis is not only a freelance live sound and recording engineer, but also an accomplished musician, singer, and songwriter. He has spent equal time on both sides of the microphone working for and playing alongside everyone from local bar cover bands to major label recording artists, in venues stretching from tens to tens of thousands of people. Having seen both sides at all levels gives him the perfect perspective for shedding light on the "Angry Sound Guy." You can find out more about what he's up to at aaronstaniulis.com.