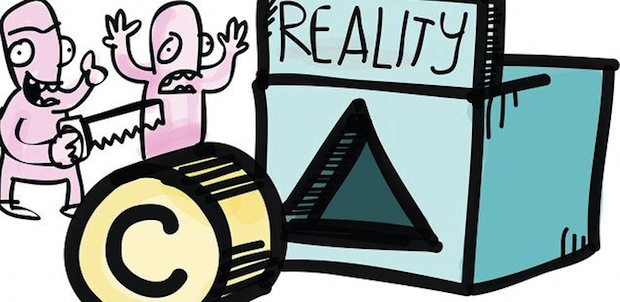 Image via Pirate Times
This article originally appeared on Hypebot.
It is time for the music industry to hit the reset button. Albums are not the prevalent metric, A&R is crowdsourced and anyone can get a distribution deal. The building blocks for change are currently being laid as Congress works to identify the problems with the current copyright laws and systems, and hopefully, introduce reform.
There is often conflict between law and innovation, and in the music industry, this conflict has created the perfect storm. The innovators who had the vision to know how future generations would want to listen to and share music did not intentionally set out to rip people off. But the laws have not evolved to support digital consumption. As a result, business models were born out of lawsuits, reactionary technologies were built, interests became disjointed, and the old regulations still in place were no longer relevant or sustainable in digital models. The law is the fundamental building block preventing necessary reinvention; until laws change, the storm rages on.
Last month, I spent two days participating in the public roundtable sessions that the US Copyright Office hosted at UCLA.
It was clear that everyone agreed the laws are outdated and are at the root of many of the problems the music industry faces today.
I am sure everyone took away something different, but here is a summary of my perspective on what can be done.
A holistic system is needed, supported by new laws governing the access to and exchange of data.
These in turn foster the transparency,trackability and collaboration (TTC) required to support healthy business models moving forward.
1. Transparency
The government should help build or establish a single authoritative source to register, compile and access copyright data. This is critical to ensure efficiencies for identification of copyrights, payments, administration and to empower copyright owners to make decisions for the handling of their intellectual property. This exists for trademarks and patents, so why not copyrights?
Regulations should be applied to the access and exchange of data, making scalable copyright detection possible and enforcement of those copyrights plausible.
2. Trackability
The music industry must invest in technologies to protect its own intellectual property. The technology exists today to build a system that can monitor, detect and track their whereabouts and permissions and is not being implemented as it should be.
A universal identification system (a Social Security number, so-to-speak) needs to be assigned to each copyright for the purpose of tracking and protecting them. Using technology, this data can be embedded into the audio signal becoming a permanent part of the work, much like a drum roll or vocal track is layered in now.
3. Collaboration
Public forums, just like the one the US Copyright Office held, where parties with varying interests can be heard and participate in shaping the laws for the future need to be supported with their outcomes adhered to.
Open discussions by willing participants about new business models and how to monetize the new music ecosystem in a free market should be encouraged and supported.
With proper TTC in place, there is tremendous opportunity for a healthy economy where all parties – solo artists, major labels and tech companies – can participate and prosper, but we will only get there when we align ourselves and our interests in order to bring about legislative reform. It is the first step.

Once the laws have been updated, existing business models that have been built on the backs of intellectual property may drastically change, and the dollars that have shifted from copyright owners to technology companies will be up for grabs. We cannot wait for reform to happen. Now is the time for the music industry to invest in technology for themselves and prepare strategies for reinvention.
Jenn Miller is the COO and Co-Founder of Audiosocket, a music licensing and technology company that streamlines rights management and copyright protection.