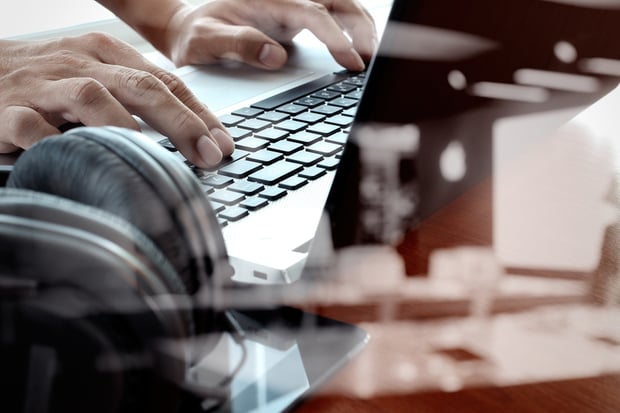 Image via Shutterstock
Our copyright system in the US isn't exactly known for being high tech, or for making it easy for musicians and businesses to license music and to get the permissions to use music they didn't write. But the Harry Fox Agency (HFA), the organization that helps musicians purchase rights to record cover songs, is doing its part to bring some copyright and licensing processes into the 21st century.
Though musicians aren't the primary customers for some of the HFA high-tech tools, you can benefit from knowing more about them and making sure your music is available for others to license through these systems (more on how to do that below). Here are the three tools you should know about.
1. Songfile: get sync licenses to record and distribute cover songs
Harry Fox has made it easier and quicker for you to get the license you need to record a cover song for small-batch distribution. By answering a series of questions about your recording on the Songfile website – such as where and how you plan to distribute the recording (streaming, download, or physical), how many copies you plan to make, how long your finished recording will be, and some basic information about the song – you can quickly get a mechanical license to record the cover song of your dreams. In addition to answering some questions about the song and your recording, you'll need to pay a one-time royalty fee of $14 to $16 per song.
Unfortunately, the Songfile tool doesn't work for everyone, since the current use is limited to 2,500 permanent copies (CDs, vinyl, downloads, cassettes, etc.) or 10,000 interactive streams per song. If you plan to create more than that limit, you'll need a Harry Fox Agency mechanical licensing account. From there, you can use their eMechanical licensing system which, although not quite as easy as Songfile, will still enable you to request mechanical licenses and pay royalties for the songs you record.
Also, since copyright law varies from country to country, and Harry Fox is a US agency, Songfile only works for the recordings you'll be distributing in the US. If you plan to distribute recordings outside of the US, then you'll need to consult the copyright agencies in the other countries where you plan to distribute your recording.
If your recording does fit the distribution parameters for Songfile, the tool can really speed up processing time for your license. According to the Songfile website, "All processing is done online, and in most cases, you will have your license in 24 hours. Once processed, licenses are made available to you electronically for viewing and printing through your Songfile account."
2. eSynch: sync licensing for non-commercial uses
The next tool in Harry Fox's crusade to make obeying copyright law easier for everyday people is eSynch, a product that makes it possible to quickly get a synchronization license. According the eSynch website, this tool makes it simple to license "songs you've combined with visual images or videos, such as a wedding, corporate, or personal website video, background music on websites, or in a film that will be shown at film festivals."
Since many of the uses listed above are often synced illegally without a license, it appears that HFA is attempting to make it easier for people to do things the right (legal) way. Sync licenses via eSynch are "issued immediately after you accept the sync license terms and purchase your license."
To become more useful to musicians and businesses, though, this tool would need to expand. For the moment, it only provides quick, painless synchronization licenses for non-commercial uses, and it can't be used for videos that will be "uploaded to a third party website including YouTube and Vimeo."
3. Slingshot: copyright management for businesses
This last tool is a full-service digital rights management platform for businesses. Slingshot helps businesses by taking all of the guesswork out of obtaining licenses, paying royalties, managing data, making agreements with publishers, etc. As a musician, the most important thing for you to do here is simply make sure that your own songs are available when businesses are seeking music to license.
To verify if your music is available via some or all of the HFA suite of online licensing tools, use the HFA public search tool in the upper-right section of the page, and look for a box that says "Represented By HFA." If your songs appear in the HFA search database, then you (or your publisher) have already registered the songs with HFA. But in order for HFA to actually help others license any of your music, your publisher must actually be an HFA affiliate and give permission for each of the different types of copyright licenses.
Even if your publisher doesn't affiliate with HFA, make sure to register your songs with the company to maximize the likelihood that you'll get paid mechanical royalties for your songs that are distributed in the US.
Jamie Davis-Ponce is a professional musician and graduate of Northeastern University's Master of Music Industry Leadership program with a concentration in entrepreneurship. She has been a music lecturer at Ithaca College, and is deeply involved in Boston-area arts and music organizations, having worked with ArtsBoston and held internships at Handel & Haydn Society and Boston Symphony Orchestra. Jamie is currently an administrator in the Professional Performance Division at Berklee College of Music. You can view more of her writing on her blog on Music, Business, and Creativity.