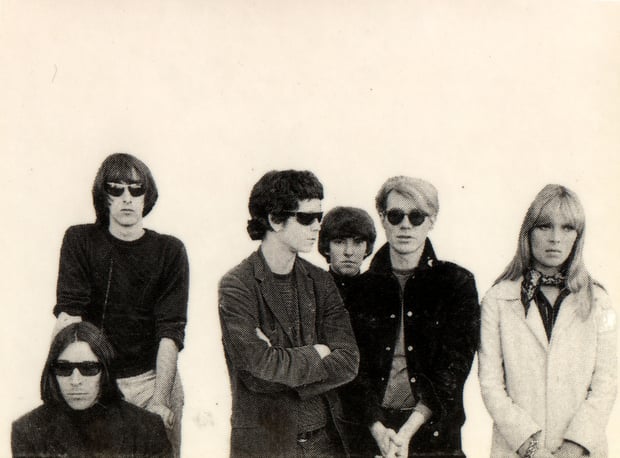 Image via flickr.com; used under Creative Commons
Being in a band is tough. It's even tougher if you want to be in a band that has the ambition of "making it." You know the old story: cars, girls, drugs, parties, photographers all hounding the band wherever they go. Living the good life. Though few bands ever actually meet this standard of "success," some come close, keeping at it as long as they can. But many times, that success never comes, or doesn't match the standard the band had set for itself, and the group folds. It's a sad, but real, tale.
But there are lucky ones. The luckiest bands that ever roamed, bands that were so lucky to achieve great success even after they disbanded, enjoying a popularity that came nowhere close to what they saw in the time the band "existed." In some cases, they would regroup to cash in and enjoy their newfound popularity. After all, who wouldn't? But the bigger lesson to be learned is the reward of persistence and hard work as a musician. (Or is it that sometimes the idea of a great band that once existed is more enticing than that of a band that currently exists?)
Either way, there are many things to be learned from these great bands. It proves a point that their music wasn't truly lacking, either. Sometimes, music goes over people's heads and they have to figure out how to understand it on their own terms. Sometimes, the music doesn't get the distribution it deserves, limiting the number of people who are exposed to it. Whatever the reason, these five bands were able to outdo themselves after they had called it quits, and saw their greatest successes after giving up.
1. Big Star
Comprised of successful husky-voiced teenage crooner Alex Chilton and Memphis-scene fixtures Chris Bell, Jody Stephens, and Andy Hummel, Big Star would become the penultimate unsung band despite the members' best intentions. Releasing three incredible records of power pop and rock 'n' roll tunes with a Southern flair, they nevertheless broke apart (Bell left after the first album and, by the third, only Chilton and Stephens were left), fading into obscurity due to poor distribution of their records and a perceived lack of interest by their label. Bootleg and original copies would go on to gain infamy, with Big Star being championed throughout the '80s and '90s until they were eventually returned to the limelight on many new albums and recordings.
2. The Zombies
The Zombies were a band with obvious roots in the skiffle and beat scenes popular in England in the early 1960s, but didn't really sound like they were copying the Beatles (unlike many bands of that era). Instead, their organ-led, rock-meets-jazz sound added darker elements to the burgeoning rock 'n' roll sound. Singer Colin Blunstone's breathy vocals and the band's minor-key hooks would hit the charts hard, but they were unable to capitalize with any substantial album sales. Their first true album, Odessey and Oracle, wouldn't see release until after their breakup, along with the single "Time of the Season." This track especially would find a spot on American FM stations in the late 1960s and early 1970s, making a big impression on listeners with its amazing vocals and melodies. The band never reunited totally, but still tours occasionally to dedicated audiences.
3. Tommy James
Tommy James was just in high school when he and his band the Shondells recorded the song "Hanky Panky," written by legendary songwriters Jeff Barry and Ellie Greenwich. While it was briefly a local success, a lack of any national distribution caused it to vanish from consciousness, and James finished high school. The Shondells broke up, and James thought the rest was history. One day, James was contacted by a Pittsburg DJ who said the record was very popular in the area. Excited by the possibility of success, James found a new band and released the song to wider distribution on a larger label. It immediately shot to the top of the charts for two weeks, and James had a hit. Amazingly, he would go on to write and record several more hits like "Crimson and Clover," "Crystal Blue Persuasion," and "Sweet Cherry Wine" with different incarnations of his group, and still tours to this day.
4. The Velvet Underground
The Velvet Underground is famously remembered as the band that maybe didn't sell a lot of records in their time, but inspired every single person who heard them to start their own band. And it's totally understandable. The Velvet Underground possessed one of the most unique sounds in rock music, at once experimental and familiar. Lou Reed's laid-back vocal style could go from a howl to a croon, all backed with a heavy-duty rhythm section. His guitar and tonal garage heroics would inspire an endless number of musicians all seeking to expand their sonic palette. By the 1980s, there would be hardly a musician around that wouldn't tell you of Reed and company's tremendous achievements as pioneers in experimental music. Eventually, the band would reunite, and their best-selling catalog continues to be reprinted today.
Christopher DeArcangelis is an active musician and copywriter from Chicago. He writes songs, plays guitar, and sings vocals for the rock and roll band MAMA and is the founder of the creative agency Static Free Industries.