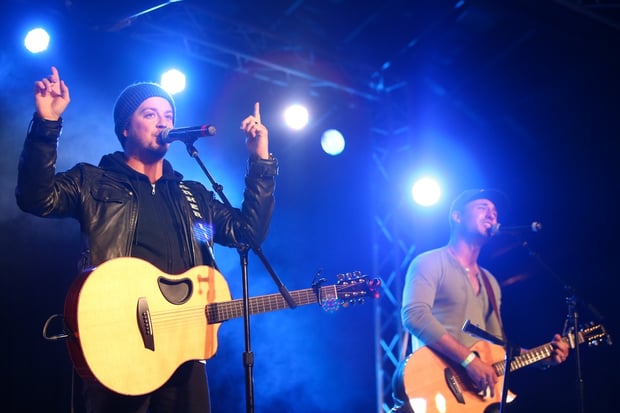 Image via Shutterstock
Seeing is believing. When you tour, existing and potential fans watch you perform live, onstage, and in the flesh. It's an audiovisual presentation. It's also a full sensory experience for everyone involved, and it's an exchange of energy. So you better look good.
Granted, you may not have a huge budget or tour support from a label to travel with full production, colored laser lighting, pyro, extensive stage clothes or costumes, and more. The list goes on and on. In truth, you likely have a bare-bones stage setup. But don't worry – that's okay. You're probably not ready for all those bells and whistles just yet, especially ones that may detract from your music, or that may interfere with the fact that you're just getting your road legs under you. You don't want to waste too much time or money you don't have on elaborate staging.
Even so, your stage show doesn't have to be the equivalent of concert Ambien – it doesn't have to be dull, listless, visually unappealing, or lull the audience to sleep. There are some cheap and insanely easy things you can do to make the visuals complement the sound.
1. Change up your stage plot
Try changing up the placement of the members, the gear, and/or the instruments a bit. Have your drummer play with his back to the crowd, or perhaps have him playing to the side. You obviously have to make sure any sort of change to stage plotting works in terms of the stage size and the function of the instruments. You don't want the plotting to interfere with, you know, actually making the sound. But if you can figure out a way to shake up the usual stage plot of the drummer at the back and the frontman in the middle, flanked by the bassist and guitarist, why not try it? It'll be nothing if not memorable and an experiment.
2. Coordinate your stage clothes
If it suits your aesthetic and your ethos, then why not try and coordinate stage clothes among all band members? A uniform look actually translates well and looks really cool on stage, as long as it's not cheesy, fake, or forced. You'd be surprised at how awesome all-white outfits look in a dark, smoky club.
3. Accessorize the stage with some cheap, creative props
No, I don't mean bracelets! Try adding some cool, cheap, and unexpected props to the stage. For instance, some bands put hollowed Marshall stacks onstage. They don't work, but they definitely look cool (even if they do disappoint when you find out that they serve no real purpose other than to provide a visual). Dead flowers that a florist is about to toss are always cool. Or what about some splattered canvases? Or old dolls hanging from nooses if you have a darker message? How about glitter? Candles? (You have to be careful with the latter, so maybe try flameless ones.)
All of these options add ambience. Just make sure that however you choose to decorate your stage, it fits your sonic vibe. A death metal or grindcore band with stuffed animals flanking amps? Eh, not so much. There are tons of options here – don't be afraid to get creative.
4. Display your band logo
You have to suck it up and spend a little cash on a backdrop or scrims baring your band or artist name. Your moniker and your logo are akin to your brand; it's what people will see and retain, so you've got to do it. Pony up the cash. Borrow it if you have to. Make it work.
What do you do to stand out onstage? Tell us in the comments below!
Amy Sciarretto has 20 years of print and online bylines, from Kerrang to Spin.com to Revolver to Bustle, covering music, beauty, and fashion. After 12 years doing radio and publicity at Roadrunner Records, she now fronts Atom Splitter PR, her own boutique PR firm, which has over 30 clients. She also is active in animal charity and rescue.