Fender. Gibson. Ibanez. These are all trusted names in guitar and bass manufacturing, but keep looking, and you'll find some of the most amazing instruments in the world are made by independent luthiers. Check out this list of four of the most amazing custom guitar and bass manufacturers in the world.
1. James Trussart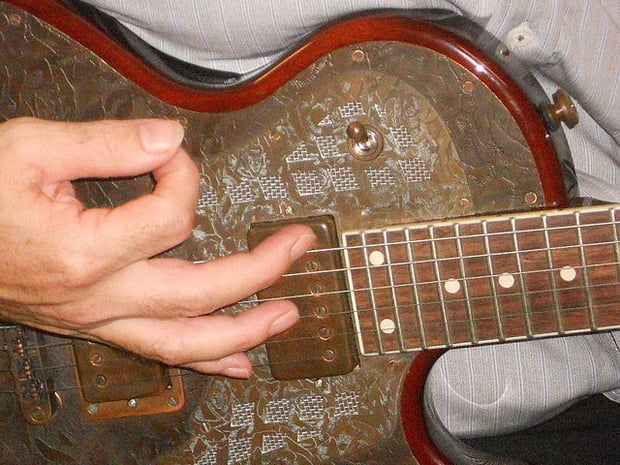 Image via Wikimedia Commons
Based out of Los Angeles, James Trussart has made a bold statement with his custom guitars and basses. Trussart guitars and basses don't sound like their traditional counterparts, because their bodies are made of hollow steel shells with bolted-on wood necks, and typically mimic classic guitar and bass designs by Fender and Gibson. They feature classic, traditional pickup configurations, though they often employ innovative hybrids of different pickup choices to create bold and truly functional sounds.
Another standout feature of the brand is the intricate design work etched into the steel of the guitars and basses. Artists who've used James Trussart instruments include Keith Richards, Bob Dylan, Tom Morello, and Mackenzie Tate with post-rock legends I/O.
2. Benedetto Guitars
Founded in 1968 by American luthier Robert Benedetto, Benedetto Guitars has become a highly respected name among jazz guitarists. Over the past 47 years, Benedetto Guitars has become world renowned for its archtop jazz guitars, making some of the world's most expensive (over $40,000) and collectible instruments – all in Savannah, GA. They don't outsource any of the work that goes into their instruments. Their guitars have been played by four generations of jazz masters including Johnny Smith, Kenny Burrell, Bucky Pizzarelli, Martin Taylor, and Pat Martino.
3. Carl Thompson Basses
Carl Thompson has been building basses since 1974 at the rate of about 10 or so every year, each one custom ordered and completely unique. His instruments are unlike any other, featuring exotic body shapes and breathtaking natural woodwork finishes. Les Claypool of Primus plays a famous custom bass by Carl Thompson dubbed "the rainbow bass" for the different types of wood used in its body. The body is made of strips of walnut, curly maple, padauk, purple heart, ebony, and cocobolo woods.
Thompson works on each bass himself making all kinds, from four-string piccolo basses to six-strings, and even more exotic instruments. In addition to Claypool, his basses are played by Anthony Jackson and jazz legend Stanley Clarke.
4. Nik Huber Guitars
Nik Huber Guitars was founded by Nik Huber in 1996 and is based out of Rodgau, Germany. The company has grown slowly but constantly, making its name through the impeccable craftsmanship that goes into its instruments. Its production line is made up of a team of five highly skilled specialists who build around 120 instruments a year. Each one of these instruments is handcrafted, and you can tell! The guitars are widely known for their ornate fret inlays, paint jobs, superior playability, and sound. All of these attributes are a testament to Huber's teams' immaculate attention to detail and incredible craftsmanship.
Max Monahan is a bassist and a writer living in Los Angeles. He spends his time working for an audio licensing website and shredding sweet bass riffs.