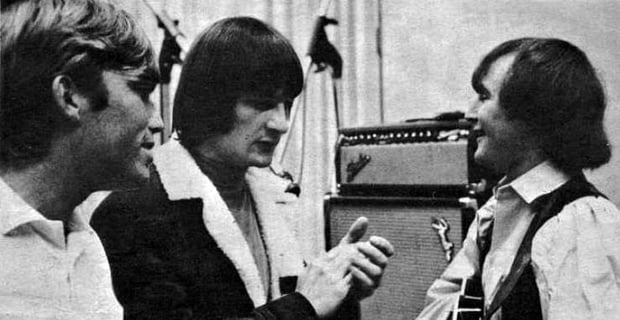 Image via Wikimedia Commons
While the world is filled with unaccomplished and unsuccessful musicians and always has been, there were many, many more of them during the record industry's heyday. Bands could get a record deal and, at the very least, get their music professionally recorded and distributed. While this allowed for some fantastic music to get made, for whatever reason, these artists weren't very successful. Thanks to the internet, we can revisit their music with 20/20 vision and appreciate it differently. While these excellent musicians never got their due in their time, take just one listen to any one of these tracks, and you may find yourself hooked.
1. Phil Seymour
As the foil to unsung pop-rocker Dwight Twilley in the late 1970s, Phil Seymour's voice and songwriting talents bolstered songs like "I'm On Fire" up the charts. Through his experience playing music in the South, Seymour befriended and worked with Tom Petty and lent his incredible vocals to Petty's first album. Seymour went on to release two solo albums in the early 1980s to little success, and died of cancer in the early 1990s. His two solo releases remain excellent examples of power pop at its best, with his powerful voice and hooky songs still sounding vital 35 years later.
2. The Shivvers
Existing for a just a few years in the late 1970s and early 1980s, Milwaukee's the Shivvers featured some of the most talented musicians in the Midwest. Lead singer Jill Kossoris' passionate yet punk vocals and the inventive songwriting would make this band heroes on the local scene for years, with their eventual inability to release a full-length album leading to their demise. Their singles "No Substitute," "Teenline," and "Please Stand By" are examples of exceptional New Wave music, with the propulsive beats and hook melodies staying firmly in your head after just one listen.
3. Speedy West
Without question, there are few people, if any, as talented on the pedal steel guitar as Speedy West. In fact, his nickname is "King of the Pedal Steel," and he definitely earned it. Utilizing the full extent of the instrument's many abilities, West crafted a high-speed hybrid of country music and jazz that remains unparalleled. He's practically the Eddie Van Halen of the pedal steel. West could also slow it down, performing compelling, Hawaiian-style ballads that still showcase his incredible approach to playing.
4. Gene Clark
Blasting onto the early 1960s LA rock scene as the "lead singer" of the Byrds, Gene Clark's good looks and mop top made him an instant sex symbol for American rock 'n' roll. Little did many know at the time, Clark was responsible for writing most of the Byrds' best songs during his short stay as their singer. Rumored to be deathly afraid of flying, Clark would quit the band to start a solo career. Taking the Byrds' country and folk influences even further, Clark would release some of the finest Americana music ever made throughout the 1960s and 1970s. Clark's incredible voice and unique songwriting went unheralded by many, and his work is, unfortunately, still relatively obscure.
5. The Raspberries
The Raspberries rocketed onto the charts with their number-one hit "Go All the Way" in 1970, and were largely unable to replicate their success over the course of four albums. Each one of these albums, while not blowing up the charts, were chock full of some of the tightest and well-written rock 'n' roll and pop music this side of the Atlantic Ocean. The Raspberries eventually disbanded, but lead singer and songwriter Eric Carmen went on to have varying degrees of success as a solo artist over the next two decades.
Christopher DeArcangelis is an active musician and copywriter from Chicago. He writes songs, plays guitar, and sings vocals for the rock and roll band MAMA and is the founder of the creative agency Static Free Industries.