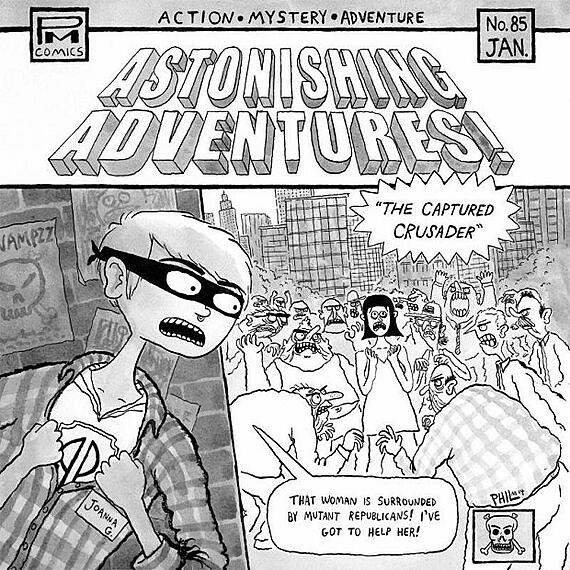 Cover art for the Joanna Gruesome/Perfect Pussy split, and also the front of its corresponding comic by Phil McAndrew. (Image via joannagruesome.bandcamp.com)
There are so many reasons to love split releases, the main one being that fans get two bands in one affordable EP – what's more to like? If you're debating about trying it out for your own band or aren't familiar with the format at all, check out the various perks below. We think they're all quite convincing.
1. Exposure to each other's fans
As one of the bands present in Burger Records' early catalog, Gap Dream remains a staple act for the label. Last month, the Fullerton psych-pop band partnered with San Francisco group Part Time – who I hadn't heard of until then – for a split seven-inch dually released through Burger and Lollipop Records.
When you pair two bands in one release, each gets exposure to the other's existing fanbase. Duh, right? It's maybe the most obvious advantage of joining forces, and on its own serves as a good enough reason to give it a go.
2. Opportunity for creative extras
This one falls under the exposure benefits, too, because I'd already heard (and written about) Joanna Gruesome, a noise-pop outfit from Cardiff, when they announced a split with Perfect Pussy, a likeminded New York band I had yet to check out, and now I'm totally into them. Released through Captured Tracks, Slumberland, and Fortuna Pop, the seven-inch is pretty much the ultimate collaboration. Not only are three labels involved, but also artist Phil McAndrew, brother of Perfect Pussy guitarist Ray McAndrew. Included is a 24-page comic book by Phil that features a heroine character modeled after both Alanna McArdle of JG and Meredith Graves of PP.
3. Cost efficiency
If you're taking the DIY route, a split release is conveniently more affordable because you're sharing production costs with another band. The return is also shared, of course, but the ratio's the same as if you'd gone at it alone, assuming you divide quantities evenly.
4. More appealing to fans on a budget
A vinyl LP runs anywhere from $12 to $25, but a seven-inch is typically priced between $5 and $10. And when you include two bands in there, fans have even more incentive to purchase!
5. Potential for joint gigs
Once the split's ready, why not organize a release show featuring both bands? Again, you'll capitalize on each other's fanbases. If the release is well-received and the timing's right, a joint tour could be a possibility, too.
Jhoni Jackson is an Atlanta-bred music journalist currently based in San Juan, Puerto Rico, where she juggles owning a venue called Club 77, freelance writing and, of course, going to the beach as often as possible.