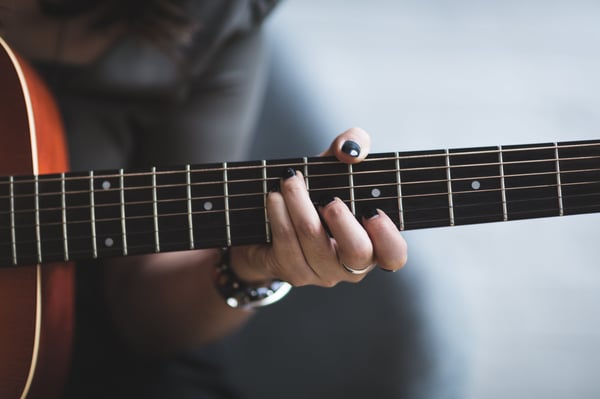 Image via Stocksnap.io.
The path to perfection is an impossible one — everyone falters, flubs, and blunders in all areas of our lives. As a musician, don't be too hard on yourself for making mistakes. What you should be concerned about instead is what you're learning in the process.
We've gathered five bits of advice from independent musicians based on last year's regrets. Instead of wallowing, they've pinpointed what went wrong so they can steer clear of those issues in 2018.
The list is short, but strong — these suggestions are universal, timeless. And really, overwhelming yourself with resolutions can muddy the water; focusing on just a few will likely be more effective.
We think you'll find the reminders helpful as you strive for a stellar year of music-making. Falling short of perfect is okay, but never stop trying.
1. Find out if you'll be paid before the show
"If they ask me to play a show and never mention what or how they're gonna pay me, it's because they asking you to do it for free," says LA musician San Cha. "I will always ask how much or if it pays upfront, so I'm not disappointed the day of the show."
This predicament comes up often; about 50 percent of the time, she says. But she's not ruling out no-pay shows altogether. Sometimes there's a good reason to play a gig without payment.
"I would rather know up front if I'm doing it for free, so I could make my own choice on whether I think it's worth it or fun," she says.
[4 Benefits of Playing Shows for Free You Should Consider]
2. Trust your instincts; don't overthink it
For Puerto Rican-metal musician Weslie J. Negrón Pagán, bassist for MOTHS, the heaviest regret of 2017 was "trying too hard."
"You gotta work hard and take the extra effort, but it's a very thin line between that and trying too hard, and I think that was my mistake. I'll take a different approach this time around," he says.
Vale Gunhead and José Rivera Guerrera, who play together in the punk band Los Ladrones, echoed that sentiment. "Trust your material and stop emulating other artists," Guerrera says.
Gunhead adds, "Stop second guessing and go with your instincts flow."
3. Map out your live show setup thoroughly
"[Make] sure there is proper communication established with event organizers/promoters regarding having enough time to set up your gear at venues prior to the start of an event," says Conde Árboles.
Árbolesis one-half of Fire Letters (along with Frances Marie Rodríguez), currently based in Massachusetts. For live shows, they require a ton of gear, he says.
"We didn't always had someone available to give us a hand and we're a duo, so we there were several presentations where we had to rush while setting everything and we started our sets not so relaxed," he says. "Starting your performance in a relaxed state greatly influences on how things flow and unfold along the way; having the proper time to achieve this is key, no matter what kind of setting is ahead of you."
4. Get to work!
Feeling paralyzed by a seemingly insurmountable to-do list? Avoiding practicing? Or maybe you're not sure where to start because you're a first-timer in a particular effort — whatever the reason, we all stall out from time to time.
Bianca Einstoss, who fronts the punk act Ultraje, based in Puerto Rico, calls procrastination "overwhelming and vile." It's held her back in the past.
In 2018, just go for it—even if that means starting with one small task. Check out this post on time management tactics for more tips.
5. Be methodical in your career moves
Guitarist Stephen Santiago wants to fine tune his decision-making process. The guitarist and vocalist for Aquí Nos Quedamos, a Puerto Rican prog-punk band, wishes he'd been more thoughtful in considering when to jump at an opportunity, "and when to be a bit more methodical and marinate in an idea before executing it."
It almost sounds too simple, too commonplace, but a pros and cons list can seriously, truly help. Laying your options out plainly helps you make sense of them. If you're still struggling, discussiong those options with your bandmates — or seeking advice from fellow musicians in your local scene — can help you weigh out whatever's still concerning you.
Jhoni Jackson is an Atlanta-bred music journalist currently based in San Juan, Puerto Rico, where she juggles owning a venue called Club 77, freelance writing and, of course, going to the beach as often as possible.