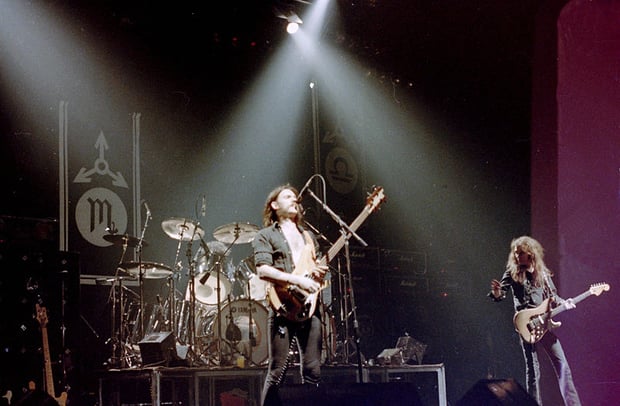 Image via Wikimedia Commons
If you're approaching the big 3-0 and haven't had your first hit record, quit beating yourself up! A musician's path to success is varied, with many twists and turns on the way.
If you feel nervous about being an aging musician, you aren't alone. It isn't uncommon for musicians to openly dismiss the possibility of musical success after the age of 30. Our entire culture champions youth and puts its full support behind promising young musicians as quick as they can be born. Even the heroes of music, for the most part, were young. Their ability to create in their youth is like a testament to the power of human will.
With so many tales of youthful success and excess, many young musicians put pressure on themselves to fit their achievements into a tidy timeline that sees them cashing out of the biz right around 30. But while it can be easy to chalk up many artists' successes to their youthful enthusiasm and energy, being young doesn't really equate to being successful. The fact is, so many of our heroes lived in a very different time. A time where expectations were higher and opportunities were plenty, especially for musicians.
So give yourself a break. As we saw the last time we talked about a musical life after 30, there are plenty of exceptional musicians who hit their stride in their 30s. It's all about having the right attitude and never giving up on making the music you need to make – not what age you are. To prove it, here are five more iconic musicians who finally found success in their 30s.
1. Lemmy (Motorhead), 33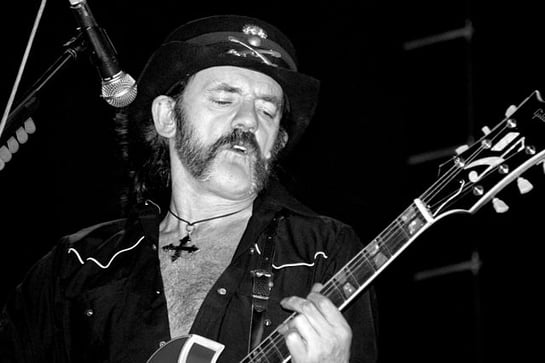 Image via Wikimedia Commons
Lemmy Kilmister's storied career found the heavy rocker rubbing elbows with the greats from the minute he made the scene. Whether it was working as a roadie for Hendrix or playing bass and singing with Hawkind for a few years, Lemmy was a musician committed to making his presence known. After leaving Hawkwind with success and fame still eluding him, Kilmister decided it was time to start his own band. Motorhead would toil in the clubs for a few years, their proto-punk and metal stylings still too far ahead of their time. The band was about to pack it up, deciding they would do one last "farewell" gig and record it as a document. The live recording didn't happen, but the producer they had contacted showed up to the show and was so impressed that he offered them recording time at his studio. Those recordings found success, and by Motorhead's second album, Overkill, Lemmy finally found success at the age of 33.
2. Kim Gordon (Sonic Youth), 37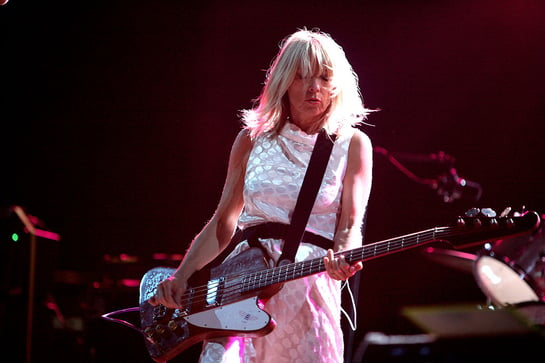 Image via Wikimedia Commons
Art-school leanings and a punk-rock approach allowed Sonic Youth to explore rock 'n' roll's more avant-garde side, exploiting its essential tones with their uniquely tuned guitars. At the heart of Sonic Youth's revolutionary vision was Kim Gordon, an accomplished artist already having created successful works across a number of mediums. Sonic Youth's untrained approach, relying on their own intuitions and ability to jam and spontaneously compose while still incorporating elements of pop music, gave them a unique sound. Gordon was just about 30 for the release of the band's first album, Confusion Is Sex. Her disaffected singing style and powerful lyrics would propel some of the band's best songs. Her thumping bass would be an essential tool in crafting the band's signature wall of noise.
After the band's epic Daydream Nation album was released in 1988, Sonic Youth was offered a record deal with major label Geffen Records. With Gordon a tender 37 years old, she and the band would go on to release several seminal albums that would greatly influence the nascent grunge rock movement and beyond until they disbanded in 2011.
3. Cyndi Lauper, 30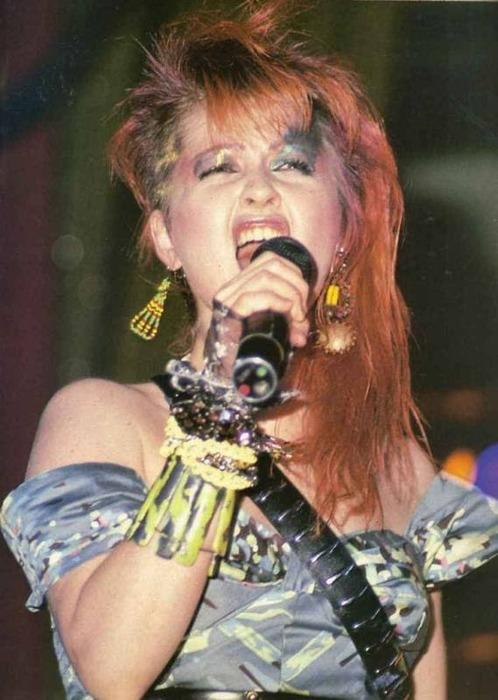 Image via flickr.com, under Creative Commons
The carefree and soulful Cyndi Lauper recorded some of the biggest hits of the 1980s, including "Girls Just Wanna Have Fun," "Time After Time," and "She Bop." Her unique voice and style was energetic, modern, and fun. Unlike the music she's known for, Lauper's life was in a tough spot at the time before her debut album's release. She had been sued by her former manager. She had declared bankruptcy to pay off what she owed and was playing small shows around New York City in an attempt to establish herself solo. The release of her album was huge, selling over six million copies and earning her two Grammys. All this, and she had just turned 30 months before the album's release.
4, Wayne Coyne (Flaming Lips), 32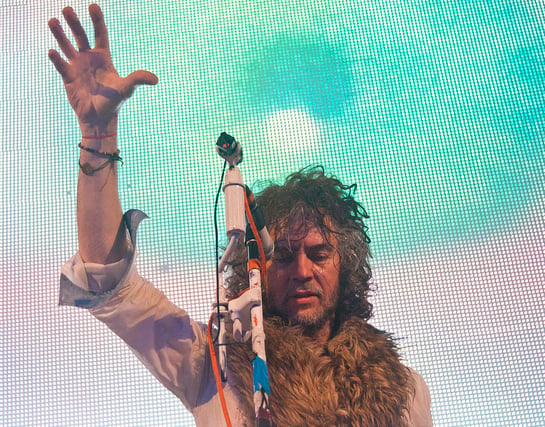 Image via Wikimedia Commons
The Flaming Lips are now hailed as one of the great rock bands of the last 25 years, but it took a long time for people to get on board with their shambling psychedelic grooves and Wayne Coyne's whining singing style. The band started when main songwriter and lead singer Coyne was in high school. The band would release several albums throughout the late 1980s and early 1990s, each being met with little fanfare. During the making of their album Transmissions from the Satellite Heart, half of the band departed and was replaced with fresh blood. The single from the album, "She Don't Use Jelly," would be their breakout song, garnering significant airplay on radio and MTV. The album sold well, and the band was finally established as a successful rock band by the time Coyne was 32.
5. Robert Pollard (Guided By Voices), 37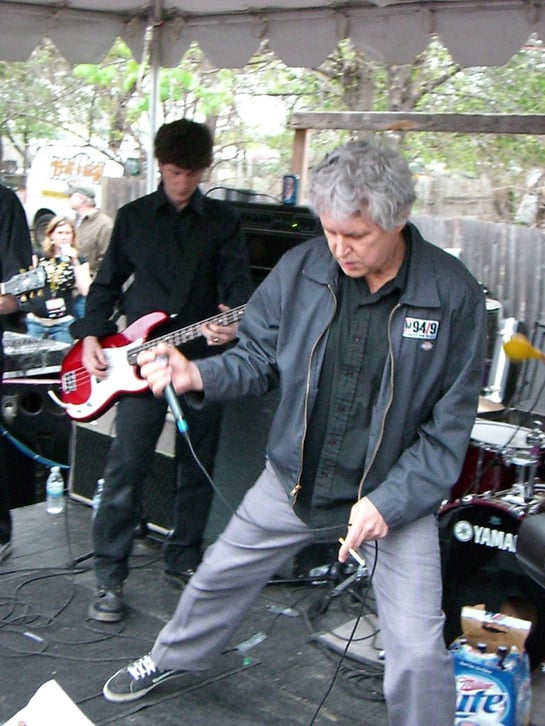 Image via flickr.com, under Creative Commons
As lead singer, songwriter, guitarist, producer, and leader of Guided By Voices, Robert Pollard established a homemade lo-fi rock 'n' roll sound inspired by the classic rock and college rock of the 1980s. But before the world knew of Guided By Voices' eclectic and prolific recording endeavors and high-energy live shows, Pollard was working as a teacher and coach in Dayton, OH, and spending his nights and weekends recording his singular vision of music in his basement. Despite very rarely playing live, Guided By Voices released its seventh album Bee Thousand in 1994. The lo-fi, collage-like production style and power pop songwriting Pollard and others contributed to the album would garner extreme word-of-mouth recognition, leading to a record deal with Matador Records for their next album. Bee Thousand is regularly regarded as one of the best albums of the 1990s, and is responsible for the concept of lo-fi recordings entering wider cultural consciousness.
Christopher DeArcangelis is an active musician and copywriter from Chicago. He writes songs, plays guitar, and sings vocals for the rock and roll band MAMA and is the founder of the creative agency Static Free Industries.