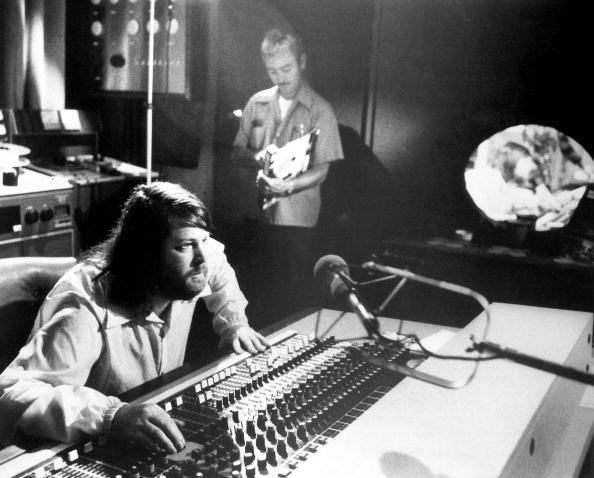 Image via Wikimedia Commons
It's easy for musicians to get caught up in the game of, "Who's going to be the leader of this band?" Most musicians not just want, but need their names at the top of the bill, their last name in the songwriting credits, and their guitar solo during the breakdown. It's pretty rare to hear any musicians say, "Oh, it's cool, I don't really want to be the leader, and I'll do whatever you guys say is best."
But some musicians are more than happy to make important contributions behind the scenes, even without being an "official" member of the band. Usually, while the big shots out front are fighting among themselves, these incredible musicians are sweetening up some of the most important tracks in pop music with their unique approach to songcraft, production, and performance. And while not all of these musicians are unknowns, their contributions to some legendary tracks are often not as well known as their more attention-seeking partners. Check out these five musicians and their awesome contributions behind the scenes for some inspiration the next time the singer starts hogging the spotlight.
1. Al Jackson, Jr., drums (Stax Records, Al Green, Otis Redding, Sam & Dave, Tina Turner, Eric Clapton)
As the house drummer for the legendary Stax Records house band Booker T & the MGs, Al Jackson, Jr.'s rock-solid yet laid-back drumming propelled some of the funkiest and most soulful hits the label ever produced. His unmistakable behind-the-beat approach can be heard on classic tracks like Wilson Pickett's "The Midnight Hour," Otis Redding's "I Can't Turn You Loose," and Sam & Dave's "Hold On (I'm Coming)."
While going on to help write and play on some of Al Green's most influential recordings in the early '70s, Jackson, Jr. would be murdered by a jealous lover supposedly hired by his estranged wife to do the deed.
2. Martin Hannett, production, keyboards (Joy Division)
Martin Hannett could be called the fifth member of Joy Division for his unique contributions to their sound. Originally a very punk-influenced band, Joy Division would pioneer what would be called "goth" and techno sounds, thanks to Hannett's contributions as producer. He would integrate multi-tracking, early synthesizers, and unconventional drum recording techniques to create their signature sound. The sparse, dark sound of Joy Division's seminal recordings was initially hated by the band, who saw themselves as more punk than anything, but this sound would eventually be embraced as Joy Division transitioned into New Order after the death of their lead singer Ian Curtis.
3. Bobby Byrd, vocals, songwriting (James Brown)
The story of James Brown is one that's filled with legend and mystery, as he surrounded himself with incredible musicians whose contributions often went uncredited or downplayed by the Godfather of Soul himself. Bobby Byrd – pianist, songwriter, singer, and ultimately the guy who discovered Brown – is one of them. Byrd was instrumental in thrusting the young singer into the spotlight and composed some of Brown's signature songs. Byrd would act as hype man in the 1970s, appearing onstage with Brown and backing up his vocals with his own husky affirmations, like in the song "Sex Machine."
4. Flo & Eddie (Mark Volman and Howard Kaylan), vocals (The Turtles, Psychedelic Furs, T. Rex, Frank Zappa)
Mark Volman and Howard Kaylan, known to the world as Flo & Eddie, are among rock royalty for their contributions to seminal pop band the Turtles, but would go on to find their greatest successes as studio and live backup singers tasked with sweetening tracks for some of the biggest names in rock history. Whether it was singing with Frank Zappa in the early '70s, adding indelible high harmonies to T. Rex's landmark album The Slider, or even adding their ethereal vocals to the Psychedelic Furs' hit single "Love My Way," their unmistakable harmonies were more than the icing on the cake – they were what the songs needed to make them the best.
5. Nicky Hopkins, piano (The Rolling Stones, Kinks, The Who)
Nicky Hopkins is one of the most prolific pianists in rock 'n' roll, having contributed to some of the most legendary tracks by British giants like the Rolling Stones, the Beatles, the Kinks, and the Who. He was a regularly fixture with the Rolling Stones, playing on every album from Between the Buttons to Tattoo You, mostly on ballads. With the Kinks, he contributed keys to their seminal mid-'60s run of albums. Overall, he would contribute to hundreds of tracks recorded in Britain, cementing his place as one of the greatest pianists in rock 'n' roll.
Christopher DeArcangelis is an active musician and copywriter from Chicago. He writes songs, plays guitar, and sings vocals for the rock and roll band MAMA and is the founder of the creative agency Static Free Industries.