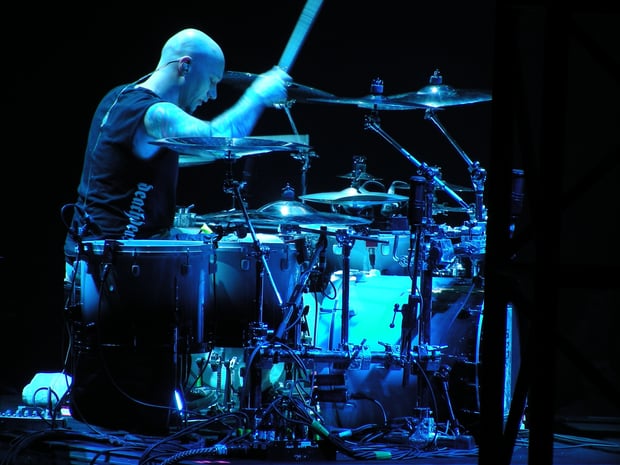 Photo by Merijn Bos via Wikimedia Commons / CC BY 3.0
Drummers. They're the butts of drummer jokes. They sit behind the other musicians. They rarely get to sing, almost never get to sing lead, and tend to be the last players onstage to be praised or even introduced. But if you think about it, it's hard to come up with a single great band that doesn't boast an exceptional musician behind the kit. Drummers are the driving forces behind so many bands, and great stylists, composers, and songsmiths in their own right.
In our informal survey, we posed this question to musicians and music fans: who's the greatest rock drummer ever? In the midst of arguments, dark horse candidates, and lively debate about what that question even means, these are the answers that kept coming up.
1. Neil Peart (Rush)
Let's just get this out of the way right now: more people mentioned this guy than any other candidate. It's hard to argue against Peart's genius: he's soulful, technical, and represents one-third of an iconic band. Starting with the power and glory of hard rock, Peart mixed in jazz and progressive influences as he learned and grew, resulting in a sound that's masterful and virtuosic while retaining its hard-driving roots. Above, take a look at Peart doing a live solo and showing his melodic chops. Drummers, try not to drool on your keyboard when you see his 186-piece stage kit.
2. Mitch Mitchell (Jimi Hendrix)
Out of all the favorites on this list, John Ronald "Mitch" Mitchell probably has the smallest recorded catalog. That means he made a powerful impression on millions of fans in rapid fashion. His freewheeling, improvisational style makes superb technique sound effortless. With every measure, you can almost hear him reaching for the next level, trying to achieve a higher musical consciousness… making him the perfect playing partner for Jimi.
3. Carter Beauford (Dave Matthews)
A founding member of the hard-touring jam band, Carter Beauford is also a longtime veteran of best-drummer lists. The ultimate team player, he has the ability to go from backbeat to powerful solo to tasteful ambience, all within the same song. Check out the precision on the hats on this sample, and the utter confidence and stability of his groove.
4. Mike Portnoy (Dream Theater)
When it comes to proving one's chops by playing difficult music, it's hard to imagine anyone with a stronger resume than Mike Portnoy. Shredding his way through long-form pieces with numerous meter changes, Portnoy starts with a foundation of perfect time, as evidenced by the machinelike hi-hat work at the beginning of this track. Imagine how Dream Theater's next drummer, Mike Mangini, felt while he was auditioning to replace this guy!
5. John Bonham (Led Zeppelin)
Along with Mitch Mitchell, Bonham was among the first to establish the very idea of a drum hero in rock. Jazz had been noted for genius drummers for decades, but Bonham's instantly recognizable sound and boundless creativity helped grab the spotlight for drummers in rock n' roll. Seeing his name on a list like this has become expected; he put the epic in Zeppelin's tracks and established the very idea of a "huge" drum sound.
Honorable Mentions
Todd Trainer (Shellac)
Stanton Moore (Galactic)
Stephen Perkins (Jane's Addiction)
Besides the geniuses listed here, the most common answer to our survey question was, "That's impossible to answer." Our hapless survey participants produced lists of dozens of great players and bemoaned being forced to choose one. Revolting against the survey, they affirmed once again that on any given day, on any given song, any good musician can be the best on the planet.
Jesse Sterling Harrison is an author, recording artist, and part-time farmer. He lives in Massachusetts with his wife, three daughters, and a herd of ducks.