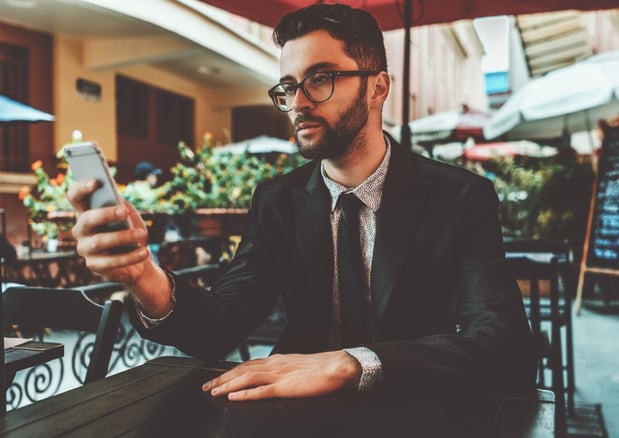 Image via Shutterstock
There are a ton of apps out there to help musicians tune their instruments, record and mix beats, and sell and order merch, but as we all know, there's a whole other side to growing a career in music that all "musicpreneurs" could use help on — the business.
It's never easy wearing so many hats each day, trying to find balance between promoting your music, writing and recording, engaging with fans, tracking your expenses… the list seems never ending.
Luckily, today, we can maintain hope we'll get through it all with the help of a small tech army that lives inside our phones and laptops — our apps. You can find great examples of apps to help with your music here, but below are five apps every music industry professional should have in order to grow and sustain their career.
If you're a client-based musicpreneur, or if you're a musician who is always trying to schedule rehearsals/meetings with your band, this is a great app to make it happen. You can set up the times and days that are convenient for you to take meetings or calls. (Did someone say time blocking?) It syncs with your Google calendar or iCal, and if you end up making an appointment on a day you've blocked off for meetings, that time frame will not be made available for others to see.
Pro tip: If you go on vacation or block out a day on your calendar that is listed as "All Day," be sure to go into that event and scroll down to mark yourself as "Busy" or Calendly won't recognize it as a conflict.
This isn't an app so much as a series of emails delivered to your inbox, but if you're looking to grow your email list authentically, this challenge has everything you need. You can also pay a small fee of $27 to get all of the information at once, but if you let it drip out and save the emails in a folder, you can go back to them as you need throughout your career.
Pro-tip: Join its free Facebook group so you can bounce ideas off of others who have already had success with it as well as stay accountable and celebrate wins as you move along.
For those who use Twitter or Instagram and find themselves constantly switching out the featured link in their profile, this super-easy-to-use app provides you with one link that takes visitors to a table of contents page of links, allowing you to list out the various destinations you'd like to feature.
Pro-tip: Put no more than three options on the tree as to not overwhelm your visitors.
With over a million downloads, this is certainly one of the more effective habit-tracking apps. With its flexible notification system and easy-to-use interface, this app allows you to fold healthier habits into your routine by setting reminders to your phone when you'd like to perform those tasks. It's easier to turn behaviors into habits when you're used to carrying out certain tasks the same time each day.
Pro-tip: Label the notifications with the reasons why you're implementing the new habit. Rather than label it "Exercise," label it "Get moving because you always feel amazing after."
Money management is usually the piece of the puzzle that can feel most overwhelming. If you're feeling stressed about where to begin, Qaptial is a great place to start. There are a variety of settings that allow you to save money towards the goals you're trying to reach (i.e., travel funds, studio budgets, promotional advertising, etc.).
Whether it's rounding up to the nearest dollar (or five dollars) on all of your purchases, or making sure you put aside 30 percent for taxes each time you get paid, or scheduling recurring transfers into your savings, Qapital offers a seemingly endless combination of settings to keep you on track with your spending. It will also stop transferring money when funds are low to prevent overdrafts.
Pro-tip: Start small, and don't schedule too many rules at once. Get used to saving a little at a time. Doing too much at once may shock your spending habits, and you'll want out of this faster that you can say, "Charge it."
As someone who creates structure and time-management systems for others for a living, I have certainly tried it all. I've been down the road of Trello and countless other CRM (client-relationship-management) tools, and this free service is something I will be implementing for not only my own business but for all of my clients. AirTable is like Excel on steroids. You can create systems for organizing your data in a dynamic and multi-functional way.
Whether you're tracking your budget, building a tour itinerary, managing podcast episodes, or scheduling your social media for the next month, AirTable gives you the tools to do it all in one place with the ability to add collaborators where needed. It syncs with Google Drive and has countless other functions that will save you time and decrease anxiety when it comes to staying organized.
Pro-tip: Watch their video tutorials to learn how to quickly and easily run your career like a boss.
Familiarizing yourself with these apps can do wonders for your income flow, fan growth, and overall mindset as you navigate the ever-changing terrain of the industry. Social media algorithms and the way fans consume your music may change, but productivity, focus, and organization will never go out of style.
Have you used any of these apps before? Got other recommendations? Tell us about your experience in the comments below!
Suzanne Paulinski is a mindset coach and founder of The Rock/Star Advocate. She helps music industry professionals gain confidence and clarity in their goals with a healthy work/life balance. Her book,The Rock/Star Life Planner is now available on Amazon.