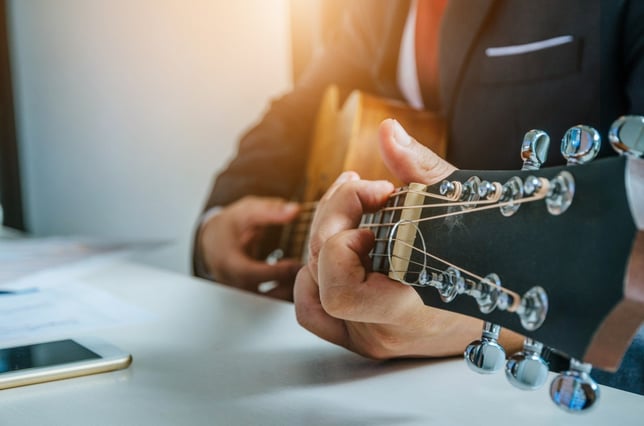 The early stages of being a musician involve a lot of work and learning in many different fields, and sometimes it can be hard to keep track of all the different things you need to focus on in order to be not only a good artist, but one who can consistently find work.
One topic that is often overlooked tuning, which young people and those just getting started don't spend nearly enough time on, and sadly, that can sometimes be heard in their performances.
Whether you're simply strumming along to a song while learning how to play the six string, demoing a new track, recording a tune for a proper album, or even getting ready to head out onstage in front of a large crowd, tuning an instrument correctly is important, and it will set you apart from the true amateurs.
Thankfully, while it's good to be able to hear if your instrument is ready to go, we live in a time when there are plenty of apps that are available for little or no money that can do the job as well, so why not try some of them out?
1. Fender Tuner
Cost: Free
There aren't many well-known names when it comes to guitar tuning apps, so when there is one, it's easy to sit up and pay attention. Fender, one of the biggest names in music and a longtime leader in the guitar world, finally created its own tuning app a while back and stepped into a spot it should have owned years prior.
Since the Fender Tuner application became available, it has consistently received mostly positive reviews, because who knows how to make a guitar work better than Fender?
2. Guitar Tuna
Cost: Free
Somewhat silly name aside (especially for those of us from places in the US with accents that would actually make us say the word "tuner" like "tuna"), Guitar Tuna is a solid product, and it does more than just tune your instrument.
Guitar Tuna can actually help you learn how to get better at tuning your instrument on your own, though you'll still want to open this application anyway, as it is known to be very precise. It's great to tune your ear (see what I did there), but nothing can match the accuracy of apps like this one.
3. Cadenza
Cost: $2.99
According to the appmaker itself, about half a million people have downloaded this option to help them tune their instrument (namely guitars), and most seem to be happy with their choice, at least according to reviews I read.
It's tough to sell people on actually paying for most apps these days, as there are so many free ones, but if they come at a fair price and actually offer something worth opening the wallet for (the electronic wallet, at least), the case can be made. Cadenza also comes with a great metronome, and while both of those items can be found for free, I'd say it is still worth purchasing.
4. Pro Guitar Tuner
Cost: Free
As the name would suggest, this is a "pro" guitar tuner, though that doesn't mean it can't be used by those who wouldn't yet consider themselves professionals. There is plenty to be happy about when it comes to this option, but what might be its best feature is that it can also be accessed online via a desktop.
Maybe it's just me, but I love when anything I use on my phone is also available on my actual computer, because you never know when your mobile phone might be broken or dead and when you'll still need to use the programs you've become accustomed used to.
5. Pano Tuner
Cost: Free
In addition to its solid reviews and standing in the app store, Pano stands out because those who designed it realize that not every time a guitar needs to be tuned requires perfection, and there are options for when you just need a quick tune up, versus when things need to be absolutely spot-on. Of course, you'll still need to listen in and do your part, but you can rely on this app to help along the way.
6. gStrings
Cost: Free
Okay, I'd suggest this option because of the name alone, but that's not all it has going for it. The gStrings app is helpful because it can adapt to any string instrument you may have, so there's no need to go out and buy several different apps to make sure that your guitar, as well as your violins, cellos, and other musical tools are all perfectly in check. If you're not using some of those instruments in your music, perhaps having the tuning app might convince you to think about it?
Next up: How to Create Dreamier Guitar Chords
Hugh McIntyre is a freelance pop music journalist in NYC by way of Boston. He has written for Billboard, The Hollywood Reporter, and MTV, as well as various magazines and blogs around the world. He is also the founder and editor-in-chief of the blog Pop! Bang! Boom! which is dedicated to the genre of pop in all of its glory.