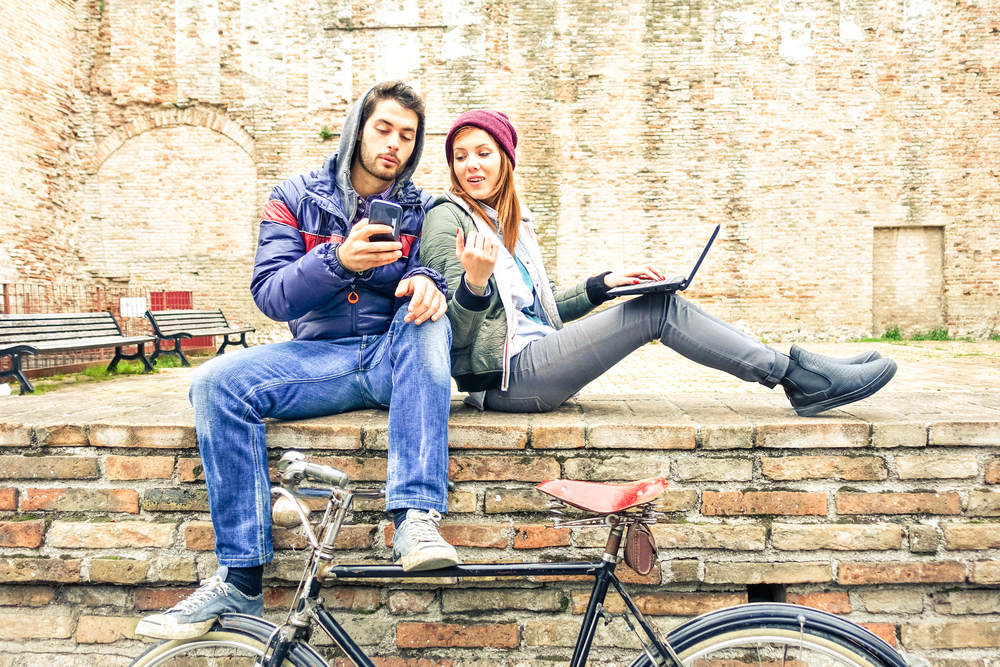 Image via Shutterstock
Instagram may be the most important social media platform at this point, as it allows you to do so much and there are now hundreds of millions of people using it every day. You're probably already posting great photos and videos on your account, but are you using Instagram Stories? If not, you're missing out; and even if you are, there's so much more to try.
There are dozens of features and thousands of stickers, graphics, and even GIFs you can add to your pics and videos before you share them with your followers, and you can have a lot of fun exploring everything the platform offers.
Here are six Instagram story features you as a musician should be using.
1. Mention other users
One of the easiest ways to spread your social content to audiences that aren't already following you is to tag other people whenever it makes sense, and this rule applies to Instagram Stories as well. You can tag other accounts in your stories in two ways:
Simply use the @ symbol and write their handle name. Instagram should (though sometimes it takes it a minute to figure out what it's doing) show you a pop-up list of accounts, and the closer you get to typing their full name, the fewer selections there should be.

Look through the drop-down menu of features and select Mention, which allows you to do the same thing, but it looks a bit more...official.
However you do it, the person you tag gets a notification they've been included in a story, and they're allowed to then add the same content to their own story (and they can write on top of it or add other features if they want) and share it with their audience. That's a fantastic way to get your name out there, as anyone who sees that secondary post and click through to your profile.
2. Add music
If you want to put your music into your Instagram Stories, you can simply make a video of you playing a song or video, or if you want a slightly less janky option, you can use the platform's own music feature. Instagram has a partnership with Apple Music and Spotify where users can insert up to 15 seconds (which is the length of a story anyway) of any song on the streaming sites, at least theoretically.
Click the music option and type in what you want, from "Cardi B" to "Rolling in the Deep" to your own tunes. If your music isn't reaching the masses just yet, you may want to be specific when you write in order to help Instagram find it. As long as your albums are on Apple Music, it should be able to find what you need, and you can select what 15 seconds (or less) you want!
3. Take a poll
Polls are a fantastic way to not only spice up your IG Stories a bit, but to include people and get them involved in the content. Instagram's polls option is exactly what it sounds like, as it allows you to pose a question and allow your audience to chime in. Feel free to ask whatever you want, from whether or not you should order a burger for dinner (the answer to which is always yes) to what song should serve as the next single from your new album.
Polls, like every other feature on Instagram, is best employed for career reasons half the time and for personal reasons the other half.
4. Ask questions
If you want to take the interaction to the next level, choose Instagram's questions feature, which lets everyone type their own queries they'd like you to answer. Do a fun Q&A, ask them to suggest what song should open your show, or simply use it as a way to chat with those who love you and your music. The questions feature allows you to not only answer the questions that come your way, but to post them so everyone can see what was submitted and what you typed.
5. Count down to an important release
Do you have something important coming out soon? A new song, video, or album? You are probably already getting people pumped for its release, but if you want to up the excitement, click on Instagram's countdown feature, which creates a widget that shows how many hours, minutes, and even seconds are left before... whatever you've been talking about actually arrives.
Keep in mind that Instagram stories only live for 24 hours, so if you are telling people it's only one month until your tour begins, the countdown might not be your best choice.
6. Share lyrics
Instagram recently introduced a feature that adds a song's lyrics to your story in a fun, animated fashion. Like with the music option, you only get a few seconds, but that can be plenty to tell a story, share new words, or simply to create something mildly entertaining. You can add lyrics at the same time you add music, which makes things that much more spectacular.
Next up: Musicians: 6 Tips to Rapidly Grow Your Instagram Following
Hugh McIntyre is a freelance pop music journalist in NYC by way of Boston. He has written for Billboard, The Hollywood Reporter, and MTV, as well as various magazines and blogs around the world. He is also the founder and editor-in-chief of the blog Pop! Bang! Boom! which is dedicated to the genre of pop in all of its glory.