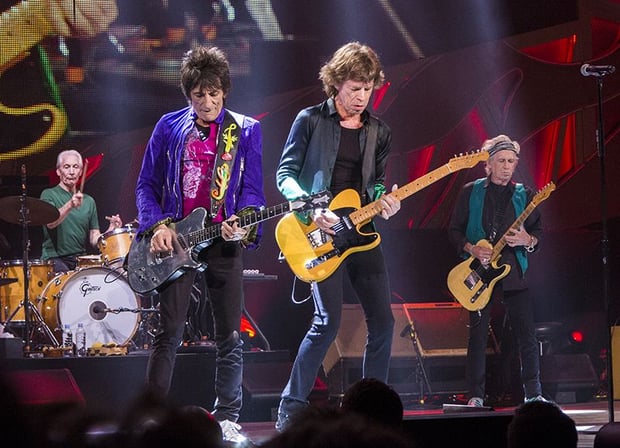 Photo by Jim Pietryga via Wikimedia Commons; used under Creative Commons
Starting a band can be a difficult task. You have to find talented musicians who are available, share similar interests, and will work well together. But once you've got your group assembled, and you're gigging, writing, and recording, how can you ensure it will last? Unless you're just having fun playing music after work and on the weekends, you're going to want bandmates who are in it for the long haul. No time spent making music is wasted, but it can feel like a waste when you've spent so much time on a band, only to be derailed by another member's sudden departure or lack of commitment. So, if you're unsure if you're playing music with the right group of musicians, check for these six telltale signs.
1. They're investing back into the music
Being an independent musician often means having to be frugal in order to get by – not everyone has the luxury of investing money into music in the amount that they would like. However, if your bandmates find a way to put their own money, whether it be from a day job or your last gig, back into the music, that's a sign they're really in it to win it.
2. You all share the same vision
Pretty much every musician has a vision of one day "making it," but if your bandmates have specific visions of the band making it, not just him or her making it, you know they're dreaming just as big as you. Sometimes you'll run into passionate, talented musicians who have big dreams, but you'll soon discover they just want to be a part of something successful, rather than building something successful with like-minded musicians. If your band members all believe in the music, its potential, and the dream of your music getting on stages across the country, that's a good sign they've got the commitment and vision it takes to go in for the long haul. And if your bandmates have detailed, long-term plans already in motion, that means they're going to treat the band like a business, and work at it until the successful results show.
[14 Rules for Being a Good Bandmate]
3. They movitate you to work harder
Seasoned musicians from far and wide will tell you that you should play with people who are better than you – it's one of the best ways to grow. If your bandmates are nearly out-working you, that means you're going to grow working with them, and they have no intention of slowing down.
4. They don't ditch band commitments
Band members who don't last are usually the ones who blow off practice to hang out with their girlfriend or boyfriend. Of course a day off is necessary here and there, but it's unpromising when band commitments seem to be secondary to your bandmates' social lives. If everyone is always on time and well-rehearsed, that's a great sign that they've got the dedication it takes to stay focused on the long-term goals.
5. They aren't juggling several other bands
While there's nothing wrong with being in multiple bands, at some point you have to decide where your priorities lie. If your bandmates are missing gigs or not showing up to practice enough because of their other three or four bands, it's not likely they're ever going to put in the effort to make one band successful. And what happens if one of their other bands gets a deal? Do they just walk out on you? If your bandmates are going to be involved in other projects, make sure you understand what their commitments are beforehand.
[Can You Handle Being in More Than One Band?]
6. They wear the band on their sleeve
When someone asks your bandmates what they do, do they respond with their day job or their passion for music, or do they talk about your band specifically? If it's the latter, that means they're open, proud, and excited to be a part of the band. Their personal social media pages will be used to promote the band and associate with a part of their identity. When your bandmates don't ever mention that they're in a band, that could mean they're just reserved, but it's not promising, especially if you already wear the band on your sleeve.
Sam Friedman is an electronic music producer and singer-songwriter based in Brooklyn, NY. His music blends experimental ambience with indie-driven dance music. In addition to pursuing his own music, he is a New Music Editor for Unrecorded and is passionate about music journalism. Check out his music and follow him on Twitter @nerveleak.