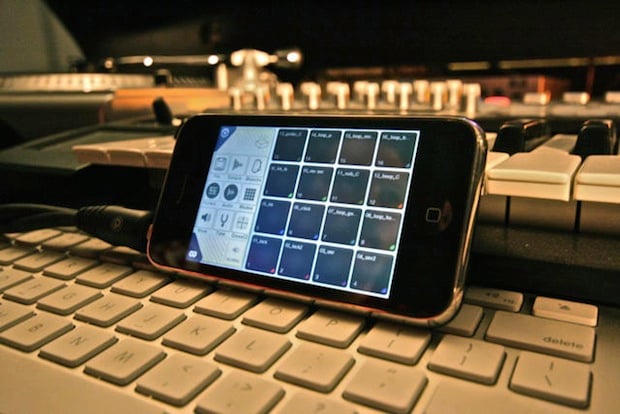 Image via noisey.vice.com
We live in the age of convenience and efficiency, and our smartphones and tablets are probably the greatest manifestations of this cultural truth. Chatting with our friends, uploading pictures and videos, getting food delivered to our door, and much more is made infinitely easier with these gadgets – and why stop there? As a busy musician with a million different things on your plate, there are a myriad of apps that will make your life that much simpler. You'll probably be surprised to find what you can streamline or cut down on with just the touch of a button!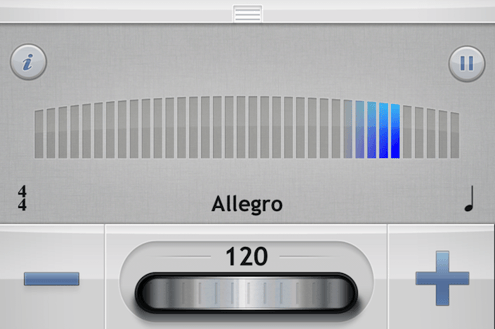 Image via curiousclarinetist.blogspot.com
This metronome app is simple, unintrusive, and includes just about everything you might want from a metronome for those frequent moments you need to keep a steady beat. Features include a "tapping" property to gauge tempo, different modes (pitch, setlist, record, and practice), and the ability to multitask (it runs in the background so you could also read sheet music on your phone or tablet, if you wanted to).
Cost: Free to download with ability to purchase different modes
2. Hum (iPhone/iPad)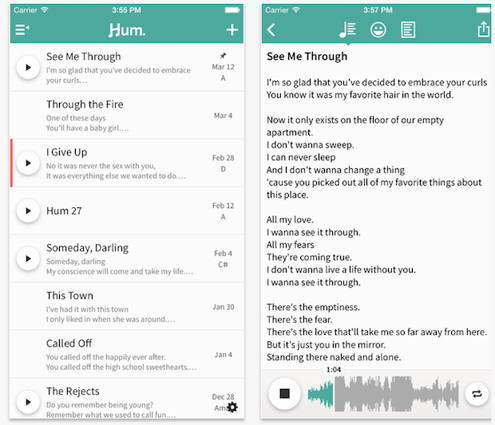 Image via itunes.apple.com
Hum is necessary for the songwriter who often misplaces the lyrics she writes on napkins, or forgets how she wanted that one song to go exactly. Its main function is keeping all of your lyrics in one place while also allowing you to attach recordings of the sounds and tunes that go with each song. For added convenience, it includes Dropbox syncing, and you can even sort your library by key, tuning, or mood, among other capabilities.
Cost: $1.99, tuner is an additional $0.99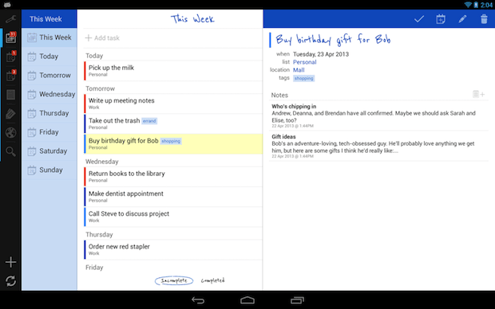 Image via play.google.com
While not made specifically for musicians, your life will be extremely challenging if you don't have a dependable organizational system that keeps track of all your daily/weekly/monthly to-dos. That's where Remember The Milk comes in. This app will tidily store all the mundane tasks you need to accomplish, all the meetings you have scheduled, all the gigs you have lined up, and whatever else you need to get done, with sorting by priority, due date, time estimates, and more. With reminders that can be sent to you via texts, email, and instant messaging service, forgetting to check the app won't mean that you forget about your tasks entirely. You probably have a lot going on, so don't attempt to store it all in your head – get organized!
Cost: $24.99/year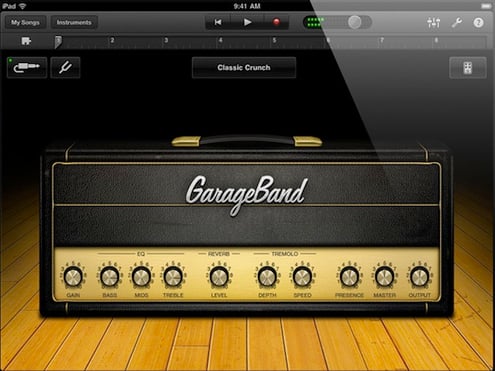 Image via loopinsight.com
It's an oldie but a goodie. GarageBand for iOS is like a mini recording studio in your pocket. Using your own instruments, you can record, arrange, and mix your songs however you please, fine-tuning them with just a few presses. Heck, you don't even need your own instruments, as GarageBand's built-in ones sound pretty darn close to the real thing. And with support for 32 tracks (you can merge them!), you'll probably never be lacking space. As the final cherry on top, GarageBand is compatible with Facebook, YouTube, and SoundCloud, guaranteeing that you don't waste a second in sharing your creations.
Cost: $4.99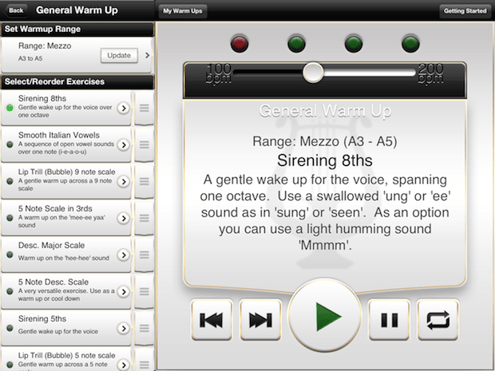 Image via appadvice.com
Singers out there know that training your voice is no joke, and every time you plan on utilizing it for an extended amount of time, you need to be warming up those vocal cords. Vocal Warm Up is perfect for the job because it can be customized to fit your desired vocal ranges, and its flexibility means you can set different ranges for different warm-ups as your singing improves. Being able to practice with a huge selection of exercises (that can be placed in playlists of your own design) will improve your tone, breath control, and stamina. No matter where you are, you won't have to fear not being warmed up enough prior to belting out your latest songs.
Cost: $3.99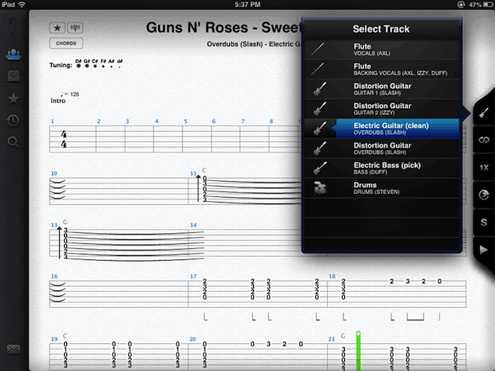 Image via touchmyapps.com
Songsterr is perfect for both the young musician picking up a guitar for the first time and the seasoned vet who's dying to learn more songs to play. That's because it's a massive song library (over 90,000 included) with over 500,000 tabs for guitar, bass, drums, and more. Tracks can be slowed down, and sections can be repeated, so you can choose the pace you want to play and learn at. With simple navigation, this app unlocks the way to quickly play all your favorite songs. Step aside, "Wonderwall"!
Cost: $4.99/month
7. Hootsuite (iPhone/iPad/Android)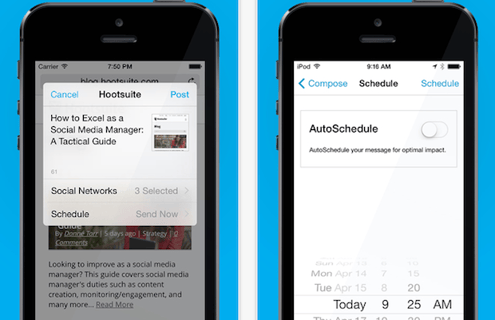 Image via itunes.apple.com
Another app made for the general public but easily suited to musicians is Hootsuite, a social media management service that also comes in app form for musicians on the go. With Hootsuite, you can share and schedule posts on Facebook, Twitter, LinkedIn, and Foursquare so you can stay engaged with fans online even when you're not really "there." Whether you're on the road, about to play a gig, or just jamming with the band, let your fans know! It takes a matter of moments, and the payoff – keeping them interested and wanting to know more – is huge. Slacking on social media will cause you to lose your online buzz, but Hootsuite makes it insanely easy to stay on top of it.
Cost: Free
With these apps in your arsenal, you're bound to find your life becoming much less complicated. Next up, check out these eight must-have apps for gaining and keeping fans and the top six must-have apps for songwriters!
Katarina Underwood is an editorial intern for Sonicbids.