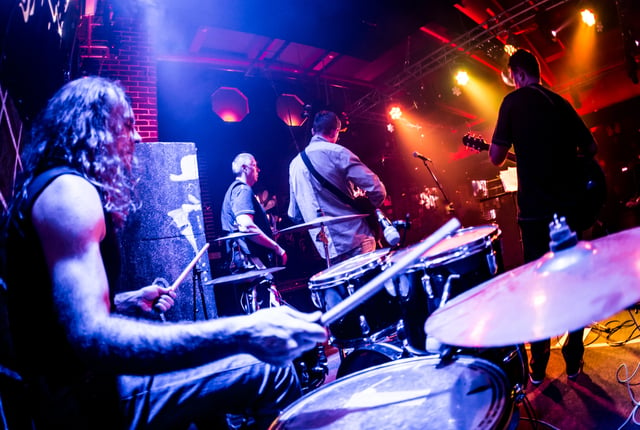 Image via Shutterstock
Booking shows regularly can elude many artists. They submit emails and cold call venues, spin their wheels and waste hours without much to show from their efforts. Most of the time it's because they are not working strategically. Remember to take into account the following parameters when determining if a particular venue is a good fit:
#1. What type of shows get booked at that venue? Are they more for private parties, acoustic acts, 9-piece jam bands, or strictly for cover bands?
#2. What level of fanbase do they expect? Do they require a minimum guarantee of fans? Are they for national touring acts or better for bands with a strong local draw?
#3. How will that venue contribute to a band's growth? Will they jumpstart one's career to the next plateau or are they the perfect place to test new material to an intimate group?
Luckily, we've put together a comprehensive list of 7 New York City venues that should be on your radar, complete with answers to the questions above. Let us know in the comments if you've ever played these venues and what your experience was like!
Parkside is a family-managed, independent venue that is known for being very good to the bands they book with artist-friendly door deals. They have a strong walk-up crowd on the weekends, attracting them with their dive bar vibe and vintage Skee-Ball machines. Their back room provides backline, can hold 100 people, and has been celebrated for its updated sound system.
(#1) One look at their calendar and you'll see they book everything from burlesque reviews to comedy shows to open mic nights, and everything in between. Middle-road indie rock bands and singer-songwriters should certainly consider reaching out. (#2) The venue is open to new bands, but can also support bands with a larger following. (#3) If you don't yet have a loyal following you could do well to win over their built-in audience.
Apply to play Parkside Lounge here.
This event space books private parties and pairs the events with the proper entertainment. People reserve the space and the venue coordinates the entertainment based on the indicated theme/purpose, providing a unique and customizable experience.
(#1) Whether it calls for comedy, music, DJ sets, or spoken word, Secret Loft books it all as long as the entertainment fits the bill. (#2) The venue relies on an act's ability to perform, rather than its fanbase, so it's perfect for a band who doesn't have a huge draw in the area, although in most cases your fans are free to attend. (#3) This unconventional spot is great for musicians who are looking to book shows in the city and attract new fans. It's a great building block towards venues that do require a draw.
Apply to play Secret Loft here.
The Lower East Side's New Orleans-themed bar is known for packing their downstairs piano lounge and upstairs bar with walk-in crowds, especially on weekends. Offering thoughtfully crafted cocktails, they often attract an upscale crowd. This can mean fatter paychecks for the bands they hire to entertain their audience.
(#1) This venue stays specific to NOLA jazz, blues, and bluegrass music, so consider alternatives if you're looking to play your latest set of original rock music. (#2) This venue is perfect for the bands who prefer covers over originals and even enjoy a bit of theatrics, as the entertainment is expected to create a certain atmosphere. (#3) Good pay and a built-in crowd is perfect for the bands who are more focused on playing and banking a paycheck than making a name for themselves and building a following.
Not quite a venue, this promoter group, known for their event planning and marketing services, handles booking for famed venues such as Fontana's, Brooklyn Bowl, and Funkadelic. They produce a number of well-known events around the city and Northeast region, including their Phish After-Parties and NOLA Funk events.
(#1) CEG focuses heavily on the jam band and festival scene. (#2) International headliners, or opening bands who have heavily toured and/or played the festival circuit would do well to connect with the CEG team. (#3) If you're looking to take the next big leap and perform larger events in major markets, this would be it.
Apply to perform with CEG here.
This 400-capacity venue around the corner from MSG provides weekly slots, open to most genres. They provide a backline as well as healthy door deals and free pizza with their celebrated and extensive beer on tap.
(#1) While they are inclusive, they tend to keep each night focused on a particular genre, so be aware of what nights would fit your sound. (#2) American Beauty provides many pre- and post- parties for acts that play MSG, so be aware that this is not the place for newbies but those able to carry a tour. (#3) National and mid-level headlining acts looking to climb the ladder towards larger venues in a first-tier market would benefit from performing at this NYC staple.
Apply to play American Beauty here.
One of the last independently-owned venues (est. 1996), this highly-celebrated spot is now managed by a new talent buyer, open to fresh, up-and-coming acts. Nights are heavily curated and themed, like the famous live band karaoke nights on Mondays. They have a 125 capacity with a great space for meet & greets/networking, and a reliable recording studio under the stage.
(#1) As long as your music is on point, no matter the genre, you'll have a chance to showcase your chops if you fit the bill. (#2) You won't have to worry about filling the room, but should be able to contribute to the crowd. Carefully-created bills allow bands to cross-pollinate and share in each others following. (#3) If you're hoping to expand your fanbase, network with other artists, or even record content with professional, reliable sound quality, this venue will provide you with all of that and more.
Apply to play Arlene's Grocery here.
This micro-brew paradise in the heart of Williamsburg, an important market to conquer for any band, provides an open room with nightly genre-themed shows. While the 60+ beers on tap attract the locals, there is a 10-person minimum draw required for performers.
(#1) Much like American Beauty, the venue is open to all musicians, but you will be limited to whatever nights they've dedicated to your genre. (#2) This spot is great for beginner acts who can at the very least beg 10 friends and family members to come out. (#3) It's the perfect opportunity for bands with a larger draw to test the loyalty of their fans who may need to travel from other boroughs to attend, and leave a lasting impression on an important market for indie music.