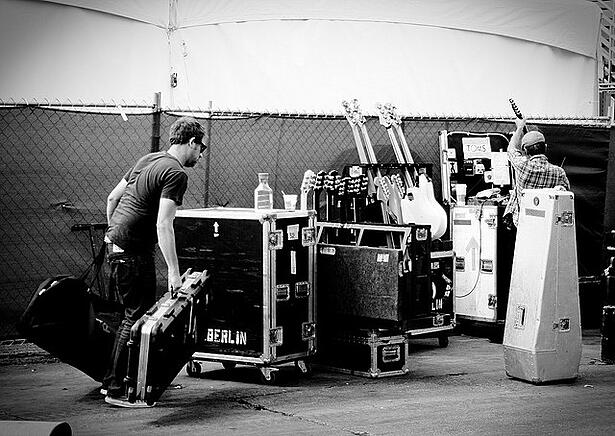 I'm in the sound business because I want the bands that I work with to sound great. Part of that sounding great involves good equipment, and unless you want to keep buying new stuff, you'd better start caring for it right. Just a few simple things will get you more quality out of your gear, and that means more of your gig money stays in your pocket.
1) Buy quality
Cool, you're starting out, and you're ready to make it big. Don't cheap out at the start by buying lower quality stuff. The cheap stuff belongs in your mom's garage when you're getting started. Expecting to do well at a variety of venues means having gear that will work anywhere. Dad was right, buy quality, and you'll only have to buy it once. Just don't overspend on studio quality stuff for your road gigs.
2) Instrument hard cases
You probably already have one for your primary instrument, and if you don't, shame on you. Do you think that Willie Nelson lets 'Trigger' get tossed around by roadies in a soft case? No, he doesn't, and neither should you. Your drummer is lucky, because most basic drum sets come with hard cases, but make sure that any extras get one as well. Any decent instrument store will have hard cases, as well as any number of online retailers. Cost: about $100 per case for guitars/basses, different for other instruments.
3) Accessory hard (or at least padded) cases
Ok, so you've got your prized guitar in a hard case, but what about your mics? This is where most musicians mess up. Do not just toss them in a soft case to save cash. The battering that they take will degrade the quality over time. This is especially true for more sensitive mics, like those that are used by classical guitars, but even your standard C58s and 57s will sound bad over time. Good padding will prevent them from bumping and rattling between gigs. You don't want to spend a bunch on decent mics, only to have to do it again. Cost: $60-$100, based on how many you need.
4) Proper wrapping of cords
Do NOT wrap your cords around your elbow. I don't care if your dad does it with his extension cord. Learn how to wrap your cords over/under. Here's a link to a simple video on how to do it:
This does several things for you. First, you never will have tangles. A properly wrapped over/under cord when thrown will uncoil and lay flat. Second, over time, a cord wrapped around your elbow will develop kinks and twists, which will shorten the effective length of the cord. Also, a cord wrapped around an elbow will degrade over time, meaning poorer quality sound transmission. When you wrap your cords, get some velcro cord ties to keep them organized in your carrying case. You better not let me catch you wrapping my cords around your elbow!
5) Label all your stuff
Mics, cords, cases, everything. This is especially important when you're playing a gig with multiple bands and you don't want your gear mixed up. Go to a hardware store and get a couple of rolls of electrical tape. Two different colors will be best, and make all your marks look the same. It will save you a lot of hassles when 3 bands and the sound guy are trying to clean up at 2AM and everyone is trying to sort out what's theirs. Even if you're playing coffee shops by yourself, having marked gear will help. Also, get your stuff etched just in case it comes down to an argument. Plus it will also help if some idiot steals your gear, so the police can get I back to you when it ends up at a pawnshop. Cost: $1-2 per roll of tape, $30-40 for an engraver (or free in your dad's tool shed).
6) Have extras
An extra mic, and a couple of extra cords can make the difference between a solid gig and no sound. Gear wears out over time, and even if you care for it great, it will still go bad if some random person steps on it enough times at gigs. Plus, stuff can get misplaced or forgotten as you travel for gigs. Just trust me on this one.
7) Pack your own gear
Figure out how to properly pack the van so you can get all your gear in safely. Pack heavy stuff on bottom, instruments on top. One of the better things you can do is get yourself a locking trailer. It gives you a place to lock your gear in case you need to sleep in the van between gigs. Installing a peg board will give you a place to hang cords, but make sure that they can be secured. Keeping your amps or speakers on a separate side from your instruments will let you get out just what you need when you want to practice at the motel. Also, packing your own gear means that you won't risk some drunk volunteer dropping your gear if you skipped Rules 2 or 3.
At the end of the day, better care of your gear means you're keeping more money in your pocket. Whether you're starting out or experienced, you're better off keeping that cash in your pocket for beer and rent than having to keep buying new gear every year.