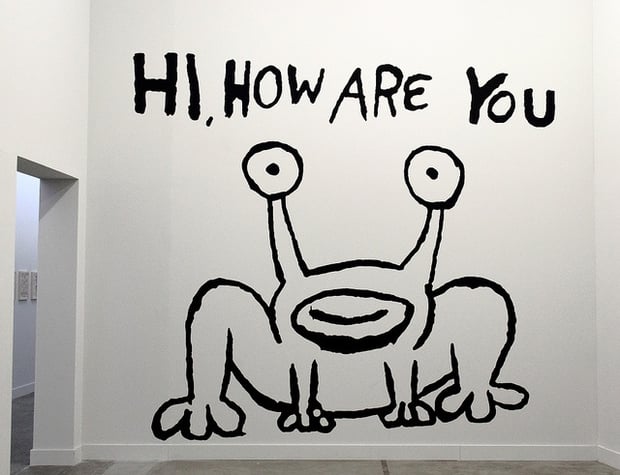 Image via flickr.com
A recent study by the charity group Help Musicians UK surveyed the health and well-being of working musicians at all levels of the business. According to the results of the survey, mental health issues are a major concern among professional musicians. Over 60 percent of respondents reported dealing with serious psychological issues at some point in their career. And it's worse among musicians who tour on a regular basis. Touring is especially hard on independent acts.
It's not talked about often enough because of the stigma attached, but chances are that you or someone you know has been affected by mental health issues at some point. It's hard to maintain a career with untreated issues. It's also hard to admit you need help. But life, and your career, will get better once you do. Here are eight still alive, successful, working musicians who might know a thing or two about that. Some of the names may surprise you.
1. Tom Harrell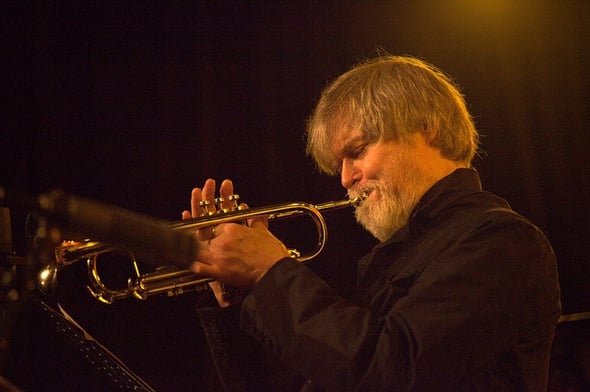 Image via flickr.com
Diagnosis: paranoid schizophrenia
He's widely considered among the best jazz trumpeters on the planet, having played with the likes of Woody Herman and the Phil Woods Quintet in his early days before going on to sustain a decades-long successful recording and touring career of his own, despite having paranoid schizophrenia. An accomplished composer and arranger as well, Harrell worked on the iconic Vince Guaraldi soundtracks for the Peanuts TV specials. You've likely heard his work even if you don't know his name.
2. Bruce Springsteen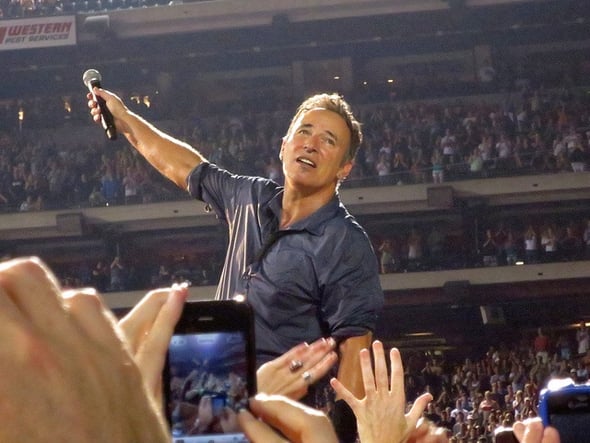 Image via flickr.com
Diagnosis: clinical depression
Best known for his fist-pumping rock anthems and marathon concerts, Bruce Springsteen has a dark, depressive side that hardcore fans know all too well. Songs like "Wreck on the Highway" and the entire Nebraska album venture beyond standard ballad fare into some bleak and pondering territory. During interviews in recent years, Springsteen revealed he's been in therapy for decades and taking antidepressants since 2003. As a result, his creative output seems to have doubled in the 21st century. The Boss keeps up a relentless touring schedule and releases albums of new material with more frequency than he ever did during the early part of his career.
3. Paula Abdul
Diagnosis: bulimia
The former LA Laker Girl turned pop superstar began admitting in the mid '90s that she had been battling bulimia since she was a teen. She finally overcame the eating disorder and went on to continued musical success. As the "nice judge" on American Idol, she reached an even wider audience. Abdul also quietly battled chronic pain issues for years, the result of an old injury from her days as a cheerleader.
4. Eric Clapton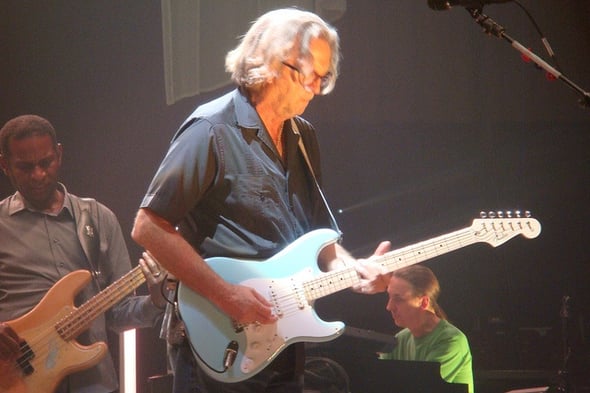 Image via flickr.com
Diagnosis: alcoholism, addiction
From heroin to alcohol, Slowhand overcame serious addiction issues early on, only to see his career skyrocket after he kicked the habit. Concerned friends helped make Clapton's comeback possible, including Pete Townsend of the Who, who organized a benefit concert for the singer/guitarist in the early '70s. Clapton's post-recovery success included a string of hits that made him one of the most prominent acts during the MTV era of the '80s and early '90s when that network still played music videos. He's the only person to be inducted into the Rock and Roll Hall of Fame three times, for his work with the Yardbirds, Cream, and as a solo act.
5. Sinead O'Conner
Misdiagnosis: bipolar disorder
Diagnosis: post-traumatic stress disorder
Once booed offstage at Madison Square Garden shortly after she tore up a picture of the Pope on SNL in protest of the Catholic church's alleged cover-up of child abuse, O'Conner has long been a defiant lightning rod of controversy. In 2012, O'Conner revealed that she had been misdiagnosed with bipolar disorder for decades, and that a new diagnosis of PTSD had been given, the result of being abused as a a child. "What I have is post-traumatic stress from that abuse, that I deal with a day at a time," she told the New York Times in 2012.
6. Brian Wilson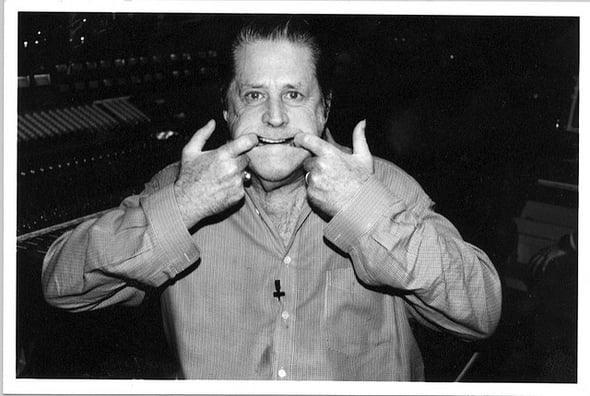 Image via flickr.com
Diagnosis: depression, schizoaffective disorder
Wilson is perhaps the most well-known case of a famous musician with mental health issues. Books have been written and films made about the pop genius' struggles. The most important takeaway, according to Wilson himself, is that he creates and performs music on a much more consistent basis now than he ever did before, ever since he began getting treatment at the age of 40. SMiLE, indeed.
7. Daniel Johnston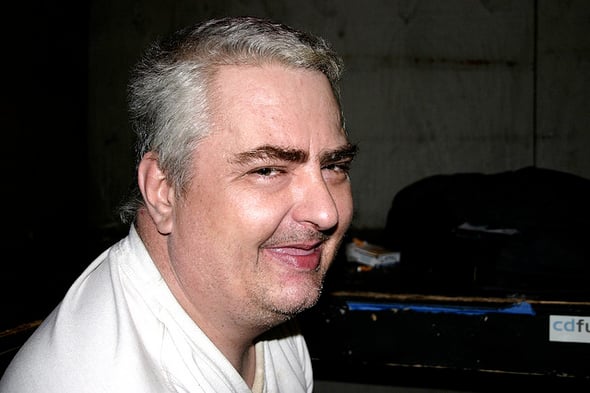 Image via flickr.com
Diagnosis: schizophrenia, bipolar disorder
He's not famous, but Daniel Johnston is an influential legend. Kurt Cobain was among his fondest admirers, and Wilco's Jeff Tweedy considers Johnston a huge influence. Johnston's lo-fi, bedroom-recorded masterpieces have influenced a generation of songwriters with their sheer simplicity and stark emotions. Now under the care of his parents, Johnston can't live the life of touring musician, but he still plays occasional shows and is an active comic illustrator. (Must-see documentary: The Devil and Daniel Johnston.)
8. Roky Erickson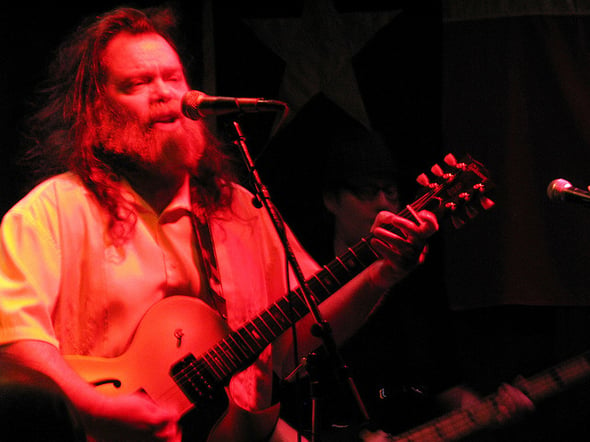 Image via flickr.com
Diagnosis: paranoid schizophrenia
A pioneer of psychedelic rock in the 1960s with the groundbreaking 13th Floor Elevators, Erickson has suffered debilitating setbacks in his on-again, off-again career. He's been institutionalized and received involuntary electroshock therapy. With the help of family and devoted friends and fans, including ZZ Top's Billy Gibbons, the singer finally found the help he needed and now tours on a semi-regular basis. Recommended listening: You're Gonna Miss Me: The Best of Roky Erickson, released in 1991 on Restless Records.
Blake Guthrie is a freelance writer, journalist, and singer-songwriter. His articles have appeared in print and online publications such as the Atlanta Journal-Constitution, Huffington Post, and USA Today. Flagpole magazine in Athens, GA, once speculated that Guthrie was "either a psychopath or some kind of genius."