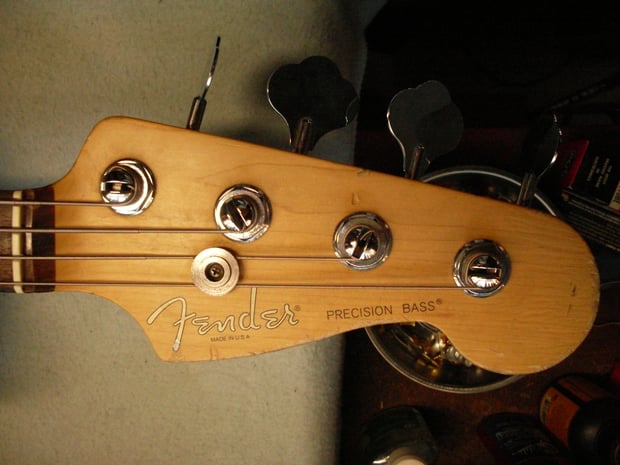 Photo by Roadside Guitars via Flickr / CC BY 2.0
There are many basses out there, but there are only so many classics. The market for any popular musical instrument is bound to be saturated with highlights and lowlights, legendary axes, and plain old duds. These nine basses have stood the test of time and risen to the top of the crop, earning each one a spot on our list of nine of the most essential electric basses of all time.
1. Fender Precision Bass
At the top of the list is the Fender Precision Bass, commonly referred to as the P Bass. P Basses are incredibly popular and are likely the best selling electric bass of all time, although that fact is very difficult to prove. The P Bass is famous for its bassy, fat, round sound achieved using its characteristic pickup positioned right in the middle of the bass's body.
The P Bass has been used by Motown king James Jamerson, Steve Harris from Iron Maiden, Colin Greenwood from Radiohead, Geezer Butler from Black Sabbath, D'Angelo bassist Pino Paladino, and just about every pop-punk bassist ever. Check out a Fender Precision Bass to experience the most classic electric bass there is.
2. Fender Jazz Bass
The Fender Jazz Bass, or J Bass, comes in at a close second in popularity to the P Bass. J Basses offer a sound that is more scooped (meaning more highs and lows and less mids) than the P Bass resulting from the arrangement of the bass's pickups.
J Basses have a single-coil pickup at the bridge, and another by the neck. They also feature a body design with more contour than the P Bass. J Bass enthusiasts include Flea from The Red Hot Chili Peppers, Marcus Miller, Geddy Lee from Rush, and Jaco Pastorius.
3. Fender Mustang
The Fender Mustang is basically a mini Fender P Bass in every aspect, including tone. This bass not only has an awesome mellow sound, but Mustangs are typically short scale basses so smaller musicians don't have to struggle with enormous instruments.
Mustangs feature sharp little double cutaways and a pickup configuration that mimics the P Bass's with the split single coil, just smaller. Bassists who use the Mustang include Kim Gordon from Sonic Youth, Chris Murphy from Sloan, and Tina Weymouth from Talking Heads.
4. Fender Jaguar
Fender's headline for the Jaguar on its website reads "creating a counter culture since 1962," and this is incredibly accurate. The Fender Jaguar model, from a stylistic viewpoint, is synonymous with indie and experimental music; its wonky body shape tells the whole story. As a bass, however, this alternative image is coupled with optimum functionality.
Most Jaguar basses feature a pickup configuration with a P Bass-style pickup in the middle of the body and a J bass style pickup at the bridge, combining the best of both sounds in one instrument. Jaguar bassists are less numerous than other Fender models, as the basses have only been in production since 2006, but famous musicians who use the instrument include Chris Ross formerly of Wolfmother, Troy Sanders of Mastodon, and Georg Holm of Sigur Ros.
5. Rickenbacker
The Rickenbacker is a classic bass with an unmistakable look and sound. Famous Rick players include such legends as Paul McCartney, Chris Squire from Yes, and Lemmy Kilmister, who played a custom model with intricate woodwork in the body. The sound of a Rickenbacker can be described as loud, clangy, very high gain, and very aggressive. Of course, Paul McCartney dialed back these qualities, proving the Rickenbacker features plenty of versatility, but there is no denying this instrument is a beast.
Rickenbackers feature a unique truss-rod system in their necks where they use two truss rods instead of one, so be careful to take your Rick to a guitar tech who knows how to handle them. The Rickenbacker's appeal lies in just how characteristic these basses are, which also means they are not for everyone. Next time you have the opportunity, give one a try and see if a Rickenbacker is right for you.
6. Gibson Thunderbird
Gibson's most iconic bass, the Thunderbird, was first released in 1963 and has earned and kept its reputation as the rock 'n' roll machine that it is. Thunderbirds have a very distinct tone, and for the most part don't do much else. They produce a sound somewhat similar to a Rickenbacker, but with a bigger, woodier bottom end. This is achieved through the Thunderbird's use of two bass humbuckers and a through neck. You can spot a Thunderbird a mile away from its iconic shape.
Gibson Thunderbird players include Tom Petersson from Cheap Trick, Frankie Poullain from the Darkness, and Glenn Cornick from Jethro Tull.
7. Gibson Grabber/Ripper/G3
Gibson released its Grabber/Ripper/G3 family of basses in the '70s, with the Grabber and the Ripper in production from '73–'83 and the G3 from '75–'85. Originally, the advertisements for these basses featured funk and disco musicians, but the majority of its players have been in the rock genre. Today, Grabbers, Rippers, and G3s are often seen in experimental and hardcore music. All three of these basses shared the same body style, and the main difference between the three, beyond minor cosmetic variations, was the pickup configuration.
The Grabber featured a single humbucker pickup that one could literally slide up or down the body of the bass for the player's tonal preference. The Ripper featured two super humbucker pickups, and the G3 featured three single coils. These basses produced a tone comparable to a Fender Precision or Jazz Bass depending on the settings, but with a slight tonal variance characteristic of Gibson.
Without a doubt, the most standout feature of these basses was the gargantuan size, characterized at first glance by the large circular section of their lower body. Notable players of these basses include Gene Simmons of Kiss, Brian Cook from Botch, and Nathan Latona from Tera Melos.
8. Peavey T-40
Peavey makes hidden gems in the world of musical equipment, and its T-40 Bass is no exception. Peavey's T-40 is a tank of a bass with a characteristic and versatile tone. These basses are not nearly as popular as they should be, and as a result of that, they are an absolute bargain.
Still, any bass player who knows his or her stuff will recognize this bass as a classic. The T-40 is virtually indestructible and features controls for optimum tonal control, including a phase switch that allows it to produce a wide range of sounds ranging from very mellow to incredibly aggressive and gainey. Nathan Latona from experimental rock band Tera Melos, known for heavily manipulated tones and complex musical compositions, owns and often plays a Peavey T-40.
9. Music Man Stingray/Sterling
Music Man basses share a commonality with Peavey basses in that they don't get the credit they deserve, but on a whole other level. Music Man basses are studio workhorses with incredible tone, tonal control, and playability. There are many aspects that play into its excellent performance, but the biggest is probably the massive pickups that sit in Music Man basses.
These huge humbuckers are said to be placed in the perfect sweet spot for tone and have massive metal poles that pick up a ton of sound. From there, the sound is run through the Music Man's special pre-amp, creating a tone with a subtle and classic appeal. Choose between a Stingray or a Sterling for slightly different sounds from different pickup wirings, and find out what you've been missing. Famous Music Man bassists include Louis Johnson, Cliff Williams from AC/DC, and Chance Wells from Buttons and Mindy.
Did we leave out any great electric basses? Share your favorites in the comments below!
Max Monahan is a bassist and a writer living in Los Angeles. He spends his time working for an audio licensing website and shredding sweet bass riffs.