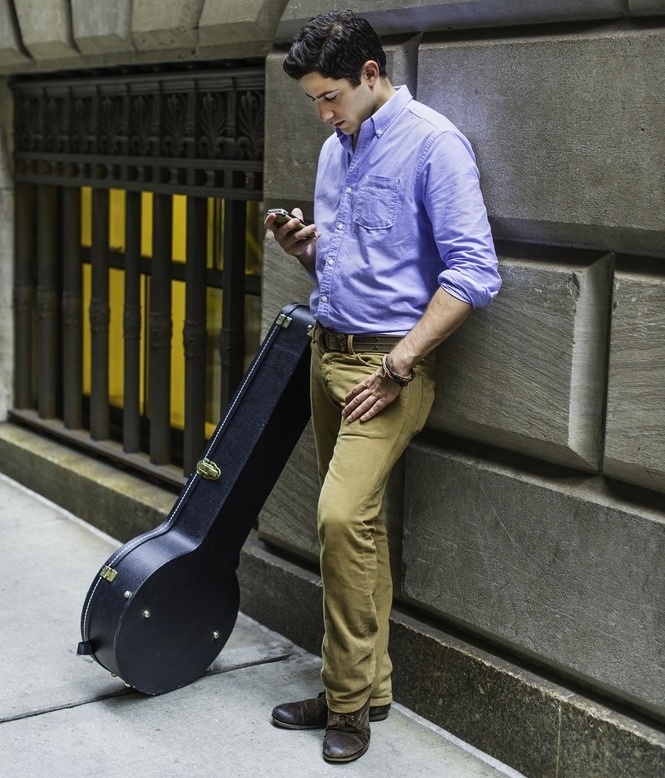 Guest post by Caleb Hsu, editor-in-chief of The Berklee Groove.
Whether you're about to embark on your very first tour or you're able to sell thousands of tickets overnight, touring is undoubtedly a taxing venture. Anyone who's roughed it on the road for months at a time will tell you about the pressures of delivering consistent performances back to back.
Nevertheless, it's not all doom and gloom. Current-day innovations allow for some of the hassle and stress from being on the road to be alleviated. Thanks to creative-minded entrepreneurs, there are a few essential apps that every touring musician should become acquainted with.
Here are the top nine must-have apps for any musician on tour:
This is the quintessential app for an on-the-go musician. Road Trip will track your fuel economy and costs, document maintenance records, organize and compare vacations and trip costs, and plan efficient routes and track mileage statistics. The only thing worse than a crowded passenger van with a capricious AC unit is a total breakdown in the middle of nowhere. Road Trip is perfect for keeping up to date with your tour vehicle information and managing travel arrangements that don't leave you stranded on the road.
HootSuite is a well-designed social media managing app that allows users to visualize up to five primary networks simultaneously. It allows you to send out messages on multiple social networks all at once and schedule posts ahead of time for publication and sharing. For a set fee, you can also access detailed analytics that feature comprehensive breakdowns of metrics such as your top referrers and regional views. It's important for touring musicians to have a concise home for their social media outlets to live in to allow them to engage with their virtual and live fanbases efficiently.
Cleartune is one of the most sophisticated chromatic instrument tuners you'll find on the market. Unlike physical pitch pipes and hardware analog tuners, Cleartune is ultra responsive, offering a 25-cent range, fine-tuning display, and adjustable calibration in 0.1Hz increments. Performing with acoustic instruments isn't extinct, and with temperature and climate variations that occur across the country and overseas, it's crucial to have a quick and easy source to ensure all your instruments are sounding their best. Nothing spoils a great performance like two out-of-tune guitars screaming at each other.
We love apps that take complex tasks and make them accessible to anyone – and ShoutEm is simply genius. With its intuitive interface, you can basically become a mobile app developer overnight. Imagine being able to create an individualized app for your band where fans can easily access all of your news and media. ShoutEm gives ordinary mobile device owners the ability to create an entire platform to connect and interact with fans without knowing anything about developer coding or HTML languages.
Cadenza is essentially a traveling orchestra in your pocket. This amazing app listens to you, anticipates how you're going to play, and accompanies you in real time with unmatched accuracy and responsiveness. Though classical repertoire is often mistakenly antiquated in a world dominated by electronic-driven music and digital synth sounds, there are still thousands of orchestral musicians worldwide who understand the struggles of touring. This app allows users to rehearse with a full orchestra completely on their own. Since music breathes and doesn't remain stagnant, Cadenza will follow tempo fluctuations, fermatas, rehearsal sections, and even gives you the ability to fine-tune accuracy for realistic performance simulations. For traveling soloists, being able to independently rehearse – realistically fitting your sound in with the many colors of a full orchestra – is invaluable.
iRig is a brilliant guitar interface adapter for Apple devices. Imagine carrying your entire guitar or bass rig around in your pocket, including your tuner, pedalboard, amp head, cabinet, microphone and a 4-track recorder. This adapter is perfect for enabling musical ideas to be translated instantly. With the ability to connect the adapter to synthesizers, keyboards, mixers and Macs, the possibilities are endless.
Artist Growth functions as a mobile management system for bands and solo musicians on the road. The app streamlines the way finances and spending are accounted for, tours are booked, and earnings are tracked while on tour. With AG, you can organize all of the daily business tasks and completely eliminate the frustration of trying to sync multiple platforms such as Google calendar with Excel documents, transferring extensive contact databases from Outlook to Apple Contacts, and cross-referencing inventory and expenses on the go. To find out more, check out The Berklee Groove's interview with Artist Growth founder Matt Urmy.
Bandsintown is the easiest and most effective way to manage and promote your tour dates and Facebook events on your fan page, website, Tumblr blog, MySpace, Twitter, mobile apps and more, all from a single, authenticated dashboard (not unlike HootSuite). This app is used by countless stars because of its ability to maximize exposure and ensure promotional success with tour dates. If you want to sell out large venues and have word spread like wildfire about your next performance date, get familiar with Bandsintown.
AroundMe helps you locate the nearest banks, bars, cas stations, hospitals, hotels, restaurants and supermarkets. For traveling musicians going from city to city, it's an extremely useful tool to quickly locate places to recharge and refuel. The seamless inclusion of phone numbers, websites, and reviews works beautifully with the app, and you'll never find yourself driving aimlessly around a town.