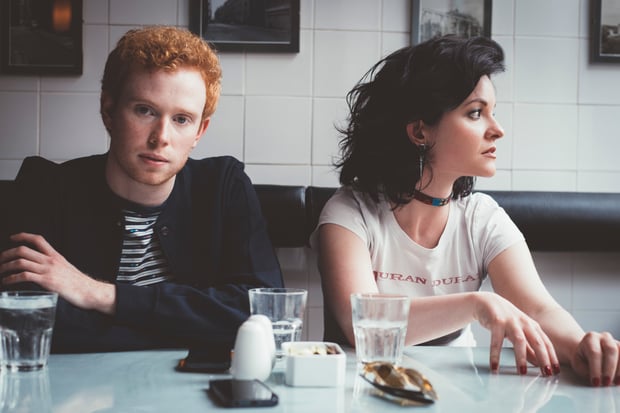 Photo by Ellie Hopkins
As musicians, we sometimes feel like we work and work and work, and wonder, when will the success come? Well, it's a long process, and it often works like dominoes. For Glasgow-based electro-pop duo Apache Darling, all it took to set off that chain reaction was posting two tracks on SoundCloud.
Sounds simple, right? Not so fast, though – as it turns out, the duo's strategy was to focus intently on honing their live show, and they've been smart about taking full advantage of the ripple effects of any little successes they've had. After getting selected for a performance at Toronto's NXNE Music Festival this past June through Sonicbids – their first-ever North American show – they knew it was only the beginning.
"Sonicbids and NXNE really kicked off our summer festival run," they told us. They leveraged that win by going on to own the summer festival circuit when they returned back home to Scotland, taking the stage at T in the Park (where bands like Biffy Clyro and Franz Ferdinand played early in their careers), King Tut's Summer Nights Festival, Party at the Palace, and Pride Glasgow. In the interview below, Apache Darling gives us all the details on how they cultivated their following and manage to keep building upon their success.
You applied through Sonicbids to play NXNE, and got selected to perform this past June. What was the experience like?
NXNE was our first gig in North America, and we ended up playing two shows in one night. We genuinely developed a crush on Toronto and NXNE. It's a really creative city, and the response we got was unreal.
A lot of bands think the hard part is over after successfully playing a festival of that size, but you were more determined than ever to keep the momentum going. How'd you manage to do that?
We quickly became really focused on keeping momentum up during the summer. It was brilliant to come back from NXNE and play T in the Park. We played the T Break stage for unsigned bands. (It's had acts like Biffy Clyro and Franz Ferdinand starting out there, so it's a huge deal.) It was its twentieth year, too, and we opened the tent – it felt special and we had a great crowd. We also played the King Tut's Summer Nights Festival, Party at the Palace with Nile Rodgers and Travis, and finally Glasgow Pride with Texas. Seizing opportunities was our goal, and we're proud we did so much in a couple of months.
One thing that really stood out to us is that you've been able to achieve all of this with only two tracks released on SoundCloud! Do you feel like that's working for you or against you? How have you cultivated such a following before even releasing an EP or album?
Having two tracks online definitely wasn't a conscious decision, but in a world of 15-second video clips and endless content, in hindsight it's helped new listeners focus in on two core sounds and hopefully make them want more. Since the release of our second single, "Firebird," we also changed our approach to our sound. The biggest change was leaving behind any trace of tracking, which seems to have become an industry standard.
Working on our live shows became the focus, and we want to have the best live show possible – an electro-pop sound with a rock-show feeling. So these important developments have stalled recording, but will result in something we know is worth the wait when we spend time in a studio.
In addition to landing live gigs through Sonicbids, you also won an honorable mention from the International Songwriting Competition, and you were a runner-up in the Recording Festival competition. Did those songwriting and production distinctions open any new doors for you?
Sonicbids has been such an amazing tool for us. Winning an honorable mention in the International Songwriting Competition was a massive achievement for us personally and in our careers. It made people take notice of our songs, and we gained a lot of new followers from it. It was a worldwide audience. At home, we got national press coverage and received great support from our fans, friends, and fellow bands.
Being runners-up of the Recording Festival has given us the chance to work with professional mixing and mastering engineers. We're so excited to have industry professionals an email away. It's going to be a huge asset when we go back into the studio. It is a brilliant prize, and one we're looking forward to using!
When new opportunities seem to domino from one success to another, how do you utilize them to their fullest? Were there any opportunities you didn't seize that you wish you had handled differently?
You have to be okay with talking about yourself. That sounds crazy, but it's not in our nature. Telling people what you are doing is crucial. It nudges those dominoes over. I think when we were at university, we both missed some chances to network with people and chat about music. We also didn't have enough confidence to write songs at that time, and we should have. It's tough and doesn't always feel the most comfortable, but you have to throw yourself in and remember that music is supposed to be fun – the two of us need it.
[Why and How to Write an Elevator Pitch for Your Music]
If you could give three pieces of advice to an independent band looking to really take their career to the next level, what would they be?
That's a tough question to answer because there are different approaches. From one independent, unsigned band to another, we'd say...
Focus on the music. Write and rehearse all the time, and make sure you feel 100 percent satisfied with what you are creating and the way you are performing.
Actually promote it. It's not every musician's dream, but you need to get good at some basic marketing and promo skills, whether you're trying to sell gig tickets or get radio stations to play your song.
Ask for help. You can't be the master of everything. So ask the people who are. They'll help you, advise you, and hopefully make the most of what you've created.