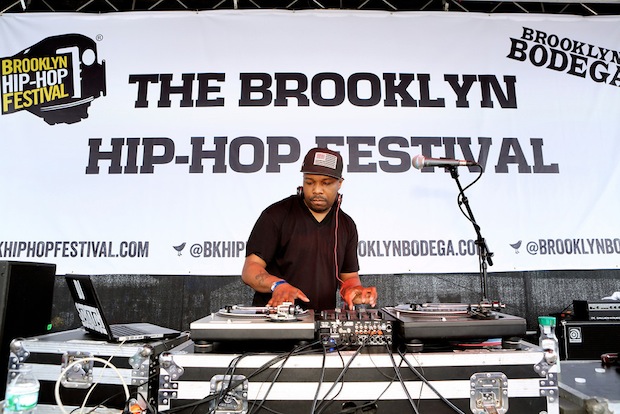 DJ Scratch performing at the 2013 Brooklyn Hip Hop Festival.
The Brooklyn Hip-Hop Festival is one of the nation's top hip-hop events, and while superstar rappers, deejays and emcees with megawatt celeb status take the stage, so too do artists on the rise. Organized by Brooklyn Bodega, the festival takes place July 9-12 with headlining acts Raekwon, Jay Electronica and CJ Fly, with more to be announced. Venues all across the borough's neighborhoods, from Brooklyn Heights to Fort Greene to Bed-Stuy to Williamsburg, host acts.
Brooklyn Bodega's Wes Jackson and Tatiana Sy are choosing two Sonicbids artists for slots at the festival's final day in Williamsburg, with Raekwon headlining. Apply by May 31 for your chance to open for this hip-hop legend in front of a crowd of serious fans.
We spoke with Jackson about the festival's 10th anniversary and what they're going to be looking for when they listen to your application.
This year is the 10th annual Brooklyn Hip-Hop Festival. Did you think when it launched you'd be going strong a decade later?
No, I didn't. I hoped it would. I have been in business for myself for almost 20 years. The festival is by far the best idea I have ever cooked up. It connected with people as soon as they heard it – sponsors, fans, artists. It was just an idea that resonated more than I could have ever expected.
How have you seen hip-hop in general, or even locally in Brooklyn and NYC, change over the past 10 years?
I am concerned because hip-hop is more and more being driven by people with a shockingly small level of knowledge or respect. Journalists with no respect for the culture, with designs to alter its very DNA into some hybrid that's more acceptable to them. There are too many artists looking at hip-hop like another job in the industry who are disconnected from hip-hop's grassroots origins.
On the other side, the power and ubiquity of hip-hop has spawned whole industries including and beyond the music. In Brooklyn and NYC I have seen an explosion of hip-hop entrepreneurs starting clothing lines, opening restaurants, creating films, opening venues and more. So while one side tries to squeeze the juice out of our orange, the universe is balancing the equation by creating a whole new generation of soldiers.
You're picking two Sonicbids acts to perform at the festival. What are you going to be looking and listening for?
We're looking for a unique sound. We have enough Jay-Z clones. We want a new sound that builds off of hip-hop's rich legacy. I personally love the boom-bap SP 1200 sound. Tatiana has an appreciation for that, but her ears are more sensitive and open to new interpretations. So between all of us, we expect to pick out some winners.
Describe the vibe of the festival for those who haven't been before.
It's like a family reunion or a block party. It brings together families, college buddies, neighbors, creative collaborators and more. There are local vendors selling the best food and drink, [and] designers moving some of the most innovative gear. But at the end of the day, it's the perfect place for hip-hop fans of all ages and intensities. A 40-year-old Wu Tang head will be building with the 18-year-old who just moved to Brooklyn for college. It's a wonderful exchange of energy.
What have been some high points over the past decade for you? Any memories stand out?
So many! We are actually working on a book and documentary to highlight it all. Some that stand out are KRS-ONE pulling me to the side and congratulating me. Kanye pulling up in the Maybach backstage when I wasn't looking then jumping into the crowd, driving security crazy. Giving Pharell a pound backstage in 2012. Explaining to Q-Tip how we couldn't order the 16 extra monitors he wanted 30 minutes before doors.
But my favorite memory every year is the end of the day when I get to grab my kids and see my dad and brothers. They give me the look that I've made them proud. That makes all the madness worth it.