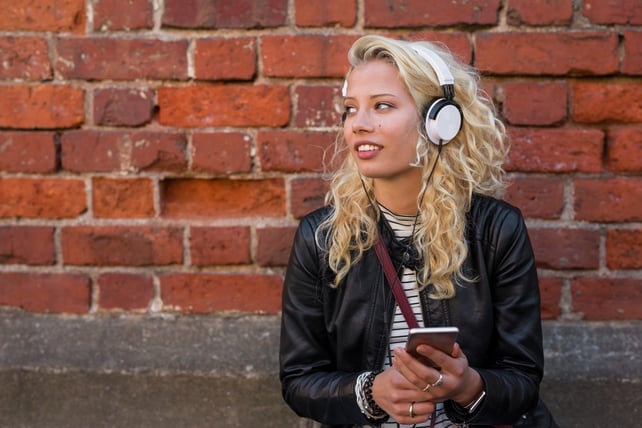 Image via Shutterstock
Spotify playlists are quickly becoming a major conduit to rack up streams, gain fans and followers, and get discovered. While there are endless amounts of organic, user-built playlists, there are also tastemaking, curated playlists with millions of followers.
How do you approach those curators and land a coveted spot on a popular playlist? Before you take the first step, know that not every curator will have the most positive feedback, and scoring a placement might be a bit harder than you think. Here's a bit of advice when courting influencers who build Spotify playlists.
While official Spotify curators maintain a level of professionalism, there are a lot of independent curators who are simply doing this for the love of the music. This may be their first time facing an onslaught of bands requesting to be featured on a playlist. A lot of these bands may not be a fit, simply aren't what the curator likes, or are just, well, not quite ready for the level of the playlist.
It reminds me a lot of when blogs first came on the scene. Those running them were independent people who created a blog simply for the love of music. The responses received when a blogger didn't like a band could be brutal, and sometimes, that kind of feedback got under the band's skin.
Even when the response wasn't bad, bands sometimes got upset because they disagreed with the criticism and because the blogs had yet to build credibility, so what did their opinion matter anyway? Bands took it as if they had nothing to lose, so much so that one band in particular felt it necessary to publicly confront the blogger in his or her comment section.
What did that get the band? Other than some self-satisfaction and emotional release, the only result to come out of it was blacklisting in the music industry.
Whether you're reaching out to a blogger or a Spotify curator, you never know who that person knows. In the case of the band who blasted the blogger for writing something they didn't agree with? The blogger was directly connected to influential Seattle radio station KEXP. The blogger didn't have to warn KEXP or anyone else in the industry about the band's unprofessionalism: The band had already sent the warning shot alerting the industry to avoid them at all costs when they posted the public rant on the blog.
So, what do you do when a curator replies back to you, "This is the biggest piece of sh*# I've ever heard"? You most certainly don't get on Twitter or Facebook to post a public rant about the curator. While a blog comment could be somewhat contained to the blog back in the day, a tweet or Facebook post can quickly go viral. Your rant doesn't hurt the curator. It directly hits you and sends a ripple through the industry that you're not worth the effort.
The moral of the story is to remember that music is subjective. Not everyone will like what you do. The better option over taking it personally is to simply remember that it's an opinion. You let it go, or determine if the feedback will help you to improve your craft.
Janelle Rogers began her 20-year music industry career working for SXSW Music and Media Conference. She then went on to work for BMG Distribution for 10 years in the alternative music department where she championed bands like Kings of Leon, Ray LaMontagne, The Strokes, Belle & Sebastian, and The White Stripes. In 2002 she launched Green Light Go Music PR as a haven of honesty, integrity, and passion for underrepresented artists and labels. She has since been named Mentor of the Year by the University of Michigan, Dearborn, appeared as a panelist at NXNE, and been an official SXSW mentor.