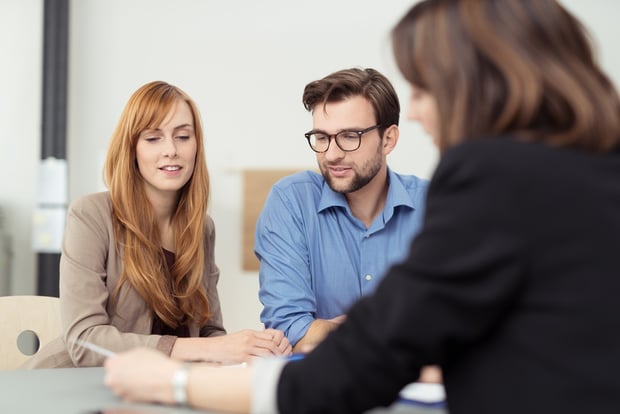 Image via Shutterstock
I've previously discussed what to consider when hiring an attorney and how to find the right attorney for you. Some questions have been asked about what the hiring process actually looks like once you have found the attorney with whom you want to work. Overall it's fairly simple, however, the process can be filled with uncertainty if you've never hired an attorney before. Procedures vary slightly between attorneys, but here's an idea based on the general landscape and my own personal experience.
1. Speak with lawyer about fees, how those fees are paid, and make sure you are able to pay those fees
As I discussed in a prior article, attorney fees typically range from $250 to $1,000 per hour. When you pay an attorney hourly, you're paying for that attorney's time and skill provided during the time spent on your matter, which usually includes phone calls, correspondence, and advising you, in addition to drafting or reviewing an actual document. The attorney will usually use a timer or other program to keep track of the exact time spent on your matter.
Some attorneys will charge certain tasks on a flat fee or charge on an overall percentage basis. While hours are not tracked under these models, the principles of paying for the attorney's skills are the same. Percentage clients are usually those making sizable incomes and receiving large advances, as otherwise the attorney would be putting in a lot of time in exchange for pennies.
Hourly and flat-fee models will often require an upfront retainer, which is an advance payment of fees by the client. The attorney will then consider the funds "earned" after completing the work covered within that month's billing cycle.
If there are still funds left in the retainer, those can be carried over to future work or refunded to the client. Some attorneys do still allow for payment after the work has been done, but that has become rare. Attorneys working on a percentage are usually paid by the client's business manager.
2. Sign the engagement letter and complete any attorney paperwork
When you've communicated to the attorney that you would like to hire him or her, the attorney will most likely require you to sign an engagement letter or fee agreement.
This letter is an agreement between the client and the attorney and is there for the client's protection. The letter usually explains what services the client is hiring the attorney to perform, the agreed-upon fee, an explanation of billing practices and other charges, as well as office policies. You have the right to have this letter reviewed by another attorney.
Other attorneys require some other forms as well, such as information forms to keep a client's contact and other relevant information on file for convenience. The attorney will let you know what forms are required and how you should submit them.
3. Send contracts/agreements
Once you've officially hired the attorney, you can then send whatever contracts or other information you need the attorney to review. The attorney can also start making phone calls or otherwise acting on your behalf.
The exact actions will vary based on your matter, but the gist is that the attorney cannot do any work for you or act as your representative until officially hired by you.
4. Introduce the attorney to other team members
If you have a manager, agent, or other team members you work with and they haven't already been introduced to your attorney or know that you have hired a particular attorney, they should be notified and introduced to your attorney. Ideally, this would have already occurred so you could have made sure everyone on the team would work well together.
5. Be respectful of the attorney's time and business practices
Most attorneys keep fairly regular business hours, and in the music business that usually means about 10:00 a.m. to 5:00 or 6:00 p.m. Be respectful of your attorney's time and don't expect him or her to return your phone calls or emails outside of these hours unless you know that your attorney keeps a different schedule or is on-call 24/7.
Also remember that you're not the attorney's only client, so allow a reasonable amount of time for the attorney to respond to you before following up. Also, don't assume the attorney's phone number is a cell phone, so don't text your attorney unless you know it's okay to do so.
In addition to being respectful of the attorney's time, be respectful of your attorney's payment policies. For example, if the attorney requires a retainer, don't fight to pay only after work has been completed.
Also, be mindful of how you are being billed (hourly, percentage, flat fee) and what you are being billed for (phone calls, emails, drafting, hourly minimums) so there are no surprises later.
6. Be professional.
Your relationship with your attorney is a professional one, so act accordingly. Attorneys are allowed to be friends and socialize with clients, but don't make sexual advances towards your attorney, call your attorney names, telephone your attorney when intoxicated (unless you need to be bailed out), or exhibit other non-professional behavior.
Be organized and make sure the attorney has the information needed to do the work for you. Not only does it make the work flow smoother, but it cuts your costs because the attorney doesn't have to spend his or her time chasing you for information.
Remember, information you give your attorney is confidential. It is important to be honest about all information with your attorney, as your attorney cannot adequately represent you or handle a situation for you if you withhold information.
If you don't know how your attorney wishes to handle something, what your attorney's particular policies are, or if there's something else you don't understand – ask! As in all relationships in life, honesty and communication are the best policies.
7. Value your attorney and the contribution he or she makes to your career
Your attorney has had years of rigorous scholastic training and experience in the real world. In the case of the music industry, attorneys needs to have a deep understanding of a very complex set of laws (intellectual property, contracts, etc.) in addition to the business and intricate payment practices of a very unique industry.
When you hire an attorney, you're getting the benefit of the attorney's vast amount of knowledge and experience. You're not just paying for a physical product like a contract, you're paying for the attorney's expertise and the ability to handle a complex issue effectively and efficiently.
If there's a legitimate problem with the work or a bill, then by all means address it, but don't ask your attorney to handle a matter and then complain about what it cost, as it's insulting to the attorney and the service he or she provides to you.
Overall, just use common sense and be respectful. Your attorney is there to look out for your best interests and is one of the most important relationships of your career.
Do you have questions that you'd like to get answered in an upcoming "Ask a Music Lawyer" article? Please send topic requests to askamusiclawyer@gmail.com. Please note that specific case advice cannot be given, and if you have questions pertaining to an issue you are personally experiencing, you should seek a consultation with a music attorney.
Disclaimer: This article is for educational and informational purposes only and not for the purpose of providing legal advice. The content contained in this article is not legal advice or a legal opinion on any specific matter or matters. This article does not constitute or create an attorney-client relationship between Erin M. Jacobson, Esq. and you or any other user. The law may vary based on the facts or particular circumstances or the law in your state. You should not rely on, act, or fail to act, upon this information without seeking the professional counsel of an attorney licensed in your state.
If this article is considered an advertisement, it is general in nature and not directed towards any particular person or entity.
Erin M. Jacobson is a practicing music attorney, experienced deal negotiator, and seasoned advisor of intellectual property rights. She protects clients ranging from Grammy and Emmy Award winners to independent artists, record labels, music publishers, and production companies. Ms. Jacobson also owns and oversees all operations for Indie Artist Resource, the independent musician's resource for legal and business protection offering template contracts, consultations, and other services designed to meet the unique needs of independent musicians.