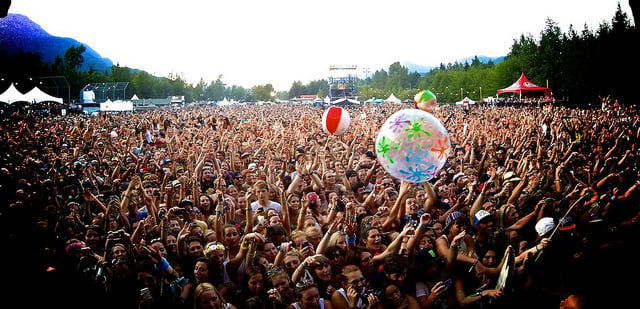 Ever been to an outdoor concert when the transition between bands dragged on and the audience started to drift away? You practice the music, but successful performers also plan and practice the setup and transitions so that the audience can focus on the music instead of on the equipment. As an added bonus, making peoples' jobs easier backstage makes it more likely that you will be asked back to perform another show. The following tips will make life easier behind the scenes and to keep your audience pumped for your performance.
Adjust your levels and tune before the show
Listening to someone adjust sound levels and tune their strings and instruments is painful (and boring!) for your audience. Ask for a soundcheck on stage before your set starts, and ideally before the audience arrives. If there's any chance someone will change the settings on the equipment before your performance, try using some masking tape or stickers to remind you where the levels were at your sound check. There aren't many secrets in the music industry, but planning and preparation are nowhere near as common as they should be.
Create a running sheet
A running sheet is part set list and part schedule. When it's time to perform, the last thing you need to worry about is what song to play next, and what to say while you wait for the drum kit to be set up. The running sheet is useful not only for you and your band but also for the crews, sound and lighting technicians. Creating a running sheet only requires a little thought and imagination:
Write down your set list (with ample white space between each song).
Describe the setup you need for each song (this might include bringing out an extra mic stand, moving amps, changing levels, lighting or visual effects, etc.).
Add time for spoken intros or plugs for your CDs and other merch. If there will be any dead time during setup or between songs cover it with stories about the songs, praise for the venue/audience, jokes, etc. Successful stage banter is the mark of a professional and will keep your audience engaged and excited for your next song. Practicing what you will say and timing yourself are essential!
Estimate how many minutes each song, setup, and speech will take. Be generous with your estimates and write them next to each activity – things usually take longer than anticipated.
Write down the approximate time each song/speech/setup will start, based on your scheduled start time use your estimates to determine the time each activity will take place. Knowing what time your songs should start will help you pace yourself and make rehearsing your set more realistic.
Add a couple of additional songs to your set list, just in case things go more quickly than predicted. These songs can be tacked on the end, or somewhere in the middle, so you will never run out of material.
Review your running sheet with your band and crew/venue staff as appropriate. Make changes as necessary, and bring extra copies with you to the gig.
Want an example? Here's a basic sample concert running sheet.
Make a stage map
If you want the crew to set up the stage just the way you like it, and do it as quickly as possible before your audience cools, then give them a stage map. These maps do not need to be fancy or high tech, even a hand drawn map can greatly reduce confusion and setup time, hand the crew a map and answer their questions before the show starts.
Placement: Indicate where the mic stands, amps, stools, instruments and stands go in relationship to each other.
Band sight lines: Who (if anyone) do you need to be able to see when performing?
Audience sight lines: Can the audience see everyone clearly, or is your drummer hidden behind the lead singer?
Lighting: If anyone is getting a spotlight or other special lighting make sure to mark where that person will be standing and give a copy of the stage map and running sheet to the lighting technician.
Each setup gets its own map. If you will be changing the setup in the middle of your set, create a separate stage map; label maps accordingly. For instance, you might label your maps "stage map for song 'Imagine'" or "stage map for song 'Thriller'."

Review the map with your band and the crew. Give copies of maps to the crew (or to your band if you are doing your own setup) and take time to clarify and answer any questions.
Want an example? Here's a basic sample stage map.
Want to play the Billboard Hot 100 Festival alongside today's biggest stars, including The Weeknd, Justin Bieber, Skrillex, and Jason Derulo – and get paid $500? Apply for free by August 5, 2015!


Jamie Davis-Ponce is a professional musician and graduate of Northeastern University's Master of Music Industry Leadership program with a concentration in entrepreneurship. She has been a music lecturer at Ithaca College, and is deeply involved in Boston-area arts and music organizations, having worked with ArtsBoston and held internships at Handel & Haydn Society and Boston Symphony Orchestra. Jamie is currently an administrator in the Professional Performance Division at Berklee College of Music. You can view more of her writing on her blog on Music, Business, and Creativity.